Civic Leadership Opportunities
Civic engagement is at the heart of what we do. Whether through academic coursework and programs (such as our new Community-Connected Learning course or the Privilege & Poverty Academic Cluster), student service organizations, independent projects or community partnerships, CCE can help you explore community-connected learning and leadership.

In Fall 2020, we launched our new experiential learning course: INTD 0121 - Community-Connected Learning. In this course, you will pair your community engagement with academic coursework and reflection.  You'll get to develop social-issue knowledge, collaborative skills, and civic identity that complements your new or existing community partnership experiences! Learn more on our Community-Connected Learning Course page.

CCE supports a range of ways to learn and work in community context. Below you'll find examples of ways past students have gotten involved with the community.
Sarah Kavoogian '20 and Brian Ketchabaw '20
Middlebury College Access Mentors (MiddCAM)
Sarah and Brian believe that each student deserves equal access to higher education. This belief spurred them to become MiddCAM mentors, and later, MiddCAM co-presidents. In leading the growth of the program to 25 mentor-mentee matches, Sarah's and Brian's primary goal has always remained the same: increase the program's reach to those who might benefit most, such as students who will be the first in their family to attend college.
"We have enjoyed everything that has come with MiddCAM. This year has definitely proven to be incredibly rewarding for both of us. Not only did we reach out goals, but we also met some incredible students—both at Middlebury College and Middlebury Union High School—along the way. We cannot wait to see MiddCAM continue to grow over the next couple of years!"
Zeke Hodkin '21.5
Privilege & Poverty, MiddVOTE
Zeke is a community leader through and through. Part of the Middlebury Reslife team and a critical member of MiddVote, our college voting turnout organization, he is one of the many students behind-the-scenes who makes our college community vibrant and engaged.
As a P&P scholar, Zeke explores the intersections of politics, religion, and power through his intended joint major in Political Science and Religion. By experiencing the local dimensions of community both on and off campus, the P&P program brings in an aspect of scale (both micro and macro) that has enriched his experience at Middlebury.
Patrick Kuruga Wachira '23
Community Friends, Page One Literacy Project, Language in Motion, MAlt
Patrick's journey with the CCE started right with his first week on campus through his MiddView trip: Working Together to Effect Change. "I learned about Community Friends through my trip leader and I knew as soon as I heard about it that I would want to be a part of it." Since then, he has joined Community Friends as well as other CCE programs such as Language in Motion, Malt Trips and Page One Literacy Project.
"What I find most appealing to me about these programs is the opportunity to interact with people from the Middlebury community and beyond, particularly children and to spearhead and witness the wonderful results of celebrating diversity and increasing intercultural awareness."
Martin Troska '21
Language in Motion (LiM)  
Martin is deeply passionate about education because he believes that it is the most powerful tool for change. This drove him to join LiM during his first year at Middlebury, and he has been actively involved ever since. His favorite experience with LiM is the Fall Break Mini-MAlt trip through which he enjoys spending time with other LiM presenters and local Barre Spaulding High School students not only through presentations, but also cooking together, playing games, and going for walks in  nature. Through these experiences, he feels more connected to the Vermont community.
"LiM enabled me to connect with the local Vermont students and teachers as well as to practice inclusive teaching skills."
Maddie McKean '21
Community Friends
Maddie has embraced her role as one of the 140 Community Friends mentors since her first year. Now, she serves as the student organization's lead student coordinator, helping mentors connect with Addison County school counselors, families, and children by supporting training, coordinating recruitment and matching of new mentoring pairs, and still meeting regularly with her mentee.
"My favorite part about hanging out with Emma (my mentee) has been watching her grow up over this past year. Now that she is twelve and in seventh grade, I feel like she is also mentoring me."
Chloe Zinn '22 and Julia Fairbank '23
DREAM
Chloe and Julia spend time each week developing fun, meaningful group activities for college mentors and local elementary school children to enjoy together. The intentional spaces they create are the foundation on which DREAM mentors and mentees build trusting relationships and confidence. A few of their favorite activities this year? Going to a trampoline park, creating a beach day in the middle of January, and making snow cones! 
"My favorite part of DREAM is getting to be silly with the kids! Kids are so fun to hang out with, and I'm lucky I get to be reminded of the simplicity and fun in life every single week." - Chloe
"At DREAM, I love being able to watch my classmates and the kids let their guards down and form real, stable relationships. Both parties rely on each other in a really awesome way." - Julia
Cynthia Ramos '21
Privilege & Poverty (P&P)
Cynthia is one of P&P's veteran members. Majoring in International and Global Studies with a focus on East Asia, she has nevertheless found no difficulty grounding her global academic focus in the local community. This past summer she interned at the Charter House, a non-profit, volunteer based organization that provides basic necessities like food and shelter.
Working and living at the Charter House gave her an unparalleled community experience just a fraction of a mile away from Middlebury college. The P&P cluster has enabled her to weave together emotional and academic work into one learning experience.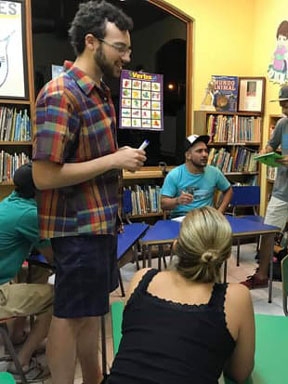 Spencer Royston '21
Cross Cultural Community Service Fund
Spencer tapped into the CCE's Cross Cultural Community Service Fund over J-term in his second year to work in a library in Costa Rica. It was a transformative community-based experience that helped him connect his classroom and career interests.
"My time in Nosara provided me essential context for my studies at Middlebury, as well as real-world experience in what can often be a stale research-based field. I was encouraged more than ever to pursue my goals of teaching English abroad after I graduate, in the many forms that this might take."
Center for Community Engagement
Middlebury College
Middlebury, VT 05753