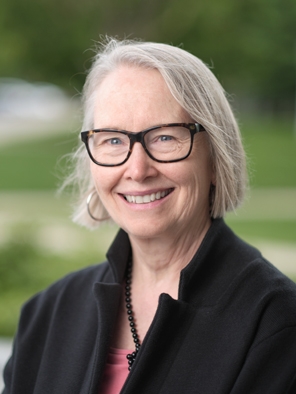 In July 2022, President Laurie Patton announced the appointment of Professor Michelle McCauley as interim executive vice president and provost of Middlebury for an 18-month term effective August 1, 2022.
As interim executive vice president and provost, Michelle oversees the Office of the Provost and all academic programs at Middlebury, including Middlebury College, the Middlebury Institute of International Studies at Monterey, C.V. Starr Schools Abroad, Language Schools, Bread Loaf School of English, Bread Loaf Writers' Conferences, and School of the Environment.
Michelle joined Middlebury in 1995 and since that time has led and participated in multiple initiatives across Middlebury. An accomplished professor and scholar, Michelle teaches research methods and applied courses in legal psychology, psychology of leadership, and environmental decision making. She also taught a graduate course at MIIS, The Psychology of Social Action, in spring 2018 and taught at the Danish Institute for Study Abroad during a leave.
Michelle has led and participated in work that touches all aspects of Middlebury. In addition to overseeing the Conservation Psychology Lab, she cofounded the Vermont Center for Behavioral Science Research in Climate and the Environment, served as academic department chair for psychology for four terms, and contributed to committees, task forces for initiatives, including Energy2028, COVID-19 Academic Continuity, College Strategy, College well-being, and mindfulness. She has been elected to the Faculty Council and served as chair, and was a representative to the College Board of Advisors, the Admissions Advisory Committee, and the Committee on Institutional Diversity and Conflict Resolution, among others. Her role as an advisor has included participation in the Committee for the Summer School of the Environment, the Franklin Environmental Center, the faculty advisory board for the School in Germany, and the Bread Loaf Orion Environmental Writers' Conference. Most recently, Michelle agreed to serve as the first faculty director of the Kathryn Wasserman Davis Collaborative in Conflict Transformation, a seven-year, $25 million project involving faculty, staff, and students from all walks of Middlebury. 
Michelle earned a BA from the University of Iowa, and an MS and PhD from Florida International University. She joined Middlebury in 1995 as an assistant professor, became associate professor in 2002, and was promoted to full professor in 2008. Before Middlebury, Michelle taught at Florida International University. Her research focuses on applying cognitive, social, and developmental theory to problems across multiple domains with a focus on applying psychological theory to today's most pressing social issues. She is also trained in mediation and jury selection, and serves as an expert witness. She has edited two academic books: Evidence-Based Investigative Interviewing: Applying Cognitive Principles (Routledge Press, 2019) and Child Abuse: A Global View (Greenwood Publishing Group, 2001); written many scholarly articles and seven chapters in edited books; delivered 68 conference presentations; and secured more than $365,000 in external funding.
Read more about Michelle McCauley here.
Office of the Provost
9 Old Chapel Road
Middlebury, VT 05753