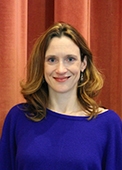 Amy Rodgers, On-site director. AB, Columbia University; PhD, University of Michigan. Associate Professor of Film, Media, and Theatre and Dean for the Senior Class, Mount Holyoke College.
Amy Rodgers is Associate Professor of Film, Media, and Theatre at Mount Holyoke College. Her research focuses on early modern literature and culture, audience and popular culture studies, theories of adaptation, and dance studies. Among her publications are essays on the Renaissance court masque, Hindi-language cinema director Vishal Bhardwaj, Shakespeare's history plays' influence on HBO's Game of Thrones, and performance genealogies that cross different communicative forms, particularly theater and dance. Her first monograph, A Monster With a Thousand Hands: The Discursive Spectator in Early Modern England is forthcoming with the University of Pennsylvania Press in February of 2018. She is a co-founder of the Shakespeare and Dance Project, and, before commencing her academic career, danced with the Washington, Atlanta, and Joffrey ballet companies.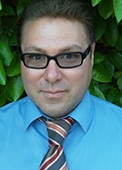 Damián Baca, BA, West Texas A&M University; MA, Northern Arizona University; PhD, Syracuse University. Associate Professor of Mexican American Studies, University of Arizona.
Damián Baca is Associate Professor of English and Mexican American Studies at the University of Arizona. He is author of Mestiz@ Scripts, Digital Migrations, and the Territories of Writing (2008), and co-editor of Rhetorics of the Americas: 3114 BCE to 2012 CE (2010), Rhetorics of Difference (2018), and Rhetorics Elsewhere and Otherwise: Contested Modernities, Decolonial Visions (2019). He studies how technologies of writing can help heal colonial wounds and create global realities no longer determined by imperial, Eurocentric horizons.
Jonathan Fried, BA, Brown University; MFA University of California, San Diego.
Jonathan made his professional New York debut in 1986 at the New York Theater Workshop, and has since performed in well over one hundred productions, on stages in New York, regionally, and internationally. In 1987 he began a 31-year association with the Acting Ensemble at Bread Loaf Vermont. He was a resident company member at Trinity Repertory Company in Providence, RI, and at the American Repertory Theater in Cambridge, MA. In 2009-2010 he toured the world with Sam Mendes' Bridge Project, which included long runs at the Brooklyn Academy of Music and the Old Vic in London. He has frequently appeared at the N.Y. Shakespeare Festival, Signature Theater, Arena Stage, the Mark Taper Forum, Yale Repertory Theater, the Williamstown Theater Festival, among others. His book, Dressing Room Stories, with and about Alvin Epstein, was the genesis for his course on solo performance. In 2019, Jonathan joined the Bread Loaf Teacher Network as a professional mentor with the goal of encouraging theater and performance practices in the classroom.
Mark C. Jerng, BA, Princeton University; PhD, Harvard University. Professor of English, University of California, Davis.
Mark Jerng is Professor of English at University of California, Davis. His research interests include Asian American literature and transnationalism, critical race theory, science fiction and fantasy (especially by contemporary Asian American and African American authors), genre and narrative theory, and law and literature. He is the author of Racial Worldmaking (2018), a project that takes up particular popular genres - future war; plantation romance; sword and sorcery; alternate history - in order to analyze how genre formations inform our perceptual organizations of 'race' and 'world.' His first book, Claiming Others: Transracial Adoption and National Belonging (2010), focuses on the ways in which shifting norms of race and kinship shape and naturalize our conceptions of personhood. He was Lead PI of the UC Davis Summer Program for Literary Analysis and Success in the Humanities (UCD SPLASH), a UC-HBCU partnership with Hampton University, from 2015-2018. He is also Co-Director of the Mellon Initiative on Racial Capitalism (2017-2020). 
Douglas A. Jones Jr., BFA, New York University; PhD, Stanford University. Scholar In Residence in the Department of Theater Studies, Duke University.
Jacques Lezra, B.A, MPhil, PhD, Yale University. Professor and Chair of Hispanic Studies, University of California, Riverside.
Evie Shockley, BA, Northwestern University; JD, University of Michigan; MA, PhD, Duke University. Zora Neale Hurston Distinguished Professor of English, Rutgers University.
Valerie Traub, BA, University of California-Santa Cruz; MA, PhD University of Massachusetts-Amherst. Adrienne Rich Distinguished University Professor of English and Women's and Gender Studies, University of Michigan.
Valerie Traub is the Adrienne Rich Distinguished University Professor of English and Women's and Gender Studies at the University of Michigan. She is the author of Thinking Sex with the Early Moderns, The Renaissance of Lesbianism in Early Modern England, and Desire & Anxiety: Circulations of Sexuality in Shakespearean Drama. Her recent edited collections include The Oxford Handbook of Shakespeare and Embodiment and Ovidian Transversions: Iphis and Ianthe, 1350-1650. Her current project is Mapping Normality in the Early Modern West, which examines how gender, race, and sexuality in cartographic and anatomical illustration comprise a prehistory of the concept of the normal.