2023-24 Events and Programs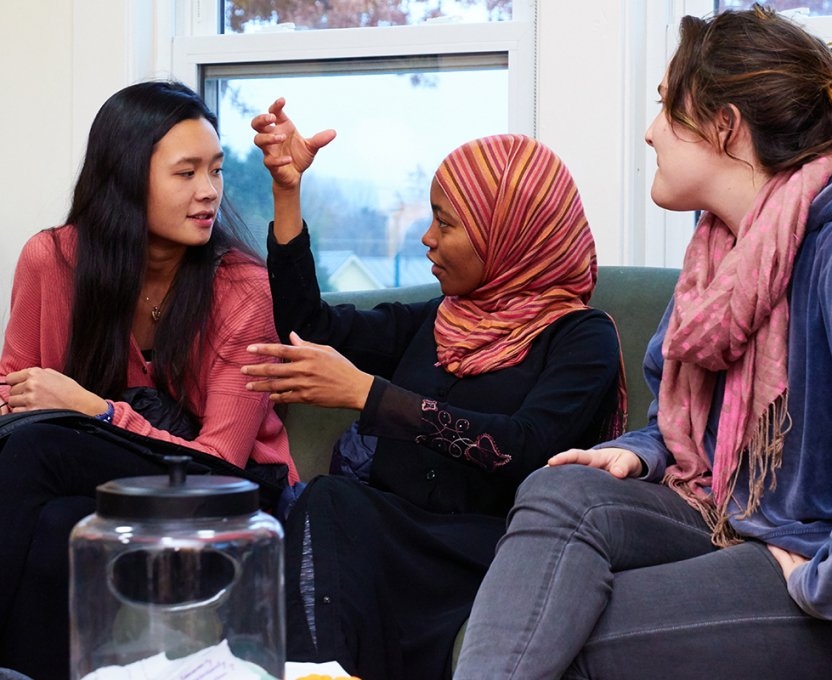 The Scott Center sponsors and hosts numerous ongoing events throughout the year.  Join us for any and all that appeal to you, and be sure to check back often to see what's new and coming up!
UPCOMING EVENTS
A joyous annual celebration of traditional Christmas music and biblical texts of the season, with gorgeous music by the Middlebury College Choir, evergreens and candlelight. 

Led by Dean of Spiritual and Religious Life Mark R. Orten, and Middlebury College Choir Conductor Jeffrey Buettner.

Two services, at 4:00 and 7:00 pm. Donations will be accepted for local charities.  

Large print programs available. American Sign Language interpretation at the 4:00 service only.
Curious about spirituality? Join us for tea and exploration! Gather weekly to practice mindfulness and have conversation, facilitated by staff from The Scott Center and the Office of Sustainability and Environmental Affairs.
The Crest Room, McCullough
Join Associate Muslim Chaplain and Interfaith Advisor Zahra Moeini Meybodi to discuss themes that cover introductory questions about Islamic worldview, beliefs, practices and cultural heritage.
Topics include:

Nov. 16:  From Pain to Presence: Islamic Practices in Healing

Nov. 2: What is the Qur'an?
October 19: Prophetic Resilience
Oct. 26: Who is The Prophet?
The Crest Room, McCullough
Gather is a community for the progressive Christian, Christian-curious, Christian-conflicted, agnostic, and generally bewildered. Join Affiliate Christian Chaplain Katie Runde Sanchez for conversations; the topic on Oct. 19 is Jesus and Non-Violence.
The Crest Room, McCullough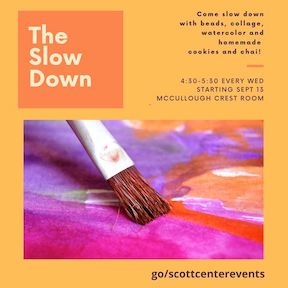 Come enjoy homemade chai and homemade cookies with members of The Scott Center staff as we slow down our pace for a bit of socializing and crafting.  Watercolors, polymer clay, collaging, grown-up coloring books, and beading materials provided!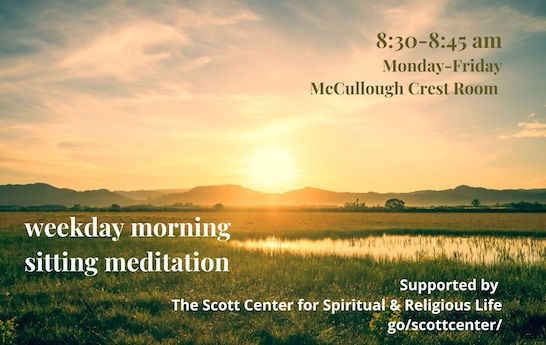 Join us for 15 minutes of silent meditation every weekday morning, led by various staff, faculty, and students.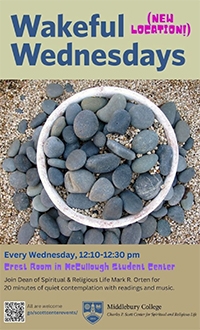 NEW LOCATION!  Join Dean of Spiritual & Religious Life Mark R. Orten for 20 minutes of quiet contemplation with readings and music.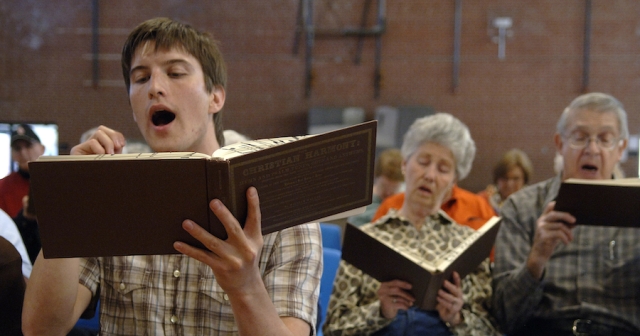 Described as spiritual, joyful, powerful, and raucous, Shape Note (or Sacred Harp) singing is a traditional American style of four-part, a capella, community singing popular in the United States before the Civil War. This style still thrives across the US and in the UK, with strongholds in the American South and New England. It is called Shape-Note because the notes of the scale are indicated by distinctive shapes and names: Fa – triangle, Sol – circle, La – square, and Mi – diamond.

Facilitated by Prof. Emeritus David Rosenberg every second Sunday.
RECENT EVENTS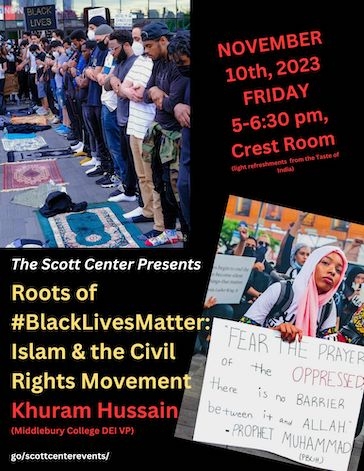 This year marks the 10th anniversary of the #blacklivesmatter movement. The hashtag first appeared amidst national coverage of the killing of Black people with impunity. It became a rallying call for grassroots movements against racial violence and the carceral state. Today's struggle builds on past grassroots coalitions against state repression of Black communities. A critical part of that effort came from Muslim organizers who laid the groundwork for the contemporary prison abolition movement. 

This talk by Khuram Hussain, Middlebury's VP of Diversity, Equity and Inclusion, explores the little-known history of the bold and ingenious efforts of Muslim Americans to forward Black liberation in the civil rights era. Their vision and actions offer lessons to students, scholars and activists today.

Light refreshments from Taste of India will be served.
The Crest Room, McCullough Student Center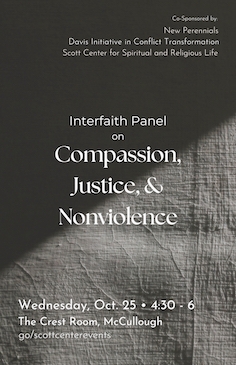 Join some of your favorite chaplains and others as they explore different worldviews' and religions' relationship to the powerful themes of compassion, justice and nonviolence. 

Panel members include Rabbi Danielle Stillman, Muslim Advisor Zahra Moeini, Affiliate Christian Chaplain Katie Runde Sanchez, Affiliate Humanist Chaplain Prof. Bill Vitek, and Prof. Marc Lapin from the Environmental Studies Department, who will bring a Buddhist perspective.  Moderated by Professor Rebecca Gould.

This is the first in a series of interfaith panel conversations on different topics, and will touch on the current war in Gaza and Israel.

This week, the panel replaces The SlowDown during the 4:30 Wednesday timeslot, and we'll serve your favorite SlowDown homemade cookies and chai.

Co-sponsored by The Davis Collaborative in Conflict Transformation, and New Perennials.
The Crest Room, McCullough Student Center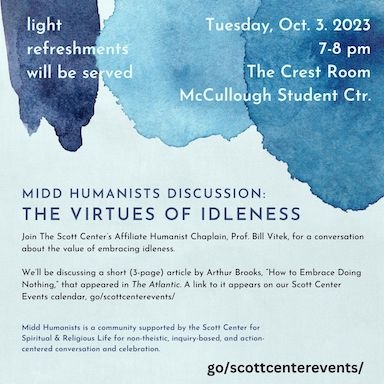 MiddHumanists: The Virtues of Idleness
Join The Scott Center's Affiliate Humanist Chaplain, Prof. Bill Vitek, for a conversation about the value of embracing idleness. We'll be discussing a short (3-page) article by Arthur Brooks, "How to Embrace Doing Nothing," that appeared in The Atlantic.  Light refreshments will be served.  All are welcome.

Midd Humanists is a community supported by the Scott Center forSpiritual & Religious Life for non-theistic, inquiry-based, and action-centered conversation and celebration.