2023-24 Events and Programs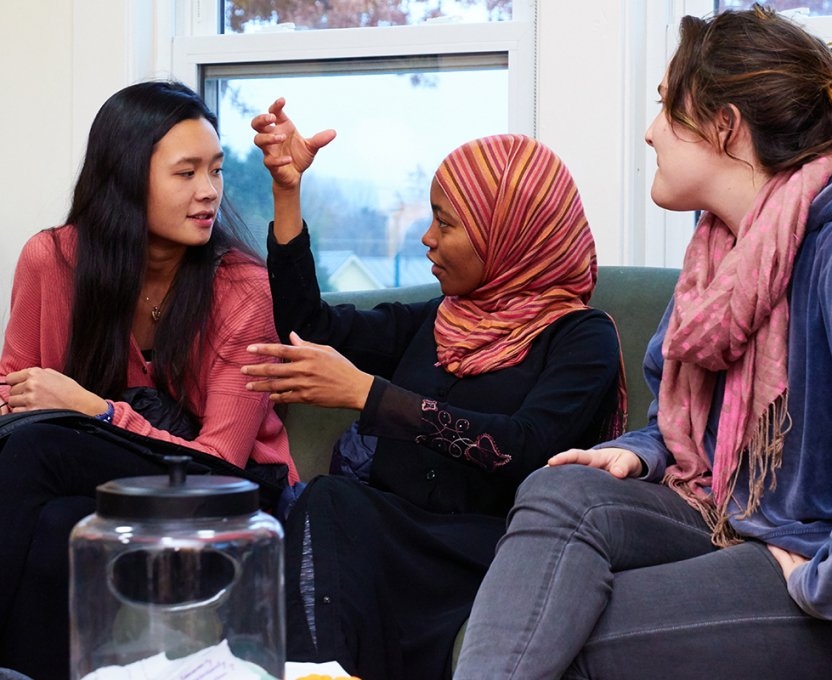 The Scott Center sponsors and hosts numerous ongoing events throughout the year.  Join us for any and all that appeal to you, and be sure to check back often to see what's new and coming up!
UPCOMING EVENTS
Curious about spirituality? Join us for tea and exploration! Gather weekly to practice mindfulness and have conversation, facilitated by staff from The Scott Center and the Office of Sustainability and Environmental Affairs.
The Crest Room, McCullough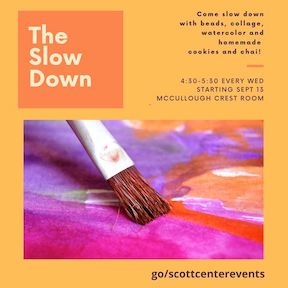 Come enjoy homemade chai and homemade cookies with members of The Scott Center staff as we slow down our pace for a bit of socializing and crafting.  Watercolors, polymer clay, collaging, grown-up coloring books, and beading materials provided!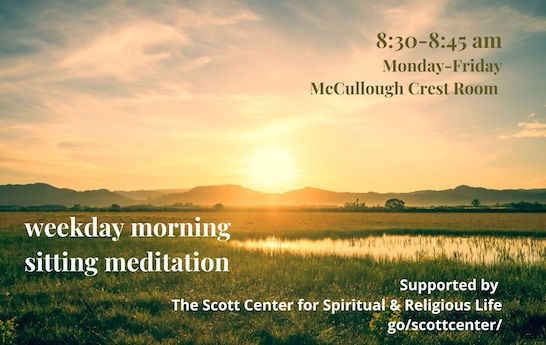 Join us for 15 minutes of silent meditation every weekday morning, led by various staff, faculty, and students.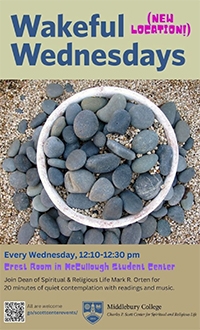 NEW LOCATION!  Join Dean of Spiritual & Religious Life Mark R. Orten for 20 minutes of quiet contemplation with readings and music.
The Crest Room, McCullough Student Center
Join The Scott Center's Affiliate Humanist Chaplain, Prof. Bill Vitek, for a conversation about the value of embracing idleness. We'll be discussing a short (3-page) article by Arthur Brooks, "How to Embrace Doing Nothing," that appeared in The Atlantic.  Light refreshments will be served.  All are welcome.

Midd Humanists is a community supported by the Scott Center forSpiritual & Religious Life for non-theistic, inquiry-based, and action-centered conversation and celebration.
RECENT EVENTS
The Crest Room, McCullough Student Center
Gather is a community for the progressive Christian, Christian-curious, Christian-conflicted, agnostic, and generally bewildered. Join Affiliate Christian Chaplain Katie Runde Sanchez for an exploratory meeting with homemade chocolate almond whoopie pies and lavender chamomile tea!