The Dance Department offers a minor, joint major, or full major leading to the Bachelor of Arts degree, or the opportunity to take courses in dance for academic credit. Middlebury students also have the opportunity to dance in guest artists' master classes and in faculty- and student-choreographed concerts.
View the gallery in a new window.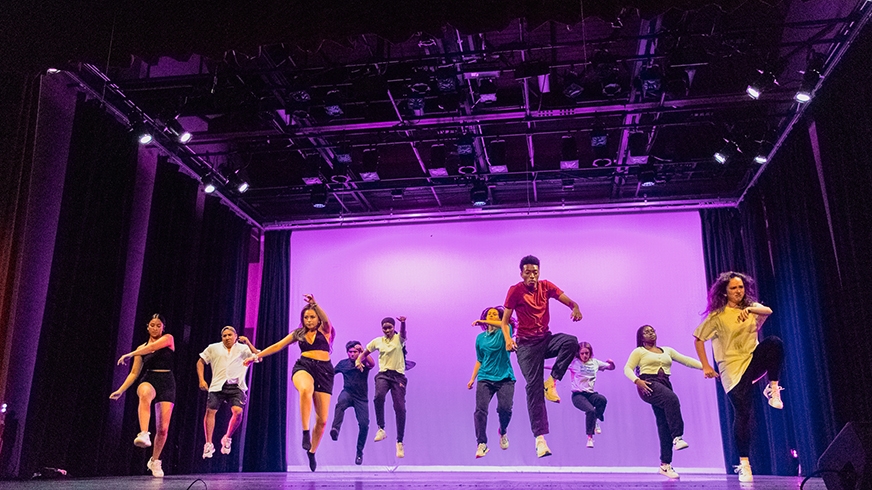 Middlebury Dance
Our Curriculum
The Dance Department core curriculum is built to create artistic and scholarly inquiry, covering contemporary and world dance techniques; improvisation and choreography; history, theory, and cultural studies; experiential anatomy and kinesiology; and performance.
About the Major
The dance major is designed to provide a solid and extensive base of intellectual and experiential expertise in dance, applicable widely, as well as necessary flexibility to accommodate individual educational goals.
Our Faculty
Our faculty of dance professionals—musician/composers and a lighting designer/technical director—is further diversified and extended by a robust calendar of guest artists and performances. In addition, a lively group of student-run clubs and associations responds to current interests in dance/movement.
Senior Work
Joint and full dance majors propose independent projects in their senior years. Projects, which often culminate in performance but which may take many forms, are designed to deepen learning and cultivate special areas of research or creative interest.
The Dance Company of Middlebury
The Dance Company of Middlebury (DCM) is selected each year by audition, and is open to anyone who has completed DANC 0260. Each year the company creates a diverse concert of work for formal performance at Middlebury in January and later on tour in worldwide locations.
First-year students are encouraged to get to know the Dance Department by taking classes, auditioning for other performances, and attending as many dance concerts as they can before seeking involvement with DCM in their sophomore year.