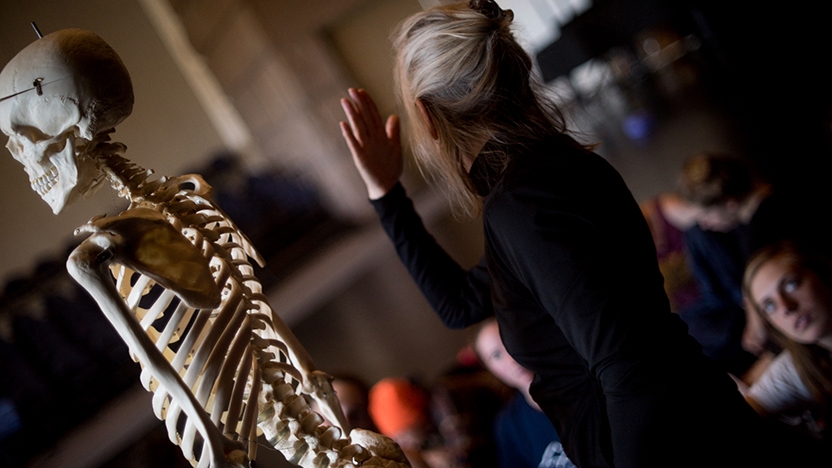 Dance majors or joint majors senior projects can take many forms, depending on the curricular track chosen.
A senior thesis (DANC 0700) must include the following criteria, described in more detail below:
Senior Work Forms
Educational Goals
Senior work has been integral to the dance curriculum since inception of the major in 1983–84. It is intended to provide a capstone experience tailored to the individual student's area of interest and educational goals.
Our core curriculum provides all our majors, regardless of individual educational goals, experience in the following: 
The creation and performance of original contemporary dance
Contemporary and traditional dance techniques
Creative process across the arts
Dance history and cultural study
Scientific, place-based, and experiential anatomy and kinesiology
Seeing, thinking, and articulating about dance, art, and related issues as writers and speakers
Our curricular tracks are designed to support our students' interests in deeper study of particular aspects of the dance field. Through electives within the program and in the greater college curriculum, together with individualized mentoring, students are able to complete advanced work in the following:
Choreography and Performance
Production and Technology
Dance Studies
Our graduating students, regardless of curricular track, are expected to acquire the following:
An intermediate/advanced level of proficiency in contemporary dance techniques and choreographic methods, including improvisation;
The ability to pursue scholarly and experiential/creative research in dance;
An embodied understanding of their potential for creativity and agency in the world;
An appreciation for historical and cultural values expressed through dance;
The ability to contextualize their own and others' work within the broad spectrum of dance as art and culture;
The ability to discuss dance, both analytically and accessibly, with others familiar or unfamiliar with the field. 
Graduates should be ready for advanced university study in their area of interest or for entrance into the world of professional dance. History assures us that our graduating students are also prepared to carry their experience in dance into apparently unrelated fields, applying their whole educational experience to a variety of pursuits from psychology and social work to neuroscience, medicine, and education; in short, wherever they wish to go.  
Project Design, Proposal, and Approval Process
A student is encouraged to begin designing and conceptualizing their independent project in their junior year, in consultation with their primary academic advisor. The academic advisor is not necessarily the project advisor; see below. The project can take many forms, based on the student's area of interest and scholarship within the chosen curricular track.
For the Choreography and Performance track, the project will take the form of a formal concert work and written thesis.
For the Production and Technology track, the project will involve all elements of the production of a design-focused concert work and a written thesis.
For the Dance Studies track, the project will take the form of a public lecture and written thesis.
 The project is typically completed during the last term of the senior year.
Senior independent work (DANC 0700) is tailored to each student's educational goals and is arrived at through a proposal and advising process. The entire dance faculty considers, comments upon, and eventually approves or modifies the student's proposal. Senior work is expected to consolidate study during the previous three years; challenge the student to develop further depth, skill, clarity, and grasp in the chosen area; and demonstrate her/his readiness to pursue advanced work in this area. All projects include substantial research and writing, but may take many forms. Interdisciplinary work across the broader college curriculum is encouraged. 
Students request and are supported by a committee that includes a primary and a secondary advisor from the dance program, and a third advisor from another discipline.
Approval of a performance project is contingent upon the successful production of at least one piece in a fall or spring Dance Department concert.
For projects with a performance component, a weekly production seminar meeting is required during the semester the project is realized.
A project defense will be scheduled with the faculty committee at the completion of the project. 
Timeline
Three semesters before graduation (typically spring of junior year), the student will do the following:
Identify area of research, and formulate, broadly, the format of the project.
Identify the completion date; i.e., spring semester, winter term, or fall semester.
Identify a primary project advisor. This should be a dance faculty member, but does not have to be the primary academic advisor. The faculty member must accept the request to be the project advisor.
Write a short description of the proposed work, if there is a public presentation involved in the project. This "blurb" will be used for publicity.
 Two semesters before graduation, the student will do the following:
Draft a project proposal, based on the dance program's project proposal form. This draft will be reviewed by the primary advisor. A revised draft of the proposal is circulated to the entire dance faculty for review, discussion, and approval. Additional revisions may be required.
Please note that a projected budget is required as part of the proposal process.
Identify and request a thesis committee, made up by the primary advisor, a second advisor from the dance faculty, and a third advisor from another discipline.
Assist the Dance Department with writing descriptions of the project for additional publicity.
 During the last semester, the student will do the following:
Meet regularly with primary advisor.
Work intensively to complete project.
Periodically present work in progress to dance faculty or committee.
If presenting a theatrical performance, participate in a weekly production seminar.
Present results of research publicly. Exact format depends on the design of project and is formulated in consultation with the committee during the proposal process.
General Outlined Timetable
Week
Date
Items Due
1
Feb 14–20
– Auditions/casting
– Scheduling
– Project overview
2
Feb 21–27
– Costume measurements
– Read senior work document
3
Feb 28–March 6
– Photoshop collage: costumes/lighting/set
– Budget proposal due to Senior research and Mike by break
– Schedule defense with committee: reconfirm
– 1st showings: Thursday March 3, 7pm
        - 50% complete
        - Show costume ideas: images or clothes
        - Music/set choices discussed and in design phase
        - Concepts/research/drawings shown
– Collage: costumes/lighting/set
– Press release draft due Friday March 4
4
March 7–13 
– Research sound options, download files
– Website project: Upload the following:
        - Research board APRIL 8
        - Resume APRIL 15
        - Make live stream screening event MAY 6 or 7
        - List of resource links accessed MAY 10
        - Video reel MAY 16
5
March 14–20
– Begin programs: bios, piece info, notes
– Begin poster and invitation design concepts (choose images)
– Final press release due Friday March 18
6
March 21–27
SPRING BREAK
7
March 28–April 3
– Invitations to printer Friday April 1
– 2nd showing March 31, set up zoom meeting
– 75% complete
– Include music draft
8
April 4-April 10
– Begin lighting concepts, cue sheet
– Schedule group work time in media lab
– Posters to printer Friday April 8
– Collages due April 8
9
April 11–April 17
– Distribute posters Friday April 15
– Final program copy due Friday April 15
– Resume due
10
April 18–April 24
Student Symposium April 22
11
April 25–May 1
– 3rd showing: April 25, set up zoom meeting
– 100% complete
– Music master mix complete
– Costumes complete
– Final lighting cue sheets due Friday, April 29
– Hang and focus any specials Friday April 29, 1:30-4:30pm
– Final sound files to Mike by Friday April 29
12
May 2–May 8
– Tech week, 6:30-10:30 each night, Mon-Sat
– Print program by Wednesday May 4
– Set up Live stream May 6 & 7
13
May 9–May 15
– Rough draft of final 700 paper to primary advisor by Monday May 9
        - Reconcile budget
        - Revise research board
        - Include list of resource links accessed
– Costumes cleaned, returned to shop
14
May 16–22 
– 700 Defense:
        - Revised 700 paper due to committee 48 hours before defense
        - Final budget: include with 700 paper
– Complete video portfolio, edit video reel MAY 16
– Revise paper after defense with notes from committee MAY 16
– Turn in any remaining receipts MAY 16
– Video for senior reception
Written Work
If presenting a theatrical performance, a reflection paper (around 10–15 pages) will be completed within two weeks of the public presentation. Keep a journal throughout to document your process including insights and changes. Your final paper should include and reflect on this process and evaluate your experience both in terms of quality and quantity of work. Be sure to address the following:
Risk and development in relation to previous work.
Choreographic process (evolution of project and working procedure with members of committee and dancers from audition to performance). How did final project differ from original proposal and why?
Organization (scheduling, showings, production aspects, publicity, tech, etc.).
Critical evaluation of quality of final project.
All written work must conform to guidelines in the MLA, 9th Edition Manual of Style. This is a living record of your thesis project; one copy will remain on file in the dance office for future students; another will be sent to the library under special collections.
Evaluation Criteria
At the end of each project, typically during exam week, a feedback session or defense is scheduled. All written work is completed and submitted approximately three days before this date. This conversation with the committee is an opportunity to reflect on the process and product of the project, to answer additional questions raised by the work, and to discuss how the independent project experience can inform and influence further work and study in the field of dance.
Students should come to the defense prepared to discuss their project in terms of the criteria for evaluation, listed below, as well as the program's general educational goals discussed in the educational goals section.
Your project is evaluated on process as well as product.
The faculty criteria for grading your projects include the following:

Process (project proposal through production and feedback sessions)
Risk and development
Quality
Written evaluation and perception