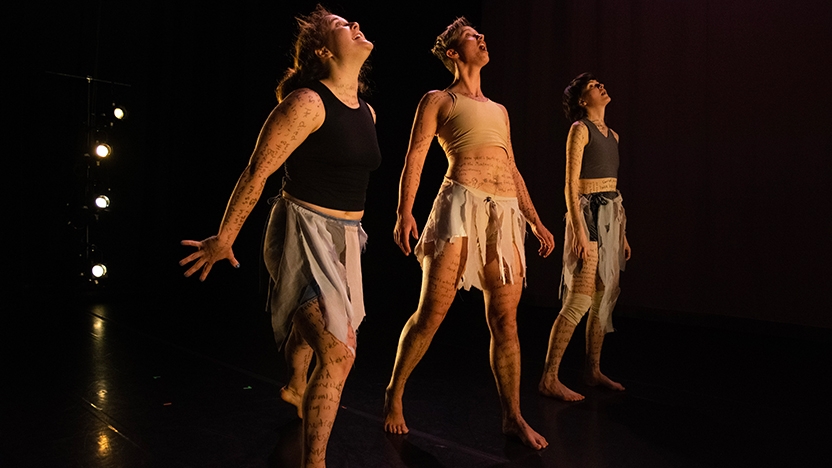 Scheduling
First showing: Work is expected to be 50 percent complete.
Second showing: Work is to be 95 percent complete with costumes shown (or at the very least with simple costume colors, fabrics, and design).
Third showing: Work 100 percent shown in costume. It is from the video of this showing that final designs for lighting will be made. Any changes should be shared with the technical director (TD)/designer before tech week.
The Dance Department makes every effort to maximize your access to studio time. After classes and faculty needs, student concerts are given first priority. All rehearsals are scheduled through the office of the program TD.
Get daily schedules from each dancer at casting time and make a master schedule based on these. Submit space reservation request to TD. NOTE: Changes in weekly rehearsals can be made on the posted space schedule.
Plan the following dates with your project advisors and TD.

Publicity Deadlines:

MAC event calendar: mid-May
Fall dance calendar: early August
Winter/spring dance calendar: early December
MAC newsletter: beginning of semester of performance

Weekly production seminar

Between each showing, plan feedback session with advisors, faculty, and TD. 
Preparation for tech week: After your third showing you will meet with the designer/TD to discuss elements of your lighting, the cueing, the color, and flow of each piece, as well as the flow of the concert as a whole.
Performance week: The exact schedule will vary, but typically load-in of your production will begin on the Friday afternoon before your opening night. (See schedule below.)
Final paper is due at least three days before your defense meeting. A thesis defense with your committee should be scheduled through your primary advisor. You will be responsible for coordinating this meeting time with your third advisor.
Estimated Performance Week Schedule
| | | |
| --- | --- | --- |
| Day | Time | Action |
| Monday | 6:30–10:30 p.m. | First half of program cue to cue and run |
| Tuesday | 6:30–10:30 p.m. | Second half of program cue-to-cue and run |
| Wednesday | 6:30–10:30 p.m. | Run-through |
| Thursday | 6:30–10:30 p.m. | Dress rehearsal/video |
| Friday | 6:30–10:30 p.m. | Opening night |
| Saturday | 6:30–10:30 p.m. | Closing night and strike |
Make this performance week schedule known at the outset of your rehearsal period. Tech rehearsals can be planned around evening classes and seminars if TD is aware of conflicts. You and all your cast members may need to assist in strike.
Budget
Thesis productions are provided with the following services from the regular dance program budget at no charge to the department budget: 
Publicity photos
Color posters
Programs
Sound recordings (property of program)
Video recordings (property of program)
Lighting and sound equipment
Lighting design and direction
Sound design
Technical direction
Production stage management
Running crew
Project Budget: 700-level projects are allotted $300, which may not be supplemented with personal funds. Purchases can be made online with program credit card. Local purchases made by the student can be reimbursed with documentation. This budget must cover the following expenses:
Research materials and travel, as applicable
Costumes (property of program)
Props (property of program)
Special effects
Sets (property of program)
Invitations
Musicians fees (non-students only)
Receptions
You will prepare your budget:

Rough estimate of expenses submitted with proposal.
Spending plan should be submitted to the primary advisor.
Final reconciliation of actual spending, with documentation (receipts), submitted with final paper.
Costumes
Begin work on costumes early! Try different ideas to get the feel of skirts vs. pants, weights of fabrics, colors, etc.
Get each dancer measured and arrange with the program costume assistant to search both the dance and theatre collections.
Arrange for fittings with the appropriate program and departmental person.  Plan your preproduction time carefully to allow at least two weeks for alterations prior to performance week. Remember, you are expected to show costumes at third showing.
Clean and press costumes as instructed by program assistant. Take care of them during performances. Never clean costumes during performance run without permission or directions from costume assistant.
Return all costumes personally. They should be cleaned according to the instructions of program assistant and returned to their original location no later than one week after closing.
All costumes purchases with departmental funds are property of the dance program.
Music
Early in your rehearsal process, seek out the TD to arrange for your recording needs.
Costs associated with the purchase of music can be covered by your budget.
Digital copy of final sound mix must be sent to TD by Monday of tech week.
Live music is considered a special effect (see below).
Special Effects
Often you will have ideas for effects that you would like to try. These should be discussed with TD when you first propose your project. Often we are able to provide a whole range of effects without drawing on your budget. At times, the TD or designer may suggest an effect for a dance.
Live music with or without amplification
Projections/video manipulation
Stationary or flying scenery
Amplified live voices
Non-theatrical lighting fixtures
Makeup
Consider the size of the performance space as well as special effects.
Decide on a makeup session with dancers before run-through.
Dancers should be in makeup by Wednesday of tech week.
Students should bring their own makeup.
Documentation
All of your showings, dress runs, and opening night performances are video recorded. A final master copy of your concert becomes part of the program's archives. You will receive links to this footage after each showing.
An unedited copy of your performance will be available immediately afterward.
A fully edited copy may take up to one semester after the performance to complete.
Reception
Reserve space/supplies/personnel.
Program funds may be used only for public receptions.