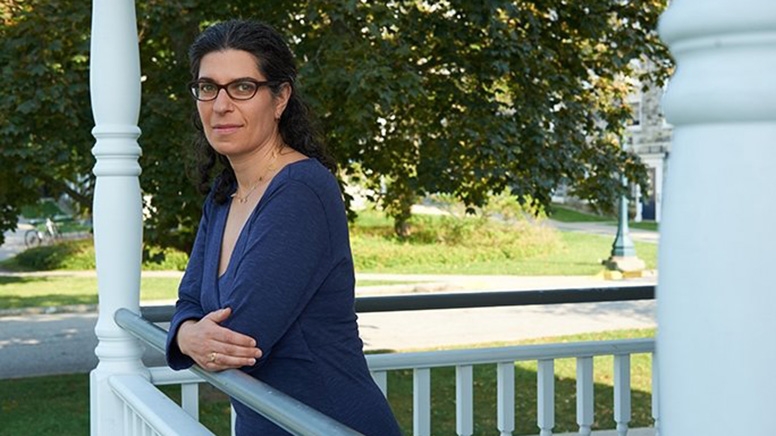 Reflections
Rabbi Danielle Stillman
It is good to be back in Vermont. Although I have felt longing for the stone alleys and stairs of Jerusalem, and for the melodies of Shabbat floating out of small synagogues every few blocks, I have also felt my nervous system settle down many notches upon reaching this verdant place that my family and I call home. It is nice to get back into the rhythm of it all—working with my colleagues at the Scott Center for Spiritual and Religious Life, planning for another High Holiday season with alumnus and cantor Aaron Mendelsohn '95, catching up with undergraduate students who were still in Middlebury for the summer, and dipping into my Hebrew every now and then with students and teachers in the School of Hebrew. 
Being in Israel this past year, I witnessed the formation of a new government whose policies and plans have divided the country and led to unprecedented protests in the streets of Jerusalem and Tel Aviv. It feels strange to be back in Vermont now, reading about it all from afar and just beginning to reflect on my experience. On the one hand, the forecasts for where this current government is taking the country are bleak. It is clear that their aim is to curtail the rights of many groups: women, progressive Jews, LGBTQ Israelis, and Palestinians living both inside Israel proper and in the Occupied Territories. On the other hand, the protest movement may lead to the kind of coalition that is needed to make some long-overdue changes in many aspects of Israeli society. We just don't know yet, and it's going to be hard work.
What I do know is that I met amazing people and learned about amazing organizations that are already doing the grassroots work I believe will be crucial to a peaceful way of out of the conflict and toward an equal society for all those who live in the land of Israel and Palestine. These people and groups are doing the work that brings hope where there is no hope. They are the members of the Parents Circle-Families Forum, an organization that brings together Israeli Jews and Palestinians who have lost family members to the conflict, allowing them to get to know one another, to support each other, and to fight for a different way. They are the members of Combatants for Peace, soldiers and combatants from both sides who have experienced and even contributed to the violence and are now looking for a nonviolent approach. They are the young students who attend the Hand in Hand (Yad b'yad) schools, which are teaching within Israel in both Hebrew and Arabic, to both Jews and Arabs. They are the kids who sing together in the Jerusalem Youth Chorus, which builds in dialogue with every rehearsal, and the kids who hang out and dialogue with kids from totally different neighborhoods in the youth group Kids4Peace. They are the clergypeople of all religions in Jerusalem coming together to keep a working coexistence on Mount Zion and in the Old City at the Jerusalem Intercultural Center.
Here at Middlebury we began a new initiative last year, the Davis Collaborative in Conflict Transformation. This past year I saw the techniques this initiative is studying and teaching in action, on the ground. None of it is simple or clean or emotionally easy. But it is what gives me hope, and more importantly, keeps me connected to the difficult and promising project that is the state of Israel. 
I look forward to this year back on campus, where I can begin to digest my time in Israel and try to make sense of some of it, sharing what I learned with students and colleagues. May this be a year for all of us of finding hope where there is none, of being inspired to stick with something that is hard or messy, of noticing the fleeting beauty that hides in narrow stone passageways and wordless melodies. Israel is not alone in being a country of divisive politics and overwhelming crises and inequality. We live these here in America too, and indeed in the whole world. Let us all bring compassion to these seemingly intractable situations wherever we find them, as we walk together into the year 5784. Shana Tova u'metukah—may you have a good and sweet year.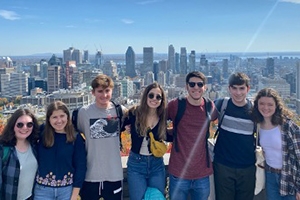 New Traditions
Jeffrey Bolnick '24, Immediate Past Copresident of Hillel and Current Treasurer
For many of us, religion is all about traditions. This past academic year, Hillel members not only continued the traditions from the club members who came before us but made new ones as well.
One of the most memorable examples was our fall break trip to Montreal. On our first night there, we were welcomed to Shabbat services at Temple Emanu-El-Beth Sholom—the oldest reform synagogue in all of Canada, and the only one in Quebec. The next day, on a walking tour with the Jewish Museum of Montreal, we learned about the history of the Jewish village of Montreal. Last, before we left, we made sure to explore the Old Town and make it up all 400-plus steps to the top of Mont Royal for an amazing view of the city accompanied by the October foliage. Overall, this retreat served as both a learning and a bonding experience for those of us who attended. We intend to return to Montreal this upcoming fall break, which is sure to be filled with fun new experiences and memories!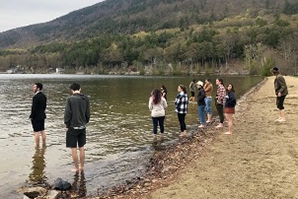 As we always have, Hillel continued to host weekly Shabbat services and dinners this year. This past semester, however, we added a twist to each Shabbat! Each week came with a new theme. Examples include 10 Plagues Shabbat, in which students worked in groups to act out one of the 10 plagues, and Kids' Shabbat, which was accompanied by a delicious dinner of (vegan) dino nuggets and mac and cheese. My personal favorite Shabbat of the year was our Shabbat at Lake Dunmore. If there were one word I could use to describe this service, it would be serenity. We had meditative services right on the shores of the lake, with the smell of the trees and the peaceful sound of the waves in the background. Our themed Shabbats truly brought a new adventure every week. We already have many new themes being planned for this upcoming semester and cannot wait to see the new ideas that students plan in the future!
The traditions we follow at Hillel—both new and old—help us build a sense of community that bonds us. I am so excited to continue the traditions we created over the last year and make new ones in the year ahead.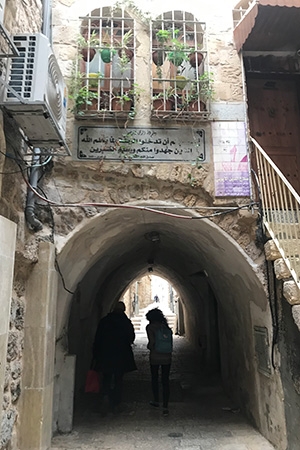 Middlebury in Israel
Rabbi Danielle Stillman
Jerusalem, the city where my family and I lived last year, has always been a meeting place. To this day it remains a pilgrimage site and a crossroads, a place where adherents to the three Abrahamic religions come to walk where their prophets and ancestors walked, and a place where students gather to study Arabic and Hebrew, to learn ancient Jewish texts, and to puzzle over modern-day politics. So I was not surprised when people I knew from Middlebury started showing up in Jerusalem—but I was delighted! Here I share a few of the special Midd people with whom I spent time in the streets, courtyards, and cafés of Jerusalem.
Recent Grads
I knew one of our recent graduates had been in Jerusalem over the summer … but I didn't know he was still in town when we arrived. I was helping hold open the entire Torah scroll at a Nava Tehilah service for the Jewish holiday of Simchat Torah when I suddenly heard a familiar voice say "Rabbi?" and turned around to see Max Shulman-Litwin '22. He was continuing his studies at the Pardes Institute, a coed Yeshiva (school of Jewish text study), through the fall. It was great to catch up and wish each other a happy New Year.
Fulbright Fellows
Speaking of recent graduates, Yamit Netter-Sweet '21.5 spent the past year as a Fulbright Fellow teaching English in Amman, Jordan. We were able to see each other in Jerusalem twice. Once she came to experience Shabbat in West Jerusalem, a predominantly Jewish area of the city. We shopped for challah (so many choices!), cooked dinner, sang the Friday evening prayers at a nearby synagogue (again, so many choices!), and went for a walk in the quiet of Shabbat morning when almost no cars drive on the roads in this part of the city.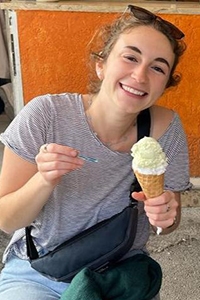 The other time, she was passing through on her way back to Amman, and I walked with her through the bustling area of East Jerusalem around the Damascus Gate of the Old City. That's where I got to hear her use her Arabic to buy a ticket for a shared taxi to the border of Jordan, in this predominantly Palestinian area of the city. Amman is almost a twin city to Jerusalem, sitting on the same latitude and altitude, and is built of the same white stone. I wish I had had the chance to visit Yamit there, too!
Alumni
One of the first people to reach out to me was alumnus Eric Maltzman '76, who read about my plans for a year abroad in Hillel Hayom. Eric has been living in Israel and working as a tour guide for many decades. We met up in Jerusalem, and he told me his story of moving to a kibbutz in Israel soon after he graduated from Middlebury, meeting his wife, and building a life on Kibbutz Ein Gev next to the Sea of Galilee. Eric described the private tours he gives to English- and Russian-speaking tourists and recent immigrants to Israel. While he learned Hebrew in Israel, his study of Russian began at Middlebury!
Archivists
I was thrilled to find out that my friend and colleague Rebekah Irwin, director and curator of Special Collections, was visiting with her daughter on a buying mission for Special Collections at the Davis Family Library. My daughter and I were able to accompany them to Jerusalem Sifrey Torah, a gallery for antique Torah scrolls and ritual objects. To our surprise, the gallery also housed a busy workshop filled with soferim, or Hebrew calligraphers, busy at work creating new Hebrew texts and repairing older ones. Rebekah had her eye on several Torah scrolls from Iraq that came in beautifully ornate, cylindrical, hard cases (different from the cloth in which Torahs from Europe are encased). We learned about the kind of parchment these Torahs were written on and how the communities decorated the cases. She ultimately did acquire one of them for the collection—stay tuned for more about the story behind that spectacular Torah in our next issue of Hillel Hayom. We said goodbye to Rebekah on a stormy day as she headed off to Jaffa—in Hebrew, Yafo, and in Arabic, Yafa—the ancient city on the Mediterranean just outside of Tel Aviv. Rebekah had a meeting with postcard collectors who specialize in "Palestiniana"—pre–World War II depictions of Israel. In a café over espressos, Rebekah acquired a dozen historic postcards by several important Christian Palestinian photographers, including Khalil Raad, Fadil Saba, and, most notably, Karimeh Abbud, one of the first known woman photographers in the Arab world. All of these postcards will be on display in the Middlebury College Museum of Art for the fall exhibit: The Light of the Levant: Early Photography and the Late Ottoman Empire.
Professors
Soon after I saw Rebekah, another friend and colleague called to let me know he was in town for a few weeks. Robert Schine, Curt C. and Else Silberman Professor of Jewish Studies, was there to do some research and visit old friends. We met for dinner and he shared his reminiscences and historical knowledge of some of the places in which I was currently spending my time—like the elegant building of the Schocken Library, where book collector and philanthropist Salman Schocken once housed his library. The Jewish Theological Seminary now owns it, and I was there many mornings a week studying the Talmud with the Conservative Yeshiva, another coed house of study in Jerusalem. Robert had studied in that very building when he was a student and remembered it perfectly. He also shared his love for the National Library of Israel, a building on the Givat Ram campus of the Hebrew University, which is soon to be moved to a new building nearby. The collection houses almost every piece of writing on Jewish topics in every language.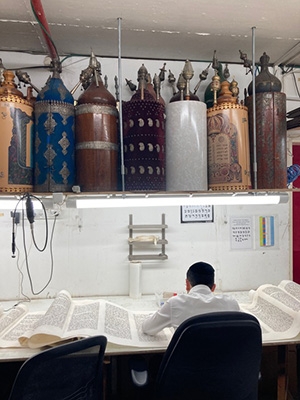 Hebrew Teachers
Last but not least, I was able to see Michal Strier, visiting assistant professor of Hebrew at Middlebury and a professor in the School of Hebrew master's program. I was really visiting her rather than her visiting me, since Michal is a native Israeli. She was at her home in Arad for about a month, so my husband and I made the two-hour drive there, where Michal hosted us in her house, which looks out over the desert and from which you can see right into Jordan on a clear day. The house is filled with art that she, her mother, and her husband have all made—everyone in their family is some kind of artist. Michal caught me up on the year I missed in Vermont and told me about what her life is like when she is in Arad. Always a Hebrew teacher, she had also turned me on to a fabulous Hebrew and Arabic teaching program in Israel that one of her master's students from the School of Hebrew started: This Is Not an Ulpan (TINAU). According to its website, "TINAU stands out as one of the only language schools in Israel that teaches both Hebrew and Arabic and is run by Jews, Palestinians, locals, and newcomers together." I ended up taking one of their evening classes in Modern Hebrew. The subject matter was extra interesting because I was learning it from the diverse perspectives of the different students in class with me—a Palestinian academic from Hebrew University, a German Algerian who also taught at Hebrew U, a former American diplomat still living in Israel, and an Italian research fellow in Jerusalem for the year.
I am grateful to everyone who reached out to me for a visit, who caught me up on what I was missing in Vermont, and who gave me the opportunity to share my experience of the city I was living in for the year. It has made it that much easier to return to Middlebury, knowing that these people I now run into—in the library, about town, or while eating lunch in the Hebrew-speaking section of Proctor—were with me in a place that can sometimes feel very far away now that I have left it.