Teaching and Writing Retreat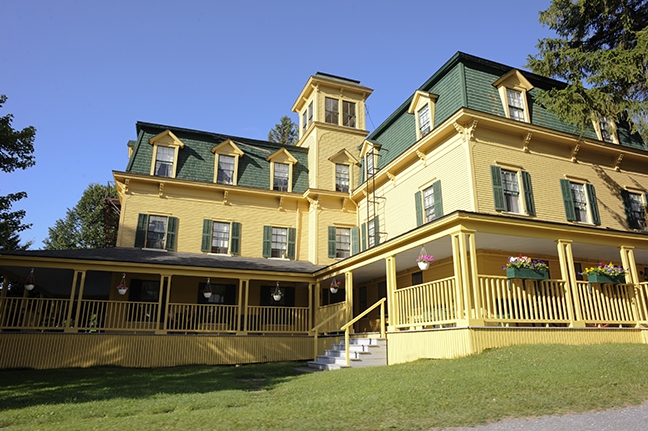 Each August, Middlebury College faculty have the opportunity to attend a teaching and writing retreat to explore topics in pedagogy, prepare for courses, and explore issues in higher education.
Retreat Announcements
Thank you to all the participants, organizers, and supporters that allowed for two days of focus on pedagogy at Bread Loaf.

Resources such as presentation slides and handouts can be found on the detailed event schedule.
2023 Teaching and Writing Retreat
Student Expectations - Faculty Expectations: How Prepared are We for Fall '23?
Monday, August 28 - Tuesday, August 29 at Middlebury's Bread Loaf Campus
The retreat is a terrific opportunity to connect with colleagues, discuss timely issues in higher education, and sharpen your focus before teaching begins in earnest in September. Sponsored by the Writing and Rhetoric Program and the Center for Teaching, Learning, and Research.
Over the course of a day and a half, we will: 
assess the COVID shadow, how it impacted the last year with student engagement, and what we expect this coming year as we all move further out of it,
grapple with our own understanding of academic rigor and how to help our students embrace authentic learning successfully,
play with the possibilities for how Conflict Transformation pedagogy can create a rigorous, inclusive learning experience,
and attend to the details of course planning through supportive conversations about fall semester syllabi. 
Accommodations
In addition to giving you lots to think and talk about, we promise to feed you well and put you up for the night on the mountain. So that we can plan accordingly, registrations must be complete by August 4, but we encourage you to register as soon as you know you plan to attend. The first 30 registrants will be guaranteed overnight accommodations at Bread Loaf. 
Can't stay overnight? Join us at 8:30 am through dinner on Day 1. Feel free to stay as long as you can, and we will be happy to welcome commuters back for breakfast at 8:00 am on Tuesday. The Tuesday program begins at 8:30 am and wraps up at 2:00 pm.
Email questions to ctlr@middlebury.edu.          
Student Expectations - Faculty Expectations: How Prepared are We for Fall '23?
For articles to read prior to the event and additional information see the detailed schedule.
Retreat Day 1—Monday, August 28
Faculty Expectations for the Year Ahead
Before arriving on Monday, please read the articles listed on the detailed schedule.
"Why is Rigor hard for us to pull off in the classroom?" Understanding where students are coming from and helping them through barriers and challenges
Designing a Syllabus That Promotes Student Learning and Success
Syllabus Group Discussions
Faculty need to bring five copies of a syllabus to workshop.
Retreat Day 2—Tuesday, August 29
Plenary in Barn then Move to Breakout Spaces
Conflict Transformation in the Classroom
Conflict transformation (CT) involves the study and practice of moving from destructive conflict dynamics to more constructive ones. This 90 minute workshop begins with a half-hour plenary session that offers an introduction to conflict transformation, with a particular focus on how Middlebury classrooms provide spaces to cultivate CT knowledge, skills, and dispositions.

We will then break into small groups, led by an interdisciplinary group of faculty. Participants will choose a theme that they want to explore, including (1) reflective writing (Genie Giaimo), (2) tackling controversial topics (Sebnem Gumuscu), (3) fostering creativity (Lida Winfield), (4) interdisciplinary conflict analysis (Sarah Stroup). Participants are encouraged to think in advance about how one of these themes relate to a coming course, assignment, or topic, and feel free to bring a copy of the syllabus or assignment. We also invite you to join and look through the new CT Canvas site: https://middlebury.instructure.com/courses/12460.
 
Scaffolding the Academic Reading Process to Increase Student Engagement and Efficacy (Shawna Shapiro, WRPR)

In this workshop, we will review some of the reasons why our students struggle with academic reading. We will then discuss how to create the conditions by which students are likely to engage with our course texts in ways that promote their intellectual engagement and sense of efficacy. Strategies to be reviewed include:

-Linking reading to our goals for disciplinary (and/or interdisciplinary) learning
-Being transparent about our selection and sequence of readings
-Providing clear goals and processes for reading
-Teaching students to assess their own understanding and engagement
-Promoting engagement with texts during class and in assignments
 
Teaching Writing in These Times (Catharine Wright, WRPR)
In an era of ChatGPT and students who learned to write remotely during the pandemic, many faculty and staff are concerned about student writing. We find ourselves adapting to or resisting current realities and wondering about the effects. At the same time, many of us are examining what kinds of knowledge and forms of expression we were taught to value. What, then, is most important for our students to learn while/about writing, in our disciplines, classes, and/or particular assignments? In this session we will discuss our responsibility to provide access to academic writing norms; to critique and resist academic writing norms; and to meet our student writers where they're at and where they might go. Participants will have a chance to reflect, share, and set individual goals in relation to their teaching of writing.
Working with Students on Collaborative Writing (Faculty Panel)
Hector Vila, Matt Lawrence, and Greg Pask will share brief stories about their experiences getting students to write collaboratively in class and in scholarly settings. They will address questions such as: why collaborative writing? how has it worked best for them? what have they learned from the process of getting students to do it? And what suggestions do they have for others contemplating student work of this type?
Syllabus Group Discussions
Lunch and Closing Remarks
2023 Organizing Committee
The retreat has been planned with care by members of the Center for Teaching, Learning, and Research and the Writing and Rhetoric Program.
Michaela Kubacki, Assistant Professor of Mathematics
Matt Lawrence, Assistant Professor of Sociology
Sarah Lohnes-Watulak, DLINQ Director of Digital Pedagogy and Media
Amy McGlashan, CCI Director of Academic Outreach and Special Projects
Amy Morsman, Director of the CTLR and First Year Seminar Program
Jill Strube, CTLR Department Coordinator
Hector Vila, Associate Professor of Writing and Rhetoric
Past Retreats
The 2022 retreat Recovering Ourselves: Relationships and Sustainable Strategies was held at the Mountain Top Inn.
In 2021, Making Connections to people, places, programs and resources was important after a year disrupted by the COVID-19 pandemic. The retreat was held on campus and included presentations by and visits to campus resources.
The 2020 retreat was canceled due to the pandemic.
In 2019, the focus was From Scholarship to Pedagogy: Our Students, Our Culture, and Our Goals. During the retreat, we considered how knowing what students bring into our classrooms—their educational experiences, their backgrounds, their world views, their challenges—can affect our teaching and how we plan our courses.
Center for Teaching, Learning, and Research
Davis Family Library, Suite 225
Middlebury, VT 05753