Teaching and Writing Retreat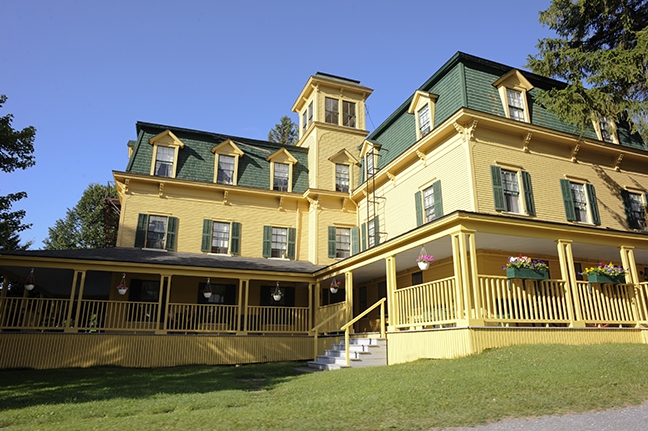 Each August, Middlebury College faculty have the opportunity to attend a teaching and writing retreat to explore topics in pedagogy, prepare for courses, and explore issues in higher education.
Save the Date! Aug. 28-29, 2023
This year's topic is "Student Expectations - Faculty Expectations: How Prepared are We for Fall '23?" A description and draft schedule are below. Registration will be available in June.
2023 Teaching and Writing Retreat
Student Expectations - Faculty Expectations: How Prepared are We for Fall '23?
Monday, August 28 - Tuesday, August 29 at Middlebury's Bread Loaf Campus
The members of the Center for Teaching, Learning & Research and the Writing & Rhetoric Program are gearing up for another opportunity to include you in deep, thought-provoking discussions about pedagogy in a glorious summer setting. This time we are retreating a little closer to home – Bread Loaf! – but between the work and the play we have planned, you will still find an escape from the ordinary. 
Whether you choose to bunk down in one of Bread Loaf's rustic rooms or just motor up the mountain for the day sessions, we aim to help you have fun, build stronger bonds with colleagues, and feel better prepared for your important work with students as the new academic year begins.
At the retreat we will:
assess the COVID shadow, how it impacted the last year with student engagement, and what we expect this coming year as we all move further out of it.
grapple with our own understanding of academic rigor and how to support our students to embrace authentic learning successfully.
play with the possibilities for how Conflict Transformation pedagogy can create a rigorous, inclusive learning experience.
and attend to the details of course planning through supportive conversations about fall semester syllabi.
Accommodations
The College will cover all overnight lodging* costs for the first 30 faculty/staff who sign up. If you would prefer, you are most welcome to attend both days of the retreat but not spend the night at Bread Loaf.
*The Bread Loaf campus is for adults only - sorry, no children or non-College spouses allowed this year.
Email questions to ctlr@middlebury.edu.          
Student Expectations - Faculty Expectations: How Prepared are We for Fall '23?
2023 Retreat Day 1
8:30 am—Welcome
9:00 am—Morning Sessions
Noon—Lunch
1:00 pm—Afternoon Sessions and Syllabus Group Discussion
4:00 pm—Leisure Time
7:00 pm—Dinner
2023 Retreat Day 2
8:00 am—Breakfast
9:00 am—Morning Sessions and Syllabus Group Discussion
12:00 pm—Lunch and Closing Conversation 
2:00 pm—Departure
2023 Organizing Committee
The retreat has been planned with care by members of the Center for Teaching, Learning, and Research and the Writing and Rhetoric Program.
Michaela Kubacki, Assistant Professor of Mathematics
Matt Lawrence, Assistant Professor of Sociology
Sarah Lohnes-Watulak, DLINQ Director of Digital Pedagogy and Media
Amy McGlashan, CCI Director of Academic Outreach and Special Projects
Amy Morsman, Director of the CTLR and First Year Seminar Program
Jill Strube, CTLR Department Coordinator
Hector Vila, Associate Professor of Writing and Rhetoric
Past Retreats
The 2022 retreat Recovering Ourselves: Relationships and Sustainable Strategies was held at the Mountain Top Inn.
In 2021, Making Connections to people, places, programs and resources was important after a year disrupted by the COVID-19 pandemic. The retreat was held on campus and included presentations by and visits to campus resources.
The 2020 retreat was canceled due to the pandemic.
In 2019, the focus was From Scholarship to Pedagogy: Our Students, Our Culture, and Our Goals. During the retreat, we considered how knowing what students bring into our classrooms—their educational experiences, their backgrounds, their world views, their challenges—can affect our teaching and how we plan our courses.
Center for Teaching, Learning, and Research
Davis Family Library, Suite 225
Middlebury, VT 05753