Achievement Award Recipients
2022 Recipient
Stephen Kiernan '82
Storytelling is both compulsion and instinct for Stephen Kiernan '82. With a writing career marked by journalistic and fictional pursuits alike, Stephen has emerged as a formidable literary force in the years since graduating with a B.A. in English from Middlebury College.
Though he initially worked at IBM after graduation, Stephen decided he wanted to pursue writing full time. He earned an M.F.A. from the University of Iowa Writers' Workshop and then reported for the Daily Iowan. The lure of Vermont was strong, and he moved back East for a job at the Burlington Free Press, where he worked for more than 11 years. His investigative reporting on tax practices at the Vermont Medical Practice Board resulted in a George Polk Award.
However, the itch for fiction never left. The Curiosity, published in 2013, marked Stephen's debut novel after decades of focusing on short fiction. Since then, Stephen has published three other novels, including the critically-acclaimed bestseller The Baker's Secret. His most recent novel is Universe of Two, a work of historical fiction set in 1944 that blends the Manhattan Project with a love story. The Washington Independent Review of Books hailed it as a "romantic tale of love triumphant."
Alongside his novels, Stephen has also written two nonfiction books. Last Rights, published in 2008, delves into both the logistical and emotional aspects of end-of-life care. His 2010 book Authentic Patriotism set Stephen on a path to explore and report on those across the United States who embody the idea of patriotism as "an act of service" and which led to his delivering a TED Talk on patriotism.
Since moving back to Vermont, Stephen has been a staunch advocate for empathetic palliative care, serving as a member of the Vermont Legislative Committee on Pain and Palliative Care. Stephen also chaired the board of the Young Writers Project, connecting with and supporting the next generation of literary voices.
The Middlebury Alumni Association Alumni Achievement Award is presented to Stephen Kiernan '82 in recognition of the personal achievements and the outstanding contributions he has made in his field. His distinguished accomplishments bring great credit to the College.
2021 Recipients
Shabana Basij-Rasikh '11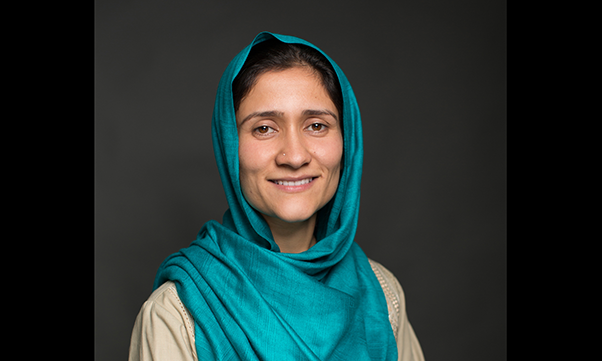 In 2008, while still a teenager and student at Middlebury, Shabana Basij-Rasikh '11 founded a school for girls in her hometown of Kabul, Afghanistan. Today, the School of Leadership Afghanistan—or SOLA, meaning "peace" in Pashto—is an Afghan-led private boarding school for girls, the first of its kind in Afghanistan. SOLA's mission is to provide Afghan girls with a rigorous education that promotes critical thinking, a sense of purpose, and respect for self and others.
Shabana's determination to create opportunities for girls grew out of her own experience as a child. In 1996, the Taliban banned girls' education and any movement by girls without a chaperone, and soon secret schools for girls began to open. Shabana—dressed as a boy—and her sister risked their lives daily as they walked Kabul's streets to one of those schools.
Shabana has never forgotten what her father told her during those years. "You can lose everything you own in your life," he said. "But the one thing that will always remain with you is what is in your head. Your education is the biggest investment in your life."
Today, as president of SOLA, she is creating paths for others to invest in their own education. SOLA enrolls nearly 100 students in the pre–6th grade, middle school, and high school programs. Ultimately, the school aims to empower students to return to their communities to break down the barriers to women's visibility and to lead Afghanistan into a prosperous and peaceful future.
"The most effective antidote to extremism is to create the best-educated generation in Afghanistan's history," Shabana says. "Our girls today—the women of tomorrow—will make that happen."
Shabana knows the need is great. In Afghanistan, 66 percent of girls ages 12 to 15 are out of school; 63 percent of adolescent girls are illiterate; there are not enough women teachers; and girls are at risk of violent assault as they walk to school.
Since Middlebury, Shabana has received an MA in public policy from Oxford University and honorary degrees from SOAS University of London and Cedar Crest College in Pennsylvania. She was named one of CNN International's Leading Women of 2014 and a National Geographic 2014 Emerging Explorer. She is a global ambassador for Girl Rising, a call to action seeking investment in girls' education worldwide. In 2018, she received the Malalai Medal, one of Afghanistan's highest national honors, and in 2019, she was named to the Forbes "30 Under 30 Asia" list in the social entrepreneurship sector.
The Middlebury Alumni Association Alumni Achievement Award is presented to Shabana Basij-Rasikh in recognition of her personal achievements and the outstanding contributions she has made to her country. Her distinguished accomplishments bring great credit to the College.
---
Brad Corrigan '96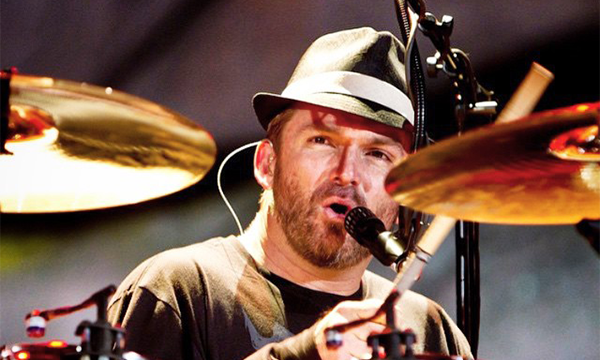 Musician, storyteller, activist, and philanthropist, Brad Corrigan '96 has made a mark in many fields since he graduated from Middlebury with a degree in music, but music is the thread that connects all of them.
In 1995, Brad and two friends, Pete Francis Heimbold '99 and Chad Urmston '98, formed the band that became Dispatch and then spent years building a fan base. They became the College's first rock stars—a remarkable do-it-yourself success story.
When they decided they needed a break in 2004, they found a spectacular way to say goodbye: with a free show in Boston at the Hatch Shell, which drew more than 110,000 people from 29 countries. When they came together again in 2007, it was for a cause. "Dispatch: Zimbabwe" was a three-night series of benefit concerts with the African Children's Choir at Madison Square Garden, with all proceeds going to organizations fighting disease, famine, and social injustice in the African nation.
In the process of staging those shows, Dispatch made history. They became the first independent rock band to sell out Madison Square Garden! The band, years and miles from their humble beginnings on the Middlebury campus, played to 60,000 people over the course of a single weekend. And they did it again in 2015, playing to sell-out crowds at the Garden. And music (literally) to their fans' ears, the band will go on tour again in September.
The band's decision in 2007 to give all proceeds from the Garden shows to NGOs helping Zimbabwe and to start the Dispatch Foundation reflected in large part Brad's desire to combine purpose with platform wherever he could. That same year, he founded Love Light + Melody, after a life-altering experience meeting Ileana, a young girl who was living and working in a trash dump in Managua, Nicaragua. Two years later, as a former member of the Middlebury lacrosse team, and through his platform in the trash dump community with Love Light + Melody, he co-founded Lacrosse the Nations, using the sport to help connect vulnerable kids with education, first in Nicaragua and later around the world.
"My heart breaks for kids that don't have the love and protection and encouragement of a family," he says. "And as an athlete and musician, I have always wanted to use sports and art to inspire kids to have fun and dream again."
Right now, Brad is focused on two Love Light + Melody projects: Ileana's School of Hope and a documentary film titled Ileana's Smile. Ileana's School of Hope will be a grade school serving up to 400 students in the community that has grown up around the trash dump. It will offer preschool through Grade 6 education, with hopes of expanding to high school in the future. 
Middlebury is proud to have such an accomplished alumnus and we are pleased to honor him.
---
Heather Vuillet Lende '81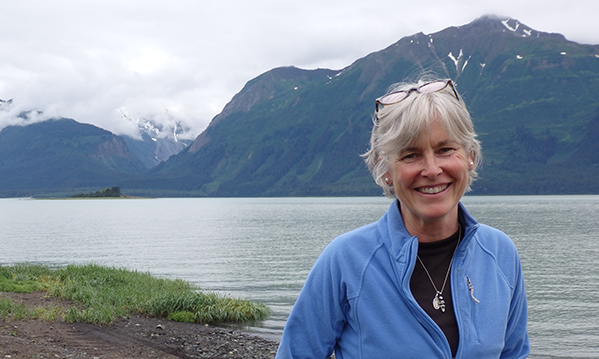 For 30 years, Heather Vuillet Lende '81has been chronicling the lives—the joys, sorrows, and challenges—and sometimes the deaths of friends and neighbors in Haines, Alaska. Haines, a small coastal town in southeast Alaska, has a population of 2,500 and lies on a fjord at the top of the Inside Passage, about 70 miles north of Juneau.
Her intimate stories have gained Heather national recognition and many accolades—including, most recently, selection as Alaska State Writer Laureate for 2021–2023.
Heather has contributed essays and commentary to the Anchorage Daily News, National Public Radio, Christian Science Monitor, and The New York Times. She is a former contributing editor at Woman's Day magazine, and over more than 20 years has written some 500 obituaries for the Chilkat Valley News in Haines. She is the author of bestselling memoirs from Algonquin Books—Find the Good; If You Lived Here, I'd Know Your Name; Take Good Care of the Garden and the Dogs; and, most recently, Of Bears and Ballots: An Alaskan Adventure in Small-Town Politics. Published in 2020, Of Bears and Ballots is the story of her experiences navigating the often-fraught landscape of local government after winning a borough assembly seat.
Heather often addresses the reader directly and personally, and even those who have never met her feel they are in conversation with a friend. On her blog, she writes to "dear reader." In following Heather's story, we come to know the colorful characters who are her neighbors and friends and become part, for a time, of the interdependent logging and fishing community, where she and husband Chip '79 own a lumberyard and hardware store.
Heather is actively involved in her community—from the library and public radio to sporting events and hospice care. She is the recipient of the 2016 Alaska Governor's Award for Distinguished Service to the Humanities and the Episcopal Bishop of Alaska's Bishop's Cross Award.
"I'm trying to be," she said in a recent interview, "I want to be, the kind of woman who says, and believes, that she can change the world through small acts, in small places, and have enough confidence — or is the word 'wisdom'? — to actually do it."
It's clear from Heather's work and life and the testimony of her community that she has succeeded.
The Middlebury Alumni Association Alumni Achievement Award is presented to Heather Vuillet Lende '81 in recognition of the personal achievements and the outstanding contributions she has made in her field. Her distinguished accomplishments bring great credit to the College.
2020 Recipients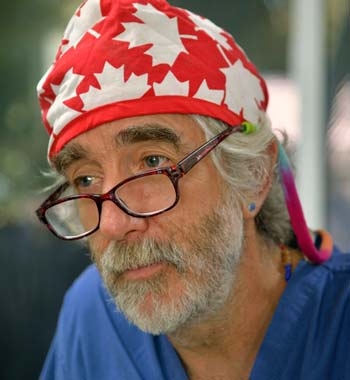 Dr. John "Bull" Durham '80
John "Bull" Durham is an orthopedic hand surgeon with specialized training in trauma, fracture care, and reconstructive techniques. He freely shares his talents and expertise with some of the most traumatized and grievously wounded people in the world, bringing them hope and healing—from Haitians ravaged by the 2010 earthquake to patients in a Mongolian trauma hospital to the underserved community of the Navajo Nation in Tuba City, Arizona, during the COVID-19 pandemic.
When the 7.0-magnitude earthquake hit Haiti in 2010, leveling Port-au-Prince, killing 280,000, and leaving millions homeless, John felt compelled to help. It was not his first international volunteer effort, but it was among the most dire. The devastation and suffering were tremendous, the people's injuries catastrophic, and Haiti's few hospitals ill equipped to treat even the most basic injuries. John plunged in, helping in any way he could. Since Haiti's hospitals had sustained so much damage, he operated in non-sterile surgical theaters, trying to save as many lives as possible.
Since then, John has returned to Haiti dozens of times to provide medical care, to help build the hospital and health care infrastructure, and to offer assistance to the many orphanages that were needed after the quake. He helped to build an orthopedic residential program at Hospital Bernard Mevs, which has been restored and transformed into Haiti's main trauma center. Over time, his mission has become focused on educating the local medical professionals so that improvements will become enduring. He has brought U.S. surgeons, nurses, and technicians with him to work with and mentor their counterparts at Bernard Mevs. When he visits, he brings surgical tools, hardware, and implants that he coaches Haiti surgeons to use.
Today, John leads efforts with Northern Arizona Volunteer Medical Corps, a medical volunteer group founded in 1995 to help those in need all over the world.
In 2015, the University of Vermont presented him with the Outstanding Service to Medicine and Community Award for his "outstanding record of community-oriented medical service."
The Middlebury Alumni Association Alumni Achievement Award is presented to John "Bull" Durham '80 in recognition of the personal achievements and the outstanding contributions he has made in his field. His distinguished accomplishments bring great credit to the College.
Robin E. Bell '80
Robin Elizabeth Bell has been blazing scientific trails since the day she graduated from Middlebury. To travel to her first job, for example, she and her now husband, Karl Coplan, built a 24-foot dory on the banks of Otter Creek and sailed from Vermont to the Hudson River, out to the Atlantic waterway, and on to Woods Hole, Massachusetts.
An intrepid explorer and researcher, and the Doherty Senior Research Scientist at Columbia University's Lamont-Doherty Earth Observatory, Robin has pioneered a diverse array of achievements and made significant contributions to our understanding of the changing planet. Her work examines the implications of climate change on polar regions and adapts scientific instruments to produce new insights about them.
She played a central role in launching the 2007 International Polar Year—which pulled nearly 60,000 scientists from more than 63 nations for an intense campaign to research and explore polar regions. During the Polar Year, she led a major expedition to investigate the Gamburtsev Mountains, a mountain range larger than the Alps, completely covered with ice, and unexplored until then.
Robin has organized and participated in numerous expeditions to Antarctica and Greenland. She discovered a volcano beneath the West Antarctic ice sheet and several large lakes trapped under miles of ice. She has made multiple important discoveries about ice sheet dynamics, overturning long-held assumptions. For example, she demonstrated that water hidden beneath the ice sheet runs uphill and that ice sheets can thicken from below.
Beyond polar regions, Robin has led research projects on the Hudson River. One project involved mapping the Hudson River from Staten Island to Albany. Her team identified critical habitats and contaminated deposits and discovered dozens of sunken ships and artifacts dating back to the Revolutionary War.
In her role as a senior research scientist at one of the world's top science institutes, Robin serves as an example for women who wish to enter science fields. She is actively involved in promoting the recruitment, retention, and advancement of women in science and engineering, and is an outspoken advocate for women in the sciences, including speaking out about sexual and gender-based harassment in labs and on expeditions. Robin served as the director of ADVANCE at the Earth Institute of Columbia University, a program funded by the National Science Foundation designed to expand opportunities for women in science and engineering.
Robin was the first woman to chair the National Academy of Sciences Polar Research Board. She was voted by her peers to be president of the American Geophysical Union. The professional scientific organization has more than 65,000 members in 139 countries. Robin assumed the presidency in 2019. In 2011, the National Academy of Science's Polar Research Board named a mile-long Antarctic ridge "Bell Buttress" in Robin's honor.. Middlebury College awarded her an Honorary Doctorate of Science in 2006.
The Middlebury Alumni Association Alumni Achievement Award is presented to Robin Bell '80 in recognition of the personal achievements and the outstanding contributions she has made in her field. Her distinguished accomplishments bring great credit to the College.
2019 Recipients
Jill Seaman '74
For 30 years, Jill Seaman has been applying the tools of modern medicine to treat infectious diseases endemic to Southern Sudan, one of the most remote, impoverished, and war-torn regions of the world.
She first began treating the Nuer tribespeople of Sudan in 1989, as a deadly, parasite-borne infection devastated the population, wiping out entire villages. In the midst of a civil war, she worked with Doctors Without Borders to set up makeshift clinics and offer the only treatment option for an area with no health-care infrastructure, electricity, or running water. After Doctors Without Borders left Sudan in the late 1990s, Jill established her own medical organization to continue her work there.
Jill is recognized as a pioneering authority on how to provide life-saving medical care in all but impossible conditions. The protocols she has developed are now being used to address the rapid spread of tuberculosis, malaria, and hepatitis B throughout East Africa. She is credited with saving the lives of thousands of people.
Jill majored in biology and chemistry at Middlebury and, after graduating, went to the University of Washington Medical School, where she received her MD degree in 1979. She completed her residency in family practice at Natividad Medical Center in Salinas, California, and later earned a doctorate in tropical medicine at the London School of Hygiene and Tropical Medicine.
For her remarkable work, Jill has been honored by the University of Washington Medical School, the National Institutes of Health, and the Royal Society of Tropical Medicine and Hygiene in London. Time Magazine has named her a "hero of medicine," and she has been awarded a MacArthur Fellowship—popularly called a "Genius Grant"—from the MacArthur Foundation.
2018 Recipients
Frank Pallone '73
Frank Pallone had started on his path toward a political career long before he ever got to Middlebury as an undergraduate. In just the fourth grade, he was elected class president at Broadway Elementary School in his hometown of Long Branch, N.J.
Frank graduated cum laude from Middlebury in 1973 with a degree in history and French. This son of a police officer would quickly add a master's in international relations from Tufts and a law degree from Rutgers.
Before he'd even celebrated his 10th reunion from Middlebury, he was elected to the City Council in Long Branch. After a stint in the New Jersey State Senate, he won election to the U.S. House of Representatives when he was just 39, and has served ever since, representing the Jersey Shore area where he grew up.
During his decades in Washington, Frank has made health-care access and environmental protection his hallmark issues. He was a leading voice in the passage of the Affordable Care Act. He has fought to protect New Jersey's shoreline from erosion and its waterways from pollution. 
Frank has managed to build bridges across political aisles while also taking a lead role in helping House Democrats craft their policy points.
Often cited as a potential candidate for U.S. Senate, Frank's profile is growing as ranking member on the House Energy and Commerce Committee. He is also co-chair of the Congressional Caucus on Armenian Issues and the Congressional Coastal Caucus, and co-founder of the Congressional Caucus on India and Indian Americans. 
Charlotte Sibley '68
Sometimes unexpected detours lead us to find our calling in life. When Charlotte Sibley entered Middlebury College by early decision, she had a plan: major in French and German, then get a PhD from Yale so she could teach French Literature. That all changed in the summer before her senior year, when she accepted an internship on Wall Street. She barely knew the difference between a stock and a bond, but her multilingualism was in demand. By the end of the summer, Charlotte decided business wasn't as boring as she thought, and after graduation, she headed to Chicago to earn her MBA.
An interest in analytics and the life sciences drew Charlotte to the pharmaceuticals industry, where she worked for over 25 years before retiring as Senior Vice President of Leadership Development at Shire Pharmaceuticals. Charlotte is a natural-born leader who does so with a marked joie de vivre. Throughout her tenure as a pharma exec, she pioneered new approaches to market research that focused directly on the consumer experience. She's been described as a "navigator"—the one who's looked to for direction on where a business should go.
A passionate side project of Charlotte's has been cultivating talent and mentoring other women in business. In 2007, she was instrumental in a global effort among leading bioscience firms to create actionable recommendations for recruiting, retaining, and advancing women to the most senior corporate roles, and in 2008 she was named "Woman of the Year" by the Healthcare Businesswomen's Association.
Retirement hasn't stopped Charlotte; she currently serves on several boards of directors and actively mentors women in business. "Life is not a dress rehearsal," says Charlotte. "Go for it!"
Young Alumni Achievement Award
Corey Reich '08
In 2007, when Corey was a student at Middlebury, he was diagnosed with ALS—a rare diagnosis at such a young age. His doctor advised him not to return to school, but Corey insisted, and graduated with honors in 2008.
ALS is more commonly known as Lou Gehrig's disease. In his ten years since graduating, Corey has seized the opportunity to become a dynamic fundraiser and advocate for those with the disease. When Corey was diagnosed, he and his family sprang to action, becoming involved with the ALS Therapy Development Institute—or ALS TDI—the only group dedicated to developing drugs to treat ALS. By early 2008, the Reichs were organizing fundraisers for ALS TDI under the banner "Corey's Crusade," and their involvement has increased exponentially over time. To date, Corey's Crusade has raised a phenomenal $8 million.
Corey is an outspoken advocate for those with ALS, raising awareness about the disease through his good-humored, outspoken presence in social, print, and broadcast media. He has been a Young Faces of ALS Ambassador since 2009, and is part of the A2A Alliance, whose goal is to share stories of people like Corey and organizations like ALS TDI. Corey was the recipient of ALS TDI's Stephen Heywood Award in 2009, the Lois Blair Rawlings Educational Inspiration Award in 2011, and the A2A Alliance's Hope & Courage Award in 2013.
Corey has refused to let his love for sports be sidelined, and has worked as an assistant coach in the tennis program at his alma mater, Piedmont High School, since graduating from Middlebury. He has also partnered with professional ball clubs to raise awareness about ALS.
Lee C. Buchheit '72
Lee Buchheit has been at the center of many major debt crises that have threatened the solvency of national governments over the past three decades. The Guardian newspaper has called him a "fairy godmother" for finance ministers. To the Financial Times he is "a crusader for financially stricken countries." He has helped more than a dozen bankrupt countries to restructure their debt and restore their credit.
When governments run out of money and have to stave off creditors, Buchheit is the lawyer they turn to. In Greece, he orchestrated the biggest debt restructuring in history, cutting the nation's debt by 100 billion euros. In Iceland he was named man of the year after negotiating a deal delaying repayments to Britain after the collapse of Icesave, an online branch of the national bank. His academic papers, books, and legal briefs are required reading for anyone involved in a sovereign debt dispute on the side of the government or the creditors.
A philosophy major at Middlebury, Lee graduated in 1972 and went on to study law at the University of Pennsylvania, earning his J.D. in 1975. He continued his studies at the University of Cambridge, receiving a diploma in 1976. He joined the law firm of Cleary Gottlieb Steen & Hamilton LLP that same year and became a partner in 1984. Today he is a senior partner in the firm's Sovereign Practice Group.
Lee is the author of two books in the field of international law and more than 40 professional articles. The Financial Times named him one of its 10 most "Innovative Individuals" of 2012 for his work on the Greek debt restructuring, and the International Financial Law Review honored him with its inaugural Lifetime Achievement Award in 2010 for his contributions to international finance.
2017 Recipients
Lee C Buchheit '72
Lee Buchheit has been at the center of many major debt crises that have threatened the solvency of national governments over the past three decades. The Guardian newspaper has called him a "fairy godmother" for finance ministers. To the Financial Times he is "a crusader for financially stricken countries." He has helped more than a dozen bankrupt countries to restructure their debt and restore their credit.
When governments run out of money and have to stave off creditors, Buchheit is the lawyer they turn to. In Greece, he orchestrated the biggest debt restructuring in history, cutting the nation's debt by 100 billion euros. In Iceland he was named man of the year after negotiating a deal delaying repayments to Britain after the collapse of Icesave, an online branch of the national bank. His academic papers, books, and legal briefs are required reading for anyone involved in a sovereign debt dispute on the side of the government or the creditors.
A philosophy major at Middlebury, Lee graduated in 1972 and went on to study law at the University of Pennsylvania, earning his J.D. in 1975. He continued his studies at the University of Cambridge, receiving a diploma in 1976. He joined the law firm of Cleary Gottlieb Steen & Hamilton LLP that same year and became a partner in 1984. Today he is a senior partner in the firm's Sovereign Practice Group.
Lee is the author of two books in the field of international law and more than 40 professional articles. The Financial Times named him one of its 10 most "Innovative Individuals" of 2012 for his work on the Greek debt restructuring, and the International Financial Law Review honored him with its inaugural Lifetime Achievement Award in 2010 for his contributions to international finance.
Anne Walsh Rimoin '92
The Democratic Republic of Congo is home to some 80 million people, a staggering array of wild animals, and some of the most deadly disease organisms known to medical science, including those responsible for malaria, leprosy, cholera, typhoid, sleeping sickness, HIV/AIDS, and ebola. But even though the DRC—the second largest nation in Africa—is known to be a cradle of emerging and reemerging diseases, it is a black hole of public health information.
Dr. Annie Rimoin is trying to change that. An associate professor in the Department of Epidemiology at UCLA Fielding School of Public Health, she is working with the Congolese government to implement disease-surveillance systems in remote rural areas. The goal is to detect infectious diseases of animal origin that are crossing into human populations before they become widespread.
Annie also provides technical assistance to the Congolese government for general disease surveillance, polio eradication, and routine immunization. She is currently conducting a study (funded by the Bill and Melinda Gates Foundation) to assess population immunity to vaccine-preventable diseases, which will help the Congolese government to close immunity gaps.
As a Middlebury student, Annie majored in African history. Following her graduation in 1992, she was a Peace Corps volunteer in Benin, which is where she discovered her interest in epidemiology. She earned a master's degree in International Health and Nutrition at UCLA in 1996 and received her PhD from the Johns Hopkins Bloomberg School of Public Health in 2003. She founded the UCLA-DRC research program in 2004. She is also a founder of Congo BioMed, an international nonprofit organization that promotes biomedical research, training, and sustainable health programs in the DRC. With pride, we honor Annie today with the 2017 Alumni Achievement Award.
2016 Recipients
Carolyn Kroll Reidy '71
When Carolyn Kroll Reidy graduated from Middlebury in 1971, she planned to become a college English professor. She enrolled in a master's program at Indiana University, earning her MA in English in 1974, and went on to complete her PhD in 1982, but her career took an unanticipated turn along the way. Instead of teaching, she went into publishing, and her success in that field has been remarkable.
Carolyn is president and CEO of Simon & Schuster, Inc., one of the world's leading publishing companies, distributing hardcover books, paperbacks, electronic books, and audiobooks in more than 200 countries around the world. She has long been recognized as an innovative force in the publishing industry. The Wall Street Journal has listed her among its "50 women to watch," and she has been cited as one of the "100 most powerful people in entertainment" by Entertainment Weekly and as one of "America's 200 most influential women" by Vanity Fair magazine.
Her publishing career began at Random House in 1976. She advanced rapidly through a number of positions at Random House, William Morrow, and Avon Books. In 1992 she joined Simon & Schuster as president and publisher of the Trade Division. In 2001 she became president of the company's Adult Publishing Group, and in 2008 she was appointed to her present position, leading the entire company.
Carolyn serves on the Boards of Directors of the Association of American Publishers, the National Book Foundation, and Literacy Partners Inc. She resides in New York City with her husband, Stephen Reidy of the Middlebury Class of 1972, a principal in Euclid Partners, a venture capital firm. With pride, we honor her today with the 2016 Alumni Achievement Award.
Bill Burden '86
Bill Burden's warm tenor voice and charismatic performances have delighted opera audiences and critics throughout North America and Europe for more than 20 years. Bill developed an interest in opera as a boy of 11 or 12, when he made his first appearance on the opera stage. He lived in Miami, Florida, and was a member of the Miami Boychoir, which was selected to perform as the children's chorus in a Miami Opera production of Puccini's La Boheme. Luciano Pavarotti and Mirella Freni performed the leading roles, and Bill never forgot the impact of their singing on the audience and on him.
At Middlebury, Bill majored in Spanish literature, but he was always singing. He was a member of the College Choir and D-8. He participated in many musical theater performances, toured with the choir, and performed in concerts featuring the choir and the Vermont Symphony Orchestra. It was the choir's coach and accompanist, Glenn Parker, who first urged him to pursue a master's degree in music and suggested that he study with Margaret Harshaw at Indiana University.
Bill took that advice and worked intensely with Professor Harshaw to build a foundation of vocal technique. While he was in graduate school, he also participated in summer programs, including the San Francisco Opera's Merola Program for young artists, the Santa Fe Opera apprentice program, and the Wolf Trap Young Artists' Program. He completed his master's in music in vocal performance in 1990 and launched his career as a performer. His debut with a major opera company came in 1992, when he performed with the San Francisco Opera as the Count of Lerma in Verdi's Don Carlo and as Janek in Janacek's The Makropoulos Case.
In 1993, Bill made his European debut as Rudolfo in La Boheme with Britain's Opera North. His Metropolitan Opera debut came three years later. Since then he has frequently appeared in leading roles at the Met and other major opera houses all over the world. He also sings in concert, performing with the Atlanta Symphony Orchestra, the Philadelphia Orchestra, the Minnesota Orchestra, the BBC Symphony Orchestra, the Berlin Philharmonic, and Les Arts Florissants, among others.
In addition to performing, Bill teaches at the Mannes School of Music in New York. He lives in Princeton, New Jersey, with his wife, soprano Carol Chickering and their two children, Claire and Jaxon.
2015 Recipients
Polly Kawalek '75
With a degree in economics from Middlebury in hand, Polly wasted no time earning her MBA from the University of Chicago Booth School of Business. In 1979 she was hired by Quaker Oats Company as a marketing assistant in the pet foods division and she remained with the company until she retired in 2004, a longevity not seen very often in this day and age. From the beginning, Polly demonstrated her energy and creativity in marketing and when she became brand manager of new products, she helped create cat treats that were highly successful and became a $20 million business for Quaker. The people at Quaker clearly realized her potential and she moved quickly through the management ranks, serving as the director, then vice president, then president of various divisions within the company. In 2001 she became the president of the U.S Foods Division, and after Quaker Oats was acquired by PepsiCo, she earned the title of president of the Quaker Foods Division.
But it's not just her career company that has recognized Polly's talents. She has served on numerous boards over the years from Big Brothers/Big Sisters to the Chicago Foundation for Women to the John Bean Technologies Corp. She currently serves on the steering committee of the Kellogg School Center for Executive Women and is a member of the University of Chicago Women's Business Group.
Polly has served over the years as a positive role model for women in business, one our young alumnae would do well to emulate. With pride, we honor her with the 2015 Alumni Achievement Award.
Curt Viebranz '75
Upon leaving Middlebury in 1975 and heading to Harvard University to earn his MBA, Curt Viebranz couldn't possibly have imagined that one day he would be overseeing the presidential library of George Washington. Yet in 2012 he was named the president and CEO of the historic Mount Vernon estate by the Mount Vernon Ladies' Association, becoming only the 10th person to head the estate since the association began its stewardship in 1858.
His appointment came after a long career as a media executive, which included 17 years at Time Warner and predecessor company, Time Inc., in various senior management positions. He was president of HBO International, the first president of Time Inc. Multimedia, president of Time Inc. Europe, and of HBO Video. Leaving Time Warner, Curt used his entrepreneurial skills to become involved with several media-related start-ups over the years, helping to launch and develop their potential. He joined Olé Communications, a diversified Latin American media company, and from there moved on to join TACODA Inc., a digital advertising network, where he was an original investor, served on the board of directors, and was CEO. Prior to the offer to oversee Mount Vernon, Curt was working as the CEO of Korrelate, a firm that provides insights and analytics on Web advertising. 
Clearly Curt has built an impressive resume since his undergraduate years and yet he has also found time for public service and to serve his alma mater in various volunteer roles, including as a director and president of the alumni association. His latest role is that of Midd parent to son Angus, Class of 2018.5. We are proud to call him an alumnus and, with great pleasure, present him with the 2015 Alumni Achievement Award.
2014 Recipients
Marcia Kraft Goin '54
Marcia Kraft Goin's lifetime dream was to become a doctor. After studying biology and chemistry at Middlebury, she graduated in 1954 and headed off to Yale University, where she planned to pursue internal medicine. But Yale's Department of Psychiatry was the national leader in psychiatric research at that time and Marcia became hooked. She graduated in 1958, one of the first Middlebury women to graduate from medical school in the '50s, and ultimately completed her psychiatric residency at Los Angeles County General Hospital/University of Southern California. She also earned her Ph.D. from Southern California Psychoanalytic Institute. Today she is a professor of clinical psychiatry in the Department of Psychiatry and Behavioral Sciences at the USC Keck School of Medicine.
Her dedication to serving the mentally ill, educating the public that mental illness is treatable and diagnosable, researching strategies in psychiatric education, researching the causes and effects of discrimination based on race, religion, and social class, measuring the outcomes of treatment, and working with her late husband to study the psychological reaction to plastic surgery operations have all made her a leader in the field of psychiatry. Her academic appointment has allowed her to share her expertise with countless students and psychiatric residents and her numerous publications have added great depth to psychotherapy research.
In the mid-90s, Marcia decided to become involved in American Psychiatric Association politics and ran for national office, becoming an elected trustee at large. In 2000 she became the vice president and was then elected president in 2003. Her main goals included decreasing the stigma associated with mental illnesses, as well as increasing public education and research funding for mental health. Marcia has given of her time to several other psychiatric societies as well and, not surprisingly, she has garnered numerous awards over the years.
For her many accomplishments in her impressive career, we are pleased to recognize Marcia with the 2014 Alumni Achievement Award.
Timothy Rub '74
Timothy Rub planned to be an English major at Middlebury but after an art history class with John Hunisak, he was persuaded that art was his first love and he never looked back. After graduating in 1974, he went on to earn an MA from the Institute of Fine Arts at NYU and attained an internship at the Metropolitan Museum. Landing his first real job in a museum, as curator of the Cooper-Hewitt in New York, he began the road that has led to his successful career in museum leadership. After four years he left to earn his master's from the Yale University School of Management and added a skill to his resume that is rare among art museum directors. He secured a job as associate director, then director of the Hood Museum of Art at Dartmouth and simultaneously went through Harvard University's yearlong Program for Art Museum Directors.
His career launched, Timothy caught the eye of the Cincinnati Art Museum, where he became the director in 2000. For the first time he was overseeing a large construction project, a $10 million wing, and he also raised an endowment allowing for the elimination of admission fees, among other accomplishments. It was inevitable that other museums would take notice. In 2006 he was appointed director and CEO of the Cleveland Museum of Art, where he oversaw the beginning of a major $350 million expansion and renovation project that aimed to boost the museum's space by 50 percent. The project was successfully on its way when Timothy received the offer of a lifetime—to become the George Widener Director and CEO of the Philadelphia Museum of Art, a museum whose collection he has loved since he was a young man.
One of the best-regarded museum directors in the world, Timothy Rub has gone from earning an art history degree from Middlebury to becoming an art museum leader with a solid art-history background and expertise in managing building and fund-raising projects. It is with pride and great pleasure that we present him with the 2014 Alumni Achievement Award.
2013 Recipients
Charles MacCormack '63
Charlie MacCormack, an English major and member of the class of 1963, didn't waste any time after graduation. With his Middlebury diploma in hand, he went on to pursue a master's in international relations and then a PhD at Columbia University.
Charlie is well known for his 18 years with Save the Children, an internationally acclaimed NGO whose mission is to improve the lives of children through better education, health care, and economic opportunities, as well as providing emergency aid in natural disasters, wars, and other conflicts. Charlie retired as CEO in 2011. Prior to Save the Children, he was CEO of World Learning, formerly known as the Experiment in International Living, a nonprofit organization working to foster world peace through international education. Charlie was also a research fellow in foreign policy studies at The Brookings Institute, a National Science Foundation Fellow, and a Fulbright Fellow.
He served as the chair and continues to be on the Board of InterAction, the national association of more than 160 U.S. international humanitarian and development organizations. Charlie is on the board of World Learning, is co-chair of both the Basic Education Coalition and the Campaign for Effective Global Leadership and is a founding member of Malaria No More. He is also a member of the Council on Foreign Relations.
Charlie has deservedly been awarded many honors, including the Medal of Honor from the late King Hussein of Jordan, an honorary Doctor of Education from Middlebury, and an honorary Doctor of Laws from Clark University.  And for the past year, Charlie has shared his experience, wisdom, advice, and friendship with Middlebury students as an executive-in-residence. 
For his many accomplishments in his distinguished career, we are pleased to present Charlie MacCormack the 2013 Alumni Achievement Award.
2012 Recipients
Mark Odom '87
With a political science degree in hand, Mark Odom left Middlebury with serious thoughts about law school. But instead, he did something he never thought he'd do: he entered the Army, following in the footsteps of his father, Lt. General William Odom, a career military man. And ever since that decision to join the armed forces was made, Mark has been serving his country with distinction and honor.
After an initial assignment to the 82nd Airborne Division at Fort Bragg, Mark realized that becoming an Army Ranger was the route he wanted to take. After attending Ranger school and serving as a platoon leader and company officer for the 1st Ranger battalion, he was sent to Korea as the commander of an infantry company. In 1999 he continued his studies at the British military's Joint Services Staff College, receiving a master's degree in war studies. But it was the events of the next few years, as the U.S. invaded Afghanistan and Iraq, where he was deployed several times, that really shaped his career. His first tour of duty in Iraq came in 2003 when he served as the chief operations officer for the 173rd Airborne Brigade during the lead-up to Operation Iraqi Freedom. When that was over he transitioned to the Pentagon for a brief stint with the Joint Chiefs of Staff before being ordered to Fort Richardson, Alaska, to stand up a new squadron. But he knew it was only a matter of time before he was headed back to Iraq, and in late 2006 he and his squadron were dispatched. This time, as commander of the 1st Squadron, 40th Cavalry Regiment, he was in the thick of an Army initiative to build ties with Sunni tribes—whose members included former insurgents—in an effort to stabilize the country. During one of his missions, the Humvee that Mark was in was hit by a roadside bomb and his injuries sent him stateside. A true leader, his main concern was the men he had lost. And within months, he was back leading his squadron.
Now a decorated colonel, Mark is serving as the 75th Ranger regimental commander at Fort Benning in Georgia. Middlebury is proud to have this remarkable and accomplished military leader as an alumnus and we are pleased to honor him today.
Denise Schlener '77
Denise Schlener has said that she has made a living following her heart and indeed, she has built an impressive career in the environmental field. Leaving Middlebury in 1977 with a degree in environmental studies and earning a master's from the Yale School of Forestry and Environmental Studies, she has consistently put herself in positions where she can make a difference, especially in land conservation.
In 1996 she became the executive director of the Connecticut Chapter of the Nature Conservancy and led a successful campaign to secure $185 million in new state funding for conservation. She has also served as regional director of the Connecticut River Watershed Council, opening its first office in Connecticut; director of foundation relations for the Natural Resources Defense Council; director for the Open Space Institute, where she designed and managed a three-year, $12-million pilot grant and loan-making program that supported large-scale conservation purchases in northern New York and New England; and director of the Chesapeake and Central Appalachians Field Office for the Trust of Public Land—just to name a few of her many accomplishments. In 2007 she became the national director of the Land Trust Alliance, whose mission is "to save the places people love by strengthening land conservation across America." In this position she was able to, once again, put her passion for saving open land into action by working with the 1,200 member land trusts to effectively increase the pace of conservation and advance organizational excellence through accreditation. Leaving the Land Trust Alliance in 2011, she became the vice president of strategic advancement at Island Press, a publisher of books on environmental issues and a leading communicator of environmental ideas.
Clearly Denise's heart has been in the right place for the past 35 years. Here at Middlebury, where the first undergraduate environmental studies program in the country was founded and where caring for the environment is a high priority, we are proud to have her as an alumna and pleased to honor her here today.
Steve Hauschka '07
After a successful high school soccer career, Steve Hauschka arrived at Middlebury and walked onto the Panther soccer team. But after one season, he was convinced to try football, where he excelled as the squad's kicker for the next three years. During that time he was awarded All-NESCAC honors and broke the single-season and school records for field goals. The consummate student-athlete, he majored in neuroscience, graduated cum laude, and considered a career in science or medicine.
He ended up in graduate school at North Carolina State, where, with a year of eligibility left, he made the football team, earned the spot of kicker, and made all 25 extra-point attempts as well as 16 of 18 field goals that 2007 season. The National Football League noticed.
Steve's determination and perseverance to break into the NFL won him notice by several teams over the years, beginning with the Minnesota Vikings. He then made it onto the roster of the Baltimore Ravens in 2008 and eventually earned the hard-won spot of number one kicker in 2009. Except for a stint in the United Football League in 2010, on the Las Vegas Locomotives—who incidentally won the championship with Steve on board—he has been kicking on various NFL teams every season. During a preseason game in 2011, while playing for the Denver Broncos, Steve kicked a 51-yard field goal to beat the Seattle Seahawks. The Seahawks noticed and, when Denver waived him, they signed him as their number one kicker.
Not surprisingly, it was a good season in Seattle for Steve, kicking 25 for 30 and tying the Seahawks record for most field goals in a game, with 5, and he has signed on for another year. As an inspiring role model to current student-athletes, and indeed any new graduate, Steve has shown that hard work and perseverance pay off in following a career dream. We are pleased to honor him today with the Young Alumni Achievement Award.
2011 Recipients
Walter R. Mears '56
Walter Mears has said that working four years on the College newspaper, the Campus, was his "journalism school." Using the lessons he learned there, he began his impressive career as a journalist the day after graduation when he joined the Associated Press full time. Until 1960 he worked in the Montpelier office and covered the Vermont State House, a precursor to 40 years of reporting on politics in action, particularly during presidential campaigns. In 2003, he published Deadlines Past: Forty Years of Presidential Campaigning: A Reporter's Story in which he recounts his experiences covering 11 campaigns from the Kennedy-Nixon battle to the Gore-Bush race. In 1977 he won the Pulitzer Prize for national reporting for his coverage of the 1976 presidential campaign. The high esteem he was held in by fellow reporters was chronicled in Timothy Crouse's book The Boys on the Bus, which was about the 1972 campaign press corps. Trying to make sense of the endless noise coming from the candidates' campaigns, the other reporters would hunt him down and ask, "What's the lead, Walter?" reflecting the ease and speed with which he could come up with the opening paragraph of a news story.
He was even featured several times in the popular cartoon, "Doonesbury."
It's no surprise that this talented newsman rose through the ranks of the Associated Press with distinction. He served as AP Washington bureau chief and, as executive editor in the New York bureau in the 1980s, he oversaw more than 1,500 journalists and 220 news bureaus worldwide. Until his retirement in 2001, he was vice president of the Washington bureau and wrote "Washington Today" columns that circulated to hundreds of newspapers around the country. He was awarded the AP Managing Editors Association top performance award in 1973 and the AP Robert R. Eunson Distinguished Journalist Award in 1986. Middlebury honored him with a Doctor of Letters in 1977. A loyal alumnus, he served on the Board of Trustees from 1980–1984.
In 2004 Walter returned to campus to give the Robert W. van de Velde Jr. lecture about his long and distinguished career and today we are pleased to recognize that career with the Alumni Achievement Award.
Betty Nelson '51
Betty Nelson's interest in psychology began with inspirational professors at Middlebury, and her undergraduate experiences have led to an impressive career as one of the world's foremost market research experts. After graduating in 1951 with a degree in psychology and earning her PhD in 1953 from the University of London, she embarked on her career by becoming the first psychologist employed in the market research department of Mars Ltd. She moved on from there to become the market research manager and then managing director at the ad agency Benton & Bowles. In 1965 she became the founder and chief executive of Taylor Nelson, and by the time she left in 1992, it was the largest market research agency in the United Kingdom and fourth largest in the world. (It's now the second largest in the world.)
With her characteristic boundless energy, she tackled a series of public service jobs over the next few years, including running the Princess Royal Trust for Carers, chairing the South West London Community NHS Trust, and acting as chair of council of the University of Surrey, Roehampton, and deputy chair of the Open University, which she helped establish in the United States after its success in the United Kingdom.  In addition she was affiliated with numerous organizations, often in positions of leadership, and her work with the United Kingdom Ecolabelling Board during the 1990s led to the honor of being awarded the Order of the British Empire by Queen Elizabeth in 1997. Other honors bestowed on her over the years include honorary doctorates from City University and Open University; and being named an honorary fellow by City and Guilds Institute, University of Roehampton, and the Market Research Society, which also bestowed a gold medal on her in 1993.
In 2000 an offer from Online Research Agency drew her back into the market research industry where she continued to be a leader in advocating for creative uses of market research results. Since 2006 she has been the executive chairman of FlyResearch Ltd., and she recently helped to set up QResearch, which is pioneering online surveys via mobile phones to a panel of 5,000 young people. Middlebury is proud to have such an accomplished alumna and we are pleased to honor her here today.
2010 Recipients
Randy Brock '65
Randy Brock has been lending distinction to the endeavors he has undertaken since the day he graduated from Middlebury in 1965. Beginning with a commission in the U.S. Army and service in Vietnam, he earned the Bronze Star Medal for meritorious service and the Army Commendation Medal with 1st Oak Leaf Cluster. Upon leaving the military, he returned to Vermont, bought a house on a back road in Ripton, and started a security business—a one-man operation in the beginning—that eventually grew to be Brock International Security Corporation with 1,000 employees, branches in several major cities, and status as one of the top 25 security service companies in the country.
After selling Brock Security to a publicly held company, Randy joined Fidelity Investments, in 1989, as vice president of corporate security, overseeing internal auditing services, regulatory compliance, ethics, corporate risk management, and corporate security groups. After retiring in 2003 as executive vice president of risk oversight, he was elected as the 28th state auditor of Vermont, serving in that capacity until 2007. He continues today to serve the people of Vermont as a state senator.
One would think with such a full career, Randy wouldn't have time for much else. But Randy has a strong sense of civic duty. His public service includes involvement on several nonprofit boards. He sits on the national board of directors of the Alzheimer's Association, where he is chair of the audit committee and a member of the executive committee, and he is vice chair of the board of the Hodges University Foundation. He is also a trustee of both the Vermont Historical Society and of Vermont Law School. He was appointed by President George W. Bush to the board of visitors to the U.S. Military Academy at West Point and was elected vice-chair.
Vermont is fortunate to have had Randy as a resident for 40 years, and Middlebury is fortunate to have such an accomplished alumnus. We are pleased to honor Randy today.
Jane Bryant Quinn '60
When Jane Bryant Quinn left Middlebury in 1960 with a degree in American literature, she couldn't possibly have known the impact she would have in the world of personal finance over the next 50 years. During her first journalism job, with The Insider's Newsletter, she covered the developing consumer movement and was assigned the money stories—and discovered she loved the field. She went on to help found The Business Week Letter, about investing and personal finance, and her career was born. Combining her writing skills with her financial knowledge, she started a newspaper column that was syndicated by the Washington Post and ran for 27 years, and she later added a biweekly column for Newsweek that ran for 30 years. She has also written columns for Bloomberg.com, Woman's Day, and Good Housekeeping.
It only made sense that books would follow. Her first, Everyone's Money Book, came out in the 1970s. But it is her comprehensive guide, Making the Most of Your Money, which has been a long-lived best seller. Appearing in 1991, and updated in 1997, the third edition was published in 2009 following the economic crash and Jane aptly retitled it Making the Most of Your Money NOW. In 2006 she added Smart and Simple Financial Strategies for Busy People to her list of popular guides.
Successful not only with the written word, Jane has worked extensively in television as well. On PBS she cohosted Beyond Wall Street and had her own program called Take Charge! She worked for CBS News, first on CBS Morning News, and then on The Evening News with Dan Rather. She has won an Emmy Award and Janus Award for outstanding news coverage on TV. In 1997 she was awarded the Gerald Loeb Award for distinguished lifetime achievement in business and financial journalism.  
Currently she writes for CBS's MoneyWatch.com as well as her own Web site, and she and her husband have started a company called Main Street Connect. Jane continues to be America's most reliable voice for people trying to manage their money well. We are pleased to honor her here today for her distinguished achievements.
2009 Recipients
Jeanne Meserve '74
Jeanne Meserve has been at the heart of breaking news since the day she graduated from Middlebury in 1974. With a degree in English and a drive for reporting, Jeanne began her career at ABC News, where she spent three years as a state department correspondent before expanding her coverage worldwide. She reported extensively from overseas, covering Beijing in the wake of the Tiananmen Square uprising, the hostage situation in Lebanon, tensions in the Persian Gulf, and the intricacies of U.S.-Soviet relations.
In 1993, she joined CNN as an anchor. Her coverage included the assassination of Israeli Prime Minister Yitzhak Rabin, for which she won a New York Festival Gold Medal. In 1997, she earned an Emmy for her contribution to the network's coverage of the Olympic Park bombing in Atlanta. She also anchored CNN's award-winning coverage of the death of Princess Diana and was part of the team that won an Edward R. Murrow award for reporting on the young Cuban boy, Elian Gonzales. Jeanne's political reporting has included coverage of campaigns for Lamar Alexander, Bill Bradley and Pat Buchanan, as well as floor reporting from the Democratic and Republican conventions in 1996 and 2000, including the 2000 election recount.
Currently a D.C.-based correspondent for CNN, Jeanne covers homeland security. In 2005, she was part of CNN's Peabody award-winning coverage of Hurricane Katrina, providing the first reports of devastating flooding in New Orleans.
We are pleased to honor Jeanne here today for her seemingly boundless spirit and ongoing diligence in reporting the news of our lives.
Alex Rossmiller '04
After four years as a diligent and thoughtful political science major with a focus on the Middle East, Alex Rossmiller wasted little time making the most of his academic experience after graduation. Shortly upon leaving the Green Mountains of his alma mater, Alex joined the Defense Department's Defense Intelligence Agency in 2004. He soon volunteered to join a unit in Iraq, and gained rare and often disturbing insight into the increasingly volatile situation there.
For his work in Iraq, Alex was awarded the Joint Civilian Service Achievement Award and the Defense Intelligence Agency Expeditionary Medal for valorous and meritorious service. In 2006, he became a fellow with the National Security Network and currently works with the NSN to focus his experience and efforts on revitalizing the country's national security policy for a new era.
Alex is the author of "Still Broken," an account of his time at the Pentagon and in Iraq, published to high acclaim by Random House in 2008.  His commentary has appeared in the New Republic, the American Prospect, the Wall Street Journal, USA Today, and other leading news outlets, and he is a member of the Truman National Security Project, a national security leadership institute geared toward a new generation of progressives.  In his spare time, he is a student at the NYU School of Law, from which he will graduate next year.
In the spring of 2008, Alex returned to campus to participate in the International Studies Colloquium sponsored by the Rohatyn Center, and we are pleased today to welcome him back once again and honor him for the perseverance and dedication he has shown thus far in his impressive career.
2006 Recipients
James Kitchell '51
Jim Kitchell first got his taste for broadcast in a backyard chicken coop. According to Jim, that's where WMCRS, predecessor to today's WRMC, was launched. After graduating from Middlebury in 1951, Jim continued what would be a long and eventful career in broadcasting.
He began at NBC in New York, where he worked on the "Huntley-Brinkley Report," the 1964 Olympics, and nearly every cultural and political event of note from 1950 through 1976, not the least of which were the tragic assassinations of both Kennedys and Martin Luther King as well as the heralded first-manned moon landing. Later he moved on to Turner Broadcasting in Atlanta, where he helped usher in the age of CNN and continued to cover politics and sports, particularly through his association with Atlanta's hosting of the 1996 summer games.
He's received numerous awards for his pioneering efforts, including several Emmy awards from the National Academy of Television Arts and Sciences. He's also found time to volunteer his services to the Academy as both governor and president of its Atlanta, and to the Atlanta Educational Telecommunications Collaborative as a board member.
Kelvin Roldan '01
After he graduated in 2001, Kelvin Roldan wasted little time in getting down to business. Within months he joined the administration of Mayor Eddie Perez in Hartford, Connecticut — the first Puerto Rican mayor in a capital city. Kelvin, also a native of Puerto Rico who was raised in Hartford, was one of three senior aides to the mayor. His responsibilities ranged from acting as a key liaison between the mayor and the city's prominent Latino community to taking a leadership role in developing the arts and culture throughout Hartford. Perez was re-elected in 2003, and, as special assistant to the mayor and director of community initiatives, Kelvin continues to be actively involved in the shaping of the city.
Numerous groups have recognized Kelvin for his efforts, including the Latino and Puerto Rican Affairs Commission, who awarded him the organization's first Promesa Award; the Connecticut General Assembly; and the English-Speaking Union. He serves on the board of the Greater Hartford Arts Council, and ably represents Mayor Perez on the board of the Wadsworth Atheneum Museum of Art.
He is a senior fellow of the American Leadership Forum, and in 2004 the Hartford Business Journal included Kelvin on its "Top 40 Under 40" list, which recognizes business leaders committed to the city's
2005 Recipients
Susan Easton Hanson '64
Susan Easton Hanson graduated from Middlebury College with a degree in geography.  After receiving her PhD from Northwestern University, she returned to teach at Middlebury.    She eventually took a position in the Geography Department at Clark University, which she still holds.  Hanson is best known as an urban geographer whose interests in gender and entrepreneurship, information technology and urban sustainability have informed nearly 30 years of articles in professional publications, highly regarded commentaries and dedicated community stewardship.
She has authored or edited five books and more than 80 articles and book chapters.  She is a past president of the Association of American Geographers, has been an editor of three geography journals - Economic Geography, the Annals of the Association of American Geographers, and The Professional Geographer - and currently serves on the editorial boards of several other journals including The Annals of the Association of American Geographers; Proceedings of the National Academy of Science; and Journal of Geography in Higher Education. 
For her numerous accomplishments, Hanson has been recognized by the Association of American Geographers with a lifetime Achievement Award, by the National Academy of Sciences, by the American Academy of Arts and Sciences, by the Center for Advanced Studies in the Behavioral Sciences, by the Guggenheim Foundation, and by several others.  It was only fitting that Middlebury College recognized Susan Hanson, the Jan and Larry Landry University Professor, in geography at Clark University, with its own Alumni Achievement award.
2004 Recipients
William Sessions '69
Judge William Sessions of the U.S. District Court in Vermont has served in his current position since 1995, when he was nominated for the post by then-President Clinton. A member of the Middlebury College class of 1969, he participated in the ROTC program at the College and was commissioned a second lieutenant in the U.S. Army immediately upon graduation. Sessions earned his law degree at George Washington University in 1972. He served as a public defender for Addison County from 1974-78, took up private practice and then joined with others to form the Middlebury law firm eventually known as Sessions, Keiner, Dumont & Barnes, where he remained a partner until assuming his job as a federal judge. Sessions has also taught at Vermont Law School, where he served as a member of the board of trustees from 1999 to 2001. In 1999, President Clinton appointed him co-chair of the U.S. Sentencing Commission.
Shawn Ryan '88
Shawn Ryan is the creator, executive producer and head writer of the award-winning television series "The Shield," now in its third season on Fox's cable channel FX. He knew he wanted to create a gritty police drama where the hero did not always do the right thing, and his instincts have paid off. In its first year, "The Shield," Ryan's first show, earned three 2002 primetime Emmy Award nominations, including his nomination for Outstanding Writer in a Drama Series. The star of the series went on to win an Emmy for best actor. "The Shield" also won a 2003 Golden Globe Award for Best Drama Series. A native of Rockford, Illinois, Ryan was a joint economics and theatre major at Middlebury, where he developed a passion for writing. His senior project, a full-length play, won honors as the country's best student-written comedy at the American College Theatre Festival.
2003 Recipients
Anne Cady '73
Anne Cady is a talented artist who finds inspiration for her oil paintings in the extraordinary beauty of Vermont and its farms and mountains.  Her storybook landscapes include fields of brilliantly colored patchwork, crisscrossed with inviting roads, trees and bushes with humorous, human qualities.  Anne's paintings are recognizable for their eye-catching, highly accessible style―a style that continues to evolve.  Her bold colors move the viewer through the painting and define the shapes, rhythms, patterns and light found in nature.  The approach she brings to the landscape is in part a result of working with children and learning from the simple, playful way they see the world.  For the first 20 years of her career, Anne also operated her own children's art school, relocating the school several times as her various moves required.  There she worked with countless children, awakening their artistic talent during summer and after-school programs.  A firm believer in the importance of art education for children and an art major at Middlebury, Anne saw her teaching culminate in "A Child's Vision," a 1990 exhibition of her students' work that took place at the College.
James H. Douglas '72
Jim Douglas, governor of Vermont since 2002, is known for his sense of humor.  Perhaps it is this quality along with his plain-spoken manner and level-headed approach that have helped him succeed in Vermont politics for over 30 years.  Perhaps it is also the fact that Jim has always stayed the course, not jumping on trends but rather sticking to a core set of beliefs that he developed as a young boy growing up near Springfield, Massachusetts.  Yet another reason could be that his interest in politics, which began in junior high school, has similarly never wavered.  A Russian major at Middlebury, Jim immediately joined the College Republicans upon his arrival in 1968, maintaining his involvement despite the turbulent times.  Since then, he has remained a committed citizen of the state of Vermont as well as of the town of Middlebury, where he continues to serve as moderator of the annual town meeting.  Jim was elected to the Vermont House of Representatives in 1972―the same year he graduated from Middlebury.  He went on to become assistant majority leader in his second term and majority leader in his third term at the age of 25.  Jim left the state legislature in 1979 and became an aide to Vermont Governor Richard Snelling.  In 1980, he was elected secretary of state, winning re-election five times and receiving the nomination of both parties on three occasions.  Jim was elected state treasurer in 1994, a position he held until he was elected governor in 2002.
2002 Recipients
Ann Williams Jackson '74
Ann Williams Jackson has distinguished herself in the field of magazine publishing, achieving the highest level of excellence with intelligence, diplomacy and the savvy to know what readers want. In 1993, while still overseeing day-to-day operations at People magazine, she began working on InStyle, a new spin-off celebrity lifestyle publication. As the founding publisher when it was launched in 1994 by Time Inc., Ann contributed to making InStyle one of the most successful magazines on newsstands today and the winner of numerous awards. An English major at Middlebury where she was elected to Phi Beta Kappa, Ann joined Time, Inc. in 1977 as a financial analyst. She earned her master's degree in business from Columbia University in 1980. Two years later, she moved to London with her husband and became direct-mail manager for Time-Life Books Europe. Returning in 1985, Ann assumed a managerial position at Money Magazine, at Sports Illustrated and then People. Currently the group president of Real Simple, Parenting andInStyle magazines, Ann was the recipient of the Matrix Award in 2000, sponsored by New York Women in Communication, in recognition of her exceptional accomplishments in the magazine industry. She is also the chair of the board of trustees of the Cancer Research Institute. It is an honor to have her here today.
Roger Chapin '54
In 1971, Roger Chapin founded the non-profit Help Hospitalized Veterans, or HHV, which has delivered 18 million free therapeutic arts and crafts kits valued at more than $150 million to more than 300 Veterans Administration medical centers, military hospitals and state veterans nursing homes. This effort built on Roger's work in the late 1960s as the founder of an organization that sent 600,000 gift packages to soldiers in Vietnam-an endeavor he repeated during the Gulf War. Improving motor skills and building self-esteem, the arts and crafts kits respond to the critical need to stay occupied during hours of recuperation, or, as one veteran told Roger, "to do something with my hands." Since 1997, Roger's efforts at HHV have included assistance to disabled veterans of all wars. In 2000, HHV received the Ernest Borgnine Spirit Award, sponsored by the annual American Veteran Awards, for keeping the spirit of America's military alive. Roger, a political science major at Middlebury and a former real estate executive, has applied his limitless energy and enthusiasm to other causes as well, including citizen initiatives to reduce deficit spending, balance the budget, and fight drug abuse.
Daniel M. O'Brien '96
Dan O'Brien emerged as an exceptionally talented young playwright at Middlebury. A double theatre and English major who was elected to Phi Beta Kappa, he wrote and directed the play The Last Supper Restoration while still a student. In 1996 it won the National Student Playwriting Award through the American College Theatre Festival sponsored by the Kennedy Center, where the play was produced in 1997. Dan's other national awards include the Mark Twain Comedy Playwriting Award, also presented by the American College Theatre Festival, for his work An Irish Play and the Elizabeth Osborn Award, sponsored by the American Theatre Critics Association, for his play Lamarck. His dramatic work has been published by Samuel French, Dramatic Publishing and various journals. Dan has also written commissioned plays for such organizations as the Manhattan Theatre Club, Ensemble Studio Theatre, and Trinity Repertory Company. An actor and a poetry and fiction writer as well as a playwright, he contributed work to the Doubletake/WW Norton anthology titled 25 and Under: Fiction. A former Thomas J. Watson Fellow in Ireland, Dan earned a master's in fine arts in playwriting and fiction at Brown University. He is currently the Tennessee Williams Fellow in Playwriting at Sewanee, the University of the South. We are pleased to honor him here today.
L. Ari Fleischer '82
White House Press Secretary L. Ari Fleischer knows how to keep his cool. This quality, along with his trademark smile, sense of humor and skill with language have contributed to his success as a political spokesperson, one who is now at the pinnacle of the profession he has pursued for the last 20 years. As the official liaison between the White House and members of the press, Ari acts as the primary spokesman for the president and delivers the daily White House briefing, where one misstep or failure to choose exactly the right words can result in misleading headlines regarding presidential policy. The son of New York Democrats, Ari experienced a political conversion at Middlebury when he departed from his family's tradition and became a member of the Republican Party. A political science major, he began his career after college when he became the press secretary for a losing GOP candidate in a House race. Later he worked for the Republican National Committee and for several GOP congressmen. Ari also served as press secretary for Senator Pete Domenici from 1989-1994 and later as spokesman for the House Ways and Means Committee, working on issues related to taxes, social security, welfare and international trade. Prior to joining the campaign of Texas Governor George W. Bush in the fall of 1999, he served as communications director for Elizabeth Dole's presidential campaign. We are pleased to honor him here today.
2001 Recipients
Robert N. Bua '87
Author, entrepreneur, lawyer, former nursing home administrator, and passionate helper of others-all of these descriptions apply to Robert N. Bua. With the United States facing the largest increase ever in the size of its elderly population, Bob saw a critical need for advice about care for older Americans. Motivated by a desire to assist those making difficult decisions related to elder care, he wrote a 1,300-page consumer reference book, The Inside Guide to America's Nursing Homes: Rankings and Ratings for Every Nursing Home in the U.S., published by Time-Warner's Warner Books in 1997. Bob's groundbreaking book rated every certified nursing home in all 50 states — the first ratings system of its kind in America. The Work & Family columnist for the Wall Street Journal called The Inside Guide "the best book on nursing homes ever." An English major, Bob graduated from Middlebury cum laude and earned his law degree at the College of William & Mary Law School. After practicing commercial litigation at a 60-lawyer firm, he served as assistant administrator and legal counsel to a large nursing home. Bob went on to become the founder and president of National Eldercare Referral Systems, a research and software development company focused on long-term care. Under the tradename CareScout, his company remains dedicated to helping Americans make intelligent, informed decisions about care for the elderly. Bob has been featured by numerous radio and television programs including National Public Radio and NBC's The Today Show. Bob is a member of several professional associations, including the American Society on Aging and the American College of Health Care Administrators.
1999 Recipients
Andrew S. Cohen '76
Joint Prof. of Geosciences/Ecology & Evolutionary Biology
As a child, Andrew Cohen realized that his love of fossils and nature would one day lead to his becoming a scientist. Following his graduation from Middlebury with a double major in biology and geology, he pursued his graduate studies at the University of California at Davis, where he developed an interest in paleoecology—the study of the ecology of ancient life from fossils and environmental science. Today Andy is one of the top paleoecologists in the nation. He has created numerous opportunities for students to share his own enthusiasm for scientific research, most recently by winning a grant of $780,000 from the National Science Foundation in 1997. The grant is funding the Nyanza Project, a five-year summer research program based in Tanzania where students and scientists are studying several topics, including the effects of changing climate on Lake Tanganyika, the world's second-deepest lake. Andy, who is the director of the project, counts among his fellow researchers college students from the United States and Africa. He is also a joint professor of geosciences, and ecology and evolutionary biology at the University of Arizona in Tucson.
Dr. Bernard Cohen '50
Dr. M. B. Bender Professor of Neurology
Dr. Bernard Cohen's passion for research and deep involvement in every aspect of his profession have resulted in significant contributions to his field. Since 1961, Bernie has concentrated his research activities on vertigo and oculomotor disorders, both of which pertain to the movement of the eye. A national expert in this area, he has increased the medical and scientific community's understanding of the organization of the vestibular and oculomotor systems. In 1976, Bernie was named the first Dr. Morris B. Bender Professor of Neurology at the Mount Sinai School of Medicine in New York City, where he continues to hold this position. Bernie has served many other organizations in a number of roles, including providing his expertise as a neurologist to the National Institutes of Health, and the Food and Drug Administration. Bernie has also taught at Queens College, the University of Tokyo, and Columbia University. He has been a member of editorial boards for numerous scientific journals, and received awards or grants from such organizations as the New York City Health Research Council, the National Eye Institute, and NASA. Bernie has written five books and many articles, which have appeared in 150 publications.
Roger L. Easton '43
Retired Electrical/Mechanical/Civil Engineer
One of the unsung warriors of the Cold War, Roger Easton has accomplished so much that it is difficult to name all of his achievements. After serving as a Naval officer in World War II, he joined the Naval Research Laboratory as a civilian and spent 37 years as an electrical, mechanical, and civil engineer working on rockets, satellites, satellite detection systems, and satellite navigation systems. Roger is the holder of patents relating to the Global Positioning System, which received publicity during the Gulf War. He also headed the design team that built the Vanguard I Satellite, the country's second satellite in space and now the oldest in space, launched March 1958. Roger conceived of the Naval Space Surveillance System, an electronic fence—still in operation—that detects all satellites that cross the southern United States. He has received awards from several organizations, including the American Philosophical Association, the National Aeronautic Association, and the Institute of Navigation. He is also a member of the Institute of Navigation Hall of Fame. In 1996, the Naval Research Laboratory announced the establishment of a new award—the highest civilian distinction for engineering achievement—named for Roger.
Sharon L. Hostler '61
Physician & Professor of Pediatrics
Dr. Sharon Hostler has excelled in the field of developmental pediatrics. The only woman in her graduating class at the University of Vermont School of Medicine in 1965, she has also become a leader in advancing the position of women in academic medicine. Sharon is the McLemore Birdsong Professor of Pediatrics at the University of Virginia School of Medicine, where she is chief of the division of developmental pediatrics and the medical director of the Kluge Children's Rehabilitation Center, whose patients come from all over the United States. Her areas of expertise range from behavioral and learning problems to chronic illness and injuries to the head and spine. Sharon has served on numerous committees and boards, including the University of Virginia School of Medicine's Committee on Women, facilitating major institutional initiatives promoting equity for women medical students, staff, and faculty. She is also a member of the Association of American Medical Colleges' Committee on Increasing Women's Leadership in Academic Medicine. In 1993, Sharon received the Woman of Achievement Award from the University of Virginia's Women Faculty and Professional Association.
1998 Recipients
Frederick C. Danforth '72
Founder of Danforth Pewter
Frederick Danforth has successfully combined his devotion to his craft of creating fine pewter products with a growing, socially responsible business. He and his wife, Judi, founded Danforth Pewterers, located in Middlebury, Vermont, 23 years ago. The business has grown from a two-person shop to a 50-employee company with national distribution. Danforth creations are distributed everywhere, from gift and craft stores to museum shops. Danforth Pewterers has entered licensing agreements with such organizations as the Walt Disney Company, for which it produces Winnie-The-Pooh ornaments, charms, pins and figurines. Part of Danforth Pewterers' socially responsible mission includes an employee contributions committee that disburses funds to non-profit organizations several times a year. The U.S. Small Business Administration named Fred and Judi Danforth Vermont Small Business Persons of the Year for 1997.
Adapted from Middlebury Magazine,Fall 1987 pgs. 10-11
Patrick J. Durkin '79
Volunteer advocate, businessman
Patrick Durkin is a successful investment banker and the managing director of Donaldson, Lufkin & Jenrette. He has displayed many talents and has contributed to the community in innumerable ways. He formally held positions in the campaigns of Presidents Bush and Reagan, served in the United States Treasury Department, and was a member of the executive committee of President Reagan's Commission on the 1987 Stock Market Crash. A devoted community servant, he has a strong interest in sharing what he has learned with today's young adults. One manifestation of this commitment is Middlebury's Public Service Fund, which he established in 1994 to recognize Middlebury students' leadership in public and community affairs. He also serves on the U.S. Small Enterprises Assistant Fund; both provide assistance to people in emerging nations.
Adapted from Middlebury Magazine, Spring 1987 pgs. 22-29
Donald M. Elliman '67
Time Inc. executive/volunteer
President, publisher, and advertising director are just a few of the positions that Don has held at magazines such as Sports Illustrated, People, Time,and Entertainment Weekly during his 31-year career at Time, Inc. Now an executive vice president of the company, he oversees several special projects, such as the development of CNN/SI, the 24-hour sports news network, into a major corporate asset. He is a dedicated, passionate volunteer, having worked with the New York Special Olympics and currently serving as a trustee for the Jimmie Heuga Center, named for the 1964 Olympic skiing medalist who later developed multiple sclerosis. An avid skier and sailor, he is a man of many talents.
Elizabeth Fink Farnsworth '65
Co-anchor of PBS News Hour with Jim Lehrer
Elizabeth Fink Farnsworth has excelled in the field of journalism. The chief correspondent and principal substitute anchor of The NewsHour with Jim Lehrer, she also heads the NewsHour's San Francisco office. She is an expert on South America, with a master's degree in history from Stanford University, an award-winning producer and director of television documentaries, and an accomplished writer on foreign policy for such publications as The Nation. Her many awards for television reporting include Thomas More Storke International Journalism Award from the World Affairs Council of Northern California Radio, Television News Directors Association.
Richard "Casey" G. Hoffman '65
Lawyer, founder CSE-Child Support Enforcement
Richard "Casey" Hoffman is founder and president of Child Support Enforcement (CSE), a national private child support enforcement service started in Austin, Texas in 1991. CSE is the nation's largest private company whose sole purpose is to assist parents in collecting court-ordered child support both nationwide and overseas. Casey and CSE have been profiled in numerous national media, including The New York Times, USA TODAY and NBC News'Today and he has appeared on numerous news and talk programs including, The Larry King Show. A national leader in the field of child support, Casey received the 1990 Award for Outstanding Individual Achievement from the National Child Support Enforcement Association. Casey was a special assistant attorney general directing the child support enforcement of Texas from 1986 to 1991. During each of the last two years in which he headed the Texas state program, the U.S. Congress recognized Texas as the most improved child support enforcement program in the country. A frequent writer and lecturer on the subject of winning the child support war, he serves on the board of the National Child Support Enforcement Association located in Washington, D.C. Casey holds a Juris Doctor degree from the Boston University School of Law, 1968. In 1985 he received the law school's highest honor, presented to an individual whose work has benefited society as well as the legal community.
Young Alumni Achievement Award
Juliet A. Lambert '86
Singer, Broadway performer
Juliet Lambert has achieved noteworthy success as a singer and actress. A music major at Middlebury, she now entertains audiences around the world. Most recently, Juliet spent a year and a half as Fantine in Les Miserables on Broadway.She also had roles in the Broadway productions of Stephen Soundheim's Passion in 1994, and Meet Me in St. Louis in 1989. On tour, she appeared in Kiss of the Spider Woman with Chita Rivera and in the Music of Andrew Lloyd Weber with Michael Crawford, which took her to Japan, Australia, and the United Kingdom. She has performed with Julie Andrews in Putting it Together, an off-Broadway production at the Manhattan Theatre Club, and with Olympic gold medalist Greg Louganis in a regional production of the musical Cinderella. Her recordings include Passion, Meet Me in St. Louis, Strike up the Band, and the soundtrack of Baseball, Ken Burns's documentary.
Krista Conley Lincoln '86
Founder/Managing Director of Cambridge Translation Resources
In 1992, just six years after graduating from Middlebury, Krista used her entrepreneurial talent, Chinese language skills, international business experience, and a $6,000 loan to found Boston-based Cambridge Translation Resources, Inc. (CTR). CTR translates and produces a broad range of multilingual materials, from bilingual textbooks used in schools across America to operating manuals for U.S. products sold in Europe and Latin America. In May 1998, she sold her company to Language for Industry Worldwide. She remains the president and CEO of CTR, whose 1998 revenue was expected to exceed $3 million. She has also served as a consultant to the Hong Kong government, working to link high-technology forms with investment partners in Hong Kong, and is author of numerous articles about doing business in greater China.
1997 Recipients
Richard Douglas '65
1942-1999, Advocate for people with disabilities
Rick Douglas was the director of the U.S. Department of Labor's Disability Initiative. A longtime advocate for people with disabilities, Mr. Douglas's efforts have resulted in initiatives that allow disabled people greater access to jobs, training, and transportation. He served as executive director of the President's committee on Employment of People with Disabilities in both the Bush and Clinton administrations. While serving on the committee, he helped organize a national toll-free help line for businesses (JAN), worked with the nation's media to educate the public about people with disabilities and about the implementation of the Americans with Disabilities Act. His advocacy for access to commuter aircraft resulted in new regulations that give the wheelchair-bound dignified access to commuter airplanes.
Robert North '66
Executive Director of Boys Harbor/Chief Pedodontics Harlem Hospital
A practicing dental surgeon, specializing in pediatric dentistry, Robert North is also the executive director of the Harbor for Boys and Girls, a non-profit youth agency in East Harlem. Dr. North joined the staff of the Harbor in 1967 and has been an instrumental force in helping the Harbor change from a summer camp that offered sports programs to an agency that provides children and adults with year-round programs, ranging from college counseling to art classes. Dr. North worked at Sydenham Hospital in Manhattan for 20 years and has worked in the department of dentistry at Harlem Hospital since 1982. He also provides dental care to the Prison Health Service at two New York City locations.
 John Tinker '81
TV producer, writer
John Tinker is the executive producer of the acclaimed television series Chicago Hope and an Emmy Award-winning writer whose credits include the television series St. Elsewhere and L.A. Law. He is also the creator of a sitcom and several dramas, all of which have contributed to a considerable body of work to the intelligent and creative sphere of television programming. Mr. Tinker garnered the Emmy for Outstanding Writing in a Drama Series for the St. Elsewhere script Time Heals, and he has received six Emmy Award nominations for television writing.
Adapted from Middlebury Magazine, Summer 1996, pgs. 14-16 & Countdown
Ann Battelle '90
Member of U.S. Olympic freestyle ski team, national champion
With persistence, drive and talent, Ann Battelle has taken an interest to exceptional heights. After graduation she determined to turn her interest in mogul skiing into something she would master in order to compete in the Olympics. She became a member of the United States Freestyle Ski Team and competed in the 1992, 1994, and 1998 Olympics. Ann has been ranked as the number one women's skier in the U.S. In 1999 she earned the gold medal in moguls at the freestyle World Championships. Although a lifelong athlete, Ms. Battelle did not begin skiing until high school.
1996 Recipients
Julia Alvarez '71
Professor, author
Julia Alvarez has written of her native Dominican Republic in several novels and volumes of poetry, including How the García Girls Lost Their Accents, In the Time of the Butterflies, !Yo, and The Other Side/El Otro Lado. A finalist for the National Book Critics Award, she won the Third Woman Press Award in fiction and the PEN Josephine Miles Book Award. As a professor at Middlebury, Ms. Alvarez shares her knowledge, inspires her students, and continues the tradition of literary studies at her alma mater.
Adapted from Middlebury Magazine,Summer 1991 pgs. 24-27
Richard Hawley '67
Headmaster, author, composer
Richard Hawley is a teacher, headmaster of University School in Cleveland, Ohio, and a president of International Boys' School Coalition, an organization promoting research and best practices among boys' schools around the world. As an author, his book, published in the fall of 1996, is titled Papers from the Children; earlier books include Boys Will Be Men: Masculinity in Troubled Times and a novel, The Headmaster's Papers.
Sarah Kotchian '75
Distinguished public health official
Sarah Kotchian specializes in environmental health. She served for many years as the Director of the Albuquerque Environmental, New Mexico Environmental Health Department, overseeing programs related to air pollution, food protection, noise control, hazardous waste, water quality, animal control, and other issues. Her work as co-chair of the Rio Grande/Rio Bravo Coalition supported that area's efforts on both sides of the U.S./Mexico border to restore and sustain local ecology, economies, and social well-being. Ms. Kotchian has received the National Environmental Health Association's highest honor, the Walter Mangold Award, and a number of other awards in addition to Middlebury's.
James Sweatt '58
Physician, hospital director, radio personality
James Sweatt is actively involved in health care. He serves on the faculty of the University of Texas Southwestern Medical Center, where he teaches his specialty, thoracic and cardiovascular surgery. In addition, he has taken on the responsibilities of president of the Dallas County Medical Society. Always a path breaker, Dr. Sweatt was the first African-American to enroll at Washington University's medical school and is the first African-American to head the American Medical Association's Dallas chapter and its more than 5,000 physician members.
John Wallach '64
Author, newspaper reporter, "Seeds of Peace" founder, 1943-2002
John Wallach dedicates himself to world peace. In 1933 he founded Seeds of Peace, a coexistence program that brings together teens from conflicting backgrounds-Arabs and Israelis, Bosnians and Serbs, and inner city Americans, for example. Having lived the international life as White House correspondent and foreign editor for The Hearst Newspapers and as a commentator on television news programs, he now is trying to educate future leaders nominated to his program by their governments in the ways of peace. Mr. Wallach has also served as executive director of the Elie Wiesel Foundation for Humanity.
1995 Recipients
Mark Benz '56
Metallurgist, researcher
Among other things, Mark Benz, a chemistry major while at Middlebury, is the inventor of a strong and highly flexible super conducting tape, which is the basis for commercial super conducting magnet systems and he is the co-inventor of General Electricity's (GE) process for making the world's strongest permanent magnets. Mark is a world leader in the development of super conducting materials, spray forming methods for super alloys, refractory metals and high temperature composites. He's published more than 50 technical papers and holds 31 U.S. patents. It's no wonder he was awarded the Distinguished Career Award by the Hudson-Mohawk Section of the Minerals, Metals & Materials Society, the Geisler Award of the Eastern New York Chapter of the American Society for Metals International, and GE Research and Development center's highest honor — its Coolidge Fellowship Award.
William Delahunt '63
Norfolk County District Attorney
William Delahunt puts an end to lawyer jokes. A district attorney in Massachusetts, he is known for professionalizing the state's office of district attorney, while earning respect and gratitude for initiatives on civil rights and domestic violence.
Adapted from Middlebury Magazine, Winter 1996, pg. 8
Martha Grace Welch '66
Author, physician, clinic director, works with autistic children
Martha Welch has made breakthroughs with autistic children, pioneering a technique for holding these hypersensitive people. A psychiatrist working in New York City and Greenwich, Connecticut, she has broadcast nationally her theories for connecting with these isolated members of our society.
Adapted from Middlebury Magazine,Winter 1996 pg. 8
Nancy Taylor Stonington '66
Artist, business woman
Nancy Stonington is an artist, a highly successful painter of watercolors with more than 60 solo shows to her credit in the United States and Europe. She is attracted to the western landscapes of Idaho, Washington, and Alaska, where she lives and paints.
Adapted from Middlebury Magazine,Winter 1996 pg. 8
Elizabeth "Tommy" Hennefrund '44
Writer, author of books for adults and children
Elizabeth Ring Hennefrund has spent her life writing, editing, and teaching. Her work includes poetry, fiction, non-fiction, and plays - often for children - with titles such as Tiger Lilies and Other Beastly Plants, Henry David Thoreau: In Step With Nature,andRachel Carson: Caring for the Earth.Her latest children's book, Loon at Northfield Lakeis published by Soundprints for The Smithsonian Institution.
Adapted from Middlebury Magazine,Winter 1998, pg. 9 and
Middlebury Magazine, Winter 1996, pg. 8
Jacquie Phelan '77
National Champion mountain bike racer
Jacqueline Phelan has been racing as a mountain biker for 13 years and has earned three national championships as she became the sport's most successful practitioner. In addition, she founded WOMBATS, the Women's Mountain Bike and Tea Society, an organization promoting mountain biking that has 800 members in 43 states.
Adapted from Middlebury Magazine, Winter 1996, pg. 8
Heidi Siegrist '80
Director of multi-generational child care center
Heidi Siegrist has contributed possible solutions to some of the problems of employees in their roles as parents and children. Her work at Stride Rite in Cambridge, Massachusetts, where she is director of intergenerational care, combines day care for preschoolers and seniors.
Adapted from Middlebury Magazine, Winter 1996 pg. 8
Chris Waddell '91
Award winning Para-Olympic athlete
Chris Waddell is a winning athlete, his sport skiing. A member of the U.S. Disabled Team, he won four gold medals in downhill slalom, giant slalom, and combined events at Lillehammer. He also worked on the U.S. Developmental Team for track, preparing for competition at the Atlanta Summer Games.
Adapted from Middlebury Magazine,Winter 1996 pg.8,
Middlebury Magazine,Summer 1997, pg. 15 and
Middlebury Magazine,Winter 1992, pgs. 16-21
Kevin P. Mahaney '84
Silver medalist in '92 Olympics, sailing
When Kevin Mahaney and his syndicate, PACT95, launched their boat, the Young America, in the 1995 America's Cup Challenge, they were doing more than challenging the world to a sailboat race. The competition for this most prized yachting trophy has become a test of imagination, creativity and technology, demanding the accumulated skills of this economics major from the class of 1985. While he came to sailing relatively late, he had already gained the title of Captain, as well as All-American recognition, on an ECAC championship lacrosse team. The performance in Barcelona during the 1992 summer Olympics by Kevin and his crew on their 27-foot Soling, brought home a silver medal — one of nine accumulated by the American Sailors.
1994 Recipients
Dr. Richard M. Hodes '75
Medical Director of American Jewish Joint Distribution, Ethiopia
Medical Director for American Joint Distribution Committee in Addis Abada, Ethiopia, commutes to Kenya and Somalia to work with refugees. Runs clinic for displaced peoples
Dr. Hodes, a physician, has been working with health care organizations since graduating and has spent much of his professional life working in third world countries of Africa, including the refugee camps of Rwanda. As Medical Director for the American Joint Distribution Committee, he lived in Addis Ababa, Ethiopia, and ran a clinic for displaced people in the capital, working with TB and other public health projects in the north and commuted to Kenya and Somalia to work with refugees and war victims. Dr. Hodes has served as doctor for Ethiopian Jews (the Falashas) and in 1992 made a documentary film for PBS with Dr. Ruth Westheimer about the Falashas. In 1991 he was part of Operation Solomon which brought 14,000 Ethiopian Jews to Israel in 36 hours as rebel troops were about to enter the city.
Dr. Alice E. White '76
Physicist & department head at AT&T Bell Labs
Stretching the bonds, the temperatures and the capacities of materials has been a daily challenge for Alice White for almost two decades. From her creative and respected astrophysical research published as a student at Middlebury with her mentor, Professor Frank Winkler, to her award-winning and original work on semiconductors and superconductivity as a research physicist at Bell Laboratories, she has personified that quality that Middlebury has tried to engender in all its graduates: the unwillingness to accept convention, but always to reach beyond. The American Physical Society has recognized her with the Maria Geoppert-Mayer Award, named in honor of the 1963 Nobel Laureate in physics and given annually to recognize outstanding achievement by a woman physicist in the early stages of her career. In her pioneering work using ion implantation to create complex structures within semiconductors, as well as in her earlier work, fabricating ultra-thin wires and films, Dr. White has expanded the bounds of solid-state physics. She has confidently synthesized new materials and worked to understand their novel physical properties. As one colleague has noted, "Her gamble (in moving into new areas) has paid off." She is an outstanding example of Middlebury science graduates throughout the years who have left this campus well prepared to enter graduate school and to do science of the highest order.
Adapted from Middlebury Magazine,Fall 1994 pg. 60
Margaret McKenzie Dickie '56
1935-1999, Professor of English, distinguished scholar & department chair
Through her creative work, poet, critic, scholar and teacher Margaret McKenzie Dickie has given us an understanding of the "bound cable strands" of American poetry, and a respect for the wholeness of the American literary tradition. Her scholarly concern for the genres of American lyric and epic poetry, and for such critical speakers to our nation's consciousness as Hart Crane, Emily Dickinson, Wallace Stevens and Sylvia Plath, conveyed to generations of students and scholars alike the magic of words and the interrelation of patterns of thought. As a Fulbright lecturer, as chair of the editorial board of the Georgia Review, and here, as a lecturer and a member of the Visiting Committee in Literature at Middlebury, she provided us all with an "illumination of the usual." Her pioneering work on behalf of women in the academy must be acknowledged by all the pioneers and settlers that follow.
Adapted from Middlebury Magazine, Fall 1994, pg. 53 and
Middlebury Magazine, Spring 1999, pg. 72
1993 Recipients
Jane Bostford Armstong '43
Sculptor
Jane Armstrong, an artist from East Dorset, Vermont, is acknowledged as one of the nation's leading sculptors working in stone. Armstrong, who studied with Jose de Creeft and Jogn Hovannes at the Arts Students League in New York, has held more than 40 one-person museum and university exhibitions and as many gallery solos. An excellent example of her work, a marble sculpture entitled "Robert Frost - A Re-creation," is exhibited in the lobby of the Bread Loaf Inn on the mountain campus.
Adapted from Middlebury Magazine,Winter 1994 pg. 37
Linda Kite Canty '72
1950-1998, Former business executive, ballroom dance champion, creator of a cancer survivors program
With an MBA in marketing from NYU, Linda Canty moved into international banking with the Bank of New York where she was responsible for lending activities of banks in Central and Eastern Europe. In 1988, her life changed dramatically when she was diagnosed with a rare form of cancer. While recovering from a recurrence of the cancer she turned her energies to ballroom dancing, a hobby she had taken up several years before the cancer was discovered. Even though surgery had affected her ability to walk, she was soon back gracing the floors of international ballroom competition. With her partner and husband, David Canty, she swept the championships in the North American Amateur Over 35 Ballroom Competition. Recognizing the ways in which dance had helped sustain her, she developed Get Back in the Swing, a ballroom dance therapy program that she presented to cancer survivors throughout the country.
James D. Oliver '72
Founding President of Landmark College for dyslexics
James Oliver, an educator from Putney, Vermont, was honored for his contributions to education. A Phi Beta Kappa history major, Olivier has had a profound effect on the educational experiences of thousands of students with learning disabilities. While on the faculty of Landmark School in Massachusetts, he worked with Charles Drake, a dyslexic educator and Fulbright Scholar. He went on to earn a master's in education and a J.C. degree, both from Harvard. From 1984-1991 he served as president of the newly opened Landmark College, the nation's only college exclusively for bright students with dyslexia or specific learning disabilities. He is currently director of the college's outreach programs.
Adapted from Middlebury Magazine, Winter 1994 pg. 37
1992 Recipients
Ernie Lorch '54
Investor, volunteer community basketball program for disadvantaged youth
The former president of Dyson-Kissner-Moran Corporation of New York City, Ernie Lorch is best known in the City as the director of the Riverside Church Basketball Program - the Riverside Hawks. A deacon of the Riverside Church, he is also a board member of the Protestant Council of Churches and a director of the city-wide athletic association. A guard on the Middlebury basketball team, he has used his organizational, professional and athletic talents to redirect the lives of untold numbers of young men from some of New York's most impoverished neighborhoods through academic tutoring and good coaching for more than three decades. The Riverside program serves age groups ranging from 11 to 19 and typically about 300 players wear the Riverside uniform each year.
Arnold T. Melbye '32
Nationally recognized "Dean of Bird Carvers"
deceased 2000
For over fifty years, Arnold Melbye has been involved in the world of bird carving. He has carved and painted over 1,500 birds, inspiring others in his field with his realistic style and amazing attention to detail. A contractor-builder by trade, he began bird carving to supplement his income, though not with the game and songbirds for which he is now famous, but with decoys. Though he chose never to carve a bird to enter any competition, his carvings are highly praised and sought after by collectors and he is known as the "Dean of Bird Carvers" by his peers.
Nancy Howe Russell '73
Wildlife artist
Artist Nancy Howe Russell made history in 1992 when she became the first woman to win the Federal Duck Stamp and Print Competition. Her impressive winning painting of a pair of king eider ducks exploring the sub-arctic tundra was the winner in the then 57 year-old competition. The East Dorset sheep farmer and mother of two is also the only Vermonter to win the prestigious contest held annually by the United States Interior Department. The prize carries with it no monetary reward but the limited edition print rights belong to the artist. For the first time, Ms. Howe, a duck hunter herself, chose to return a portion of the print proceeds to go toward the preservation of wetlands. She has also been selected to do the Australian duck stamp and examples of her work are included in the National Park Academy's Art for the Parks traveling exhibit and many other exhibits.
Gwendolyn Toth '77
Musician
Gwendolyn Toth began organ study at Middlebury College with Emory Fanning. She received further training at the Sweelinck Conservatory in Amsterdam and earned an M.M. in composition and a D.M.A. in organ from Yale University. Since then, she has delighted audiences in North America and Europe with her innovative programs of early music. Winner of two American Guild of Organists competitions and the 1987 Magnum Opus Harpsichord Competition, she is noted for her dynamic applications of historical performance practiced in the art of playing early keyboard instruments. In 1989 Opera News Magazine named her an Outstanding Young Conductor and 1992 marked the beginning of the 8th season of her distinguished ensemble of period instrument performers known as ARTEK.
 Ken Adams '82
Executive Director, New York Cares volunteer program
Born in Manhattan and raised in Brooklyn, Ken Adams became the first full-time executive director of NewYorkCares, a non-profit all volunteer organization that involves young professionals in community service. His dedication to, and leadership of NewYorkCares,brought thousands of young urban professionals into involvement with those whose needs have overwhelmed the system. Through his program, those young business and professional people of New York, often categorized as self-centered and greedy, have taken on the role of selfless Samaritans, visiting the infirm and the incarcerated, helping to feed and clothe the poor and seeing to the needs of the young and the elderly. Ken also holds an M.A. in Spanish from Middlebury and he founded a study abroad program in Madrid for American high school students with learning disabilities. He spent a year and a half training, supervising and tutoring seventeen year old members of the City Volunteer Corps in New York and another year as a planner at that program.
Kim K. Crawford Harvie '79
Sr. Minister of Arlington Unitarian Church
An ordained Unitarian Universalist minister, Kim became the full-time minister at the Unitarian Universalist Meetinghouse in Provincetown, MA, energizing a parish of 35 to grow to nearly 400. Her ministry there enlivened the church by addressing the pressing issues that faced the community and in turn helped save an historic building. She became the youngest senior minister ever at Boston's Arlington Street Church where she does extensive work with AIDS sufferers, teenage prostitutes, battered women and the homeless. She is co-founder of a pediatric AIDS organization and has served on a state government council working with marginalized youth.
1991 Recipients
Beryle Gaylor Kalin '25
1903-1998
1992 marked the 50th consecutive year that Beryle Kalin sang with the New Orleans Opera Association. For New Orleans audiences, her spirited performances in the chorus became a special treat; and most didn't realize that the woman galloping about the stage with the other chorus members was eighty-something and almost totally deaf - Kalin lost 95 percent of her hearing due to a childhood bout with the measles. In addition to her work with opera, Kalin was repeatedly recognized as one of New Orleans' volunteer leaders. She was a music major at Middlebury where she met Eddy Stephen Kalin '23 and they were married after her graduation.
Adapted from Middlebury Magazine, Winter 1992 pg. 37
Robert Skiff '64
Education administrator, retired President Champlain College
Robert Skiff stepped down in 1993 from the presidency of Champlain College in Burlington, Vermont, where he had worked for the past 25 years. A history major at Middlebury, he arrived at Champlain in 1967 as Dean of Students after a year of teaching high school and the completion of his master's degree work at Springfield College. In 1972, having received a Ph.D. from the University of Northern Colorado, he was named vice president at Champlain, and in 1977 he began his tenure as president. He guided the college through a period of significant growth, academically and physically, while at the same time devoting time and energy to charitable, business and professional organizations, in Burlington and the region.
Adapted from Middlebury Magazine, Winter 1992 pg. 37
Alison Osius '80
Magazine editor, world class rock-climbing champion
Alison Osius, three-time national rock climbing champion and editor at Climbing magazine, was named president of the American Alpine Club, a national non-profit organization that has represented mountaineers and rock climbers for almost a century. She is the first female president in its 96-year history.
Adapted from Middlebury Magazine, Spring 1998, pg. 17
Frank Sesno '77
White House Correspondent for CNN
Frank Sesno began his journalism career at WRMC, and then as a part-time newsman at the local Middlebury station, WFAD. He worked at WCFR in Springfield, VT., and then moved to Washington to take a job with Voice of America. In 1979, he became European correspondent for Associated Press Radio, covering such stories as the attempted assassination of the Pope, the arrival of hostages in West Germany, the royal wedding, the Falkland Islands war, and major meetings of OPEC, NATO and the Common Market. He became White House correspondent for AP Radio, and then joined the Cable News Network, also covering the White House. In the spring of 1991, he became anchor of the CNN "International Hour" and the 6 p.m. news.
Adapted from Middlebury Magazine, Winter 1992, pg. 37
1990 Recipients
Beverlie Conant Sloane '73 - deceased
Director of Health Services, Dartmouth
Beverlie Conant Sloane, former director of health education for Dartmouth College's Health Service, has been a leader in the area of sex education among college students nationally. Her concern for sex education among college-age students began when she was still a Middlebury student, when she conducted sex education "road shows" in the dorms as part of an effort to prevent unwanted pregnancies. At Dartmouth, she was responsible for what she describes as "everything from stress, nutrition and fitness to sex, drugs, and rock 'n' roll." She was also an assistant professor of Community Family Medicine at the Dartmouth Medical School, where she has co-taught, with her husband David, a class on the history of medicine. She was honored by the Dartmouth community, and the Educational Press Association presented her with an award for her 64-page book, "Partners in Health," a publication for college students that deals with reproductive health issues. Sloane was also honored for her leadership in the campus fight against AIDS and other sexually transmitted diseases, and for her contribution to the greater understanding of these problems, both at Dartmouth and nationally.
Frances Cornwall Hutner '40
Economist, author, educator
Frances Hutner began her career as an economist and educator as an instructor in economics at Smith College. She subsequently taught at Kenyon College, Rutgers University, Rider College and the Stevens Institute of Technology. Since the late 1970s, she has brought her expertise to a variety of professional, business and scholarly interests, including service as a director of Central Vermont Public Service and the Connecticut Valley Electric Company, as a trustee of Green Mountain College and, since 1980, as President of the Princeton Research Forum, a group of independent scholars. She is the author of Equal Pay for Comparable Worth: The Working Women's Issue of the '80s. She and her husband, Simeon, are parents of five children, two of who, Daniel '70 and Simeon '81, are Middlebury alums. Hutner was honored for her help in paving the way for women in business and academia, her distinguished career, and her outstanding contributions to the nation's understanding of the economic role of women. Adapted from Middlebury Magazine, Winter 1991 pg. 35
Young Alumni Achievement Award
Robert C. Hamilton '81
Teacher, basketball coach, promoting scholar-athletes
After an outstanding basketball career at Taconic High School in Pittsfield, Massachusetts, Robert Hamilton came to Middlebury, where he personified the scholar-athlete. After graduation, he worked briefly at Brandeis as a basketball assistant, and then joined Umana High School, an inner-city school in East Boston, as a coach and a Spanish teacher. Hamilton was eventually named president of the Boston High School Basketball Coaches Association, through which he helped develop Project LEAD, an incentive program in which basketball players receive recognition for improved school attendance and grade point averages. He also helped inspire the Coaches Academic Leadership League, or CALL, which brings together parents, teachers, coaches and students in an effort to turn athletes into student-athletes and, ultimately, scholar-athletes. He has been honored by the City of Boston and by the Northeastern University Center for the Study of Sport in Society, which presented him with the Giant Steps Award. Hamilton was honored for his dedication to the development of the young people of East Boston, seen in his commitment to keep them growing in spirit and self-esteem.
1989 Recipients
Anna Belisle Daley '28
1907-1992
Executive Director of Victim Witness Assistance, Activist
deceased
After moving to Fresno, CA in 1942, Ms. Daley became a power in the Democratic Party, founded the San Francisco Council of Democratic Clubs, served on California's Democratic Central Committee, and was a delegate to several Democratic presidential conventions. At the age of 65 she became the executive secretary to the sheriff of the city and county of San Francisco. She then headed the Victim/Witness Assistance Program of the San Francisco District Attorney's office, before retiring in 1988.
Marian Metheke Melish '62
Pediatrician, Professor, expert on TSS & Kawasaki disease
Dr. Marion Metheke Melish is a specialist in childhood infectious diseases and the first researcher to describe Kawasaki disease in the United States. She received her M.D. from Yale University in 1966, and then pursued a fellowship in pediatrics and microbiology at the University of Rochester, completing her internship at Rochester's Strong Memorial Hospital. She later joined the University of California as a professor of pediatrics, where she completed research projects on Toxic Shock Syndrome and Kawasaki disease. She is now a professor of pediatrics at the University of Hawaii, and was named Hawaii's scientist of the year in 1990 by the College Scientist's Foundation.
Adapted from Middlebury Magazine, Winter 1990 pg. 13
William "Woody" Jackson '70
Artist, entrepreneur
After graduating from Middlebury, Woody Jackson spent a couple of years living in a commune outside of town and then headed for Yale, where he earned a master's degree in fine arts. His trademark image, the black and white Holstein, made its debut in a 1974 show at the College's gallery, called simply "Cows." From that start, Woody's cows have become a symbol for the state of Vermont, and the Vermont state of mind. Woody's cows have been found on the sides of Ben & Jerry's ice cream trucks and containers, on sweatshirts, aprons and plywood sculptures. Many of these cow-covered items are now manufactured by Woody's Middlebury-based company, Holy Cow, Inc. dapted from Middlebury Magazine, Winter 1990 pg. 14
Ingrid C. Burke '80
Botanist, ecologist, published researcher
 Ingrid Burke, of Bellevue, Colorado, received her Ph.D. in botany from the University of Wyoming in 1987. She is an assistant professor in the Department of Forest and Wood Science and a research associate at the National Resource Ecology Laboratory at Colorado State. She is involved in inter-disciplinary research programs investigating the control of plant productivity, soil organic matter turnover and trace gas flux in the Great Plains. She has received numerous research grants and honors, beginning with her involvement as part of a team of Middlebury undergraduates that received a National Science Foundation grant for a study of the Ray Mountains of Alaska. Adapted from Middlebury Magazine, Winter 1990 pg. 13
1988 Recipients
Sandra Burton '63
Time Bureau Chief, Beijing and Hong Kong, author Deceased in 2004
As a print journalist with Time, Sandra Burton has provided us with some provocative and memorable snapshots of world events. She was on assignment in Manila in 1983 and aboard the flight carrying Benigno Auqino to his murder and became a key witness with the critical tape recording before the Aquino Assassination Commission. She covered the election of Corazon Aquino during the 1985 Philippine elections and put her experiences in the Philippines in her book The Impossible Dream. Ms. Burton was also present at the demonstrations in Beijing at Tiananmen Square. We acknowledge her talent to bring these events to life in her writings and her ability to duck at the right moment.
Frank P. Piskor '37
President Emeritus, St. Lawrence University  Deceased in 2006
Frank Piskor provided a steady hand at the wheel as president of St. Lawrence University during turbulent times in the early 1970s. With three decades of dedication to the life of the mind to draw upon and with great sensitivity to the work of his colleagues and widely recognized enthusiasm and vigor, he developed the "immediate immersion" school of management, an approach that left no room for honeymoon or vagaries. Whether as a student, counselor, dean, teacher or alumnus, he has enjoyed the respect and admiration of all those who have known him.
 Brig. Gen. Fred A. Gorden '69 (MA Spanish School)Commandant, U.S. Military Academy at West Point
In a time of change in our military structure and international relationships, Brig. Gen. Gordon was named the 61st commandant of cadets at the U.S. Military Academy at West Point in 1987. As officer in charge of the training, discipline and physical condition of the Corps of Cadets, he was the first black officer to become commandant in West Point's 185-year history. Having served in Vietnam and as an instructor in foreign languages at the U.S. Military Academy, Gordon also served in a variety of command and staff positions, including military advisor on Latin American Affairs.
John E. Martin '67
Former CEO, Taco Bell
John Martin is the former CEO of Taco Bell. During his tenure he built the company from $600 million to $4.5 billion, and from 15,000 to 25,000 locations. Martin earned a reputation within the food service industry as a problem solver, motivator and visionary. The innovations he employed, such as value menu pricing and improvements in customer service (reducing order processing time and introducing new technologies and innovative kitchen designs) made Taco Bell an industry trendsetter among hotly competitive fast food providers.
Mark Patinkin '74
Newspaper columnist/author of book about Ethiopian famine
 Mark Patinkin was the first to be honored with Middlebury's Young Alumni Achievement Award. He is an award-winning columnist with the Providence(RI)Journal Bulletin, and his column is syndicated by the Scripps-Howard News Service. In 1984 Patinkin spent a month traveling to five African countries to chronicle famine, later publishing a book about the experience called An African Journey. A selection of columns from that trip was reprinted in the Middlebury Magazine in the spring of 1985. Patinkin was named a finalist in 1986 for a Pulitzer Prize in International reporting for a series he wrote on religious violence in Northern Ireland, India and Beirut.
Adapted from Middlebury Magazine, Winter 1989 pg. 48 and
Middlebury Magazine, Spring 1985 pgs. 12-19
1987 Recipients
Raymond Ablondi '52
Director of Marketing Research at Ford Motor Company
November 1979 was a critical moment in the history of the domestic automobile industry. In the aftermath of the Iranian oil crisis of 1979, Japanese cars and trucks flooded the U.S. market. For Raymond Ablondi, Ford's director of marketing research, the task at hand was to mobilize his staff of 30-35 research professionals to find a new way to bring the voice of the customer into the decision-making process at Ford. Under Ablondi's leadership and guidance, his staff developed methods of providing the customer information necessary to guide Ford's quality improvement programs, even at the plant level. Gearing to achieve is nothing new for Ray Ablondi, who has had a history of success at both Ford and Middlebury. In 1952, the campus leader and star runner - winner of the Hazeltine-Klevenow Cup for best combining ability in athletics and excellence in scholarship - graduated from Middlebury to the London School of Economics on a Dutton Fellowship. Three years later, he returned to the United States with his Ph.D. and joined Ford as a financial analyst. In 1958, he took a position as an automotive marketing and research manager with a Michigan advertising agency, but returned to Ford in 1962 and held a variety of sales, marketing, and corporate staff positions. Adapted from Middlebury Magazine, Winter 1988 pg. N-18
Robert Stafford '35
Former Governor of Vermont and U.S. Senator from Vermont
Deceased in 2006
Stafford is the only individual to have served in every major statewide office—attorney general, lieutenant governor, governor, U.S. representative and U.S. senator. Stafford's life of service began in 1953 when he was appointed deputy attorney general for Vermont and continued through his career as U.S. Senator which ended in 1988. His life stands as a model of service, selfless dedication and commitment to the community—whether that community be Rutland, Vermont, the U.S. or the planet. We have all benefited from the compassionate and researched concern that he has shown for the preservation of our land and wildlife and for the access to and continued quality of teaching and research within our educational institutions. We sincerely hope he is not the last of a breed but rather a leader who has set the course for his successors.
Marcia Hanson Stigum '56
Author, teacher, Money Market expert
Deceased in 2003
Marcia Stigum is an accomplished author with more than a half dozen books on topics ranging from introductory economics, to banking, and money markets. As president of Stigum and Associates, Ltd., she is looked upon as one of the foremost authorities on the subject of the money market, serving as a consultant and advisor to major banks, corporations, government agencies and institutions internationally.
1986 Recipients
Herbert J. Broner '49
Past CEO of Mohasco Corporation
As president, chairman and chief executive officer of Mohasco Corporation, Herb Broner headed one of the country's leaders in the consumer durable goods field, a company perhaps better known to consumers through such trade names as Barcalounger and Mohawk Carpets. Mr. Broner joined Mohasco in 1968 after 13 years as president of the Row Furniture Company. He is credited with taking a sluggish, diversified manufacturer and boosting sales and earnings to record levels. His distinctive management style not only revitalized his corporation but brought him recognition within the American business community. In 1985 he was honored as one of the nation's top chief executive officers by Financial World Magazine and the following year received the Torch of Liberty Award of the anti-Defamation League.
Patricia Sherlock Davidson '59
Professor of Mathematics, expert in math related to learning
A leader in the field of mathematics education, Ms. Davidson has also distinguished herself through her pioneering efforts in neurological research. A professor of mathematics and computer science at the University of Massachusetts at Boston and mathematics specialist as Children's Hospital Medical Center, she earned an M.A.T. from Radcliffe and a doctorate in education from Harvard. During a break in her teaching career in the early '60's she edited mathematics texts for Houghton Mifflin Publishing, and in 1965 was named the first coordinator of mathematics for the Newton (MA) school system. She joined the education faculty at Simons College in 1969 and, a year later, was named to the faculty of Boston State College. Her dedication to improving the quality of math comprehension and teaching has been honored by UMass and Harvard and with Fulbright and Sloan Foundation grants.
Frederick Dirks '31
10/22/09 - 11/6/98
Fred Dirks graduated from Middlebury Phi Beta Kappa, earning a master's degree from Tufts and completing doctoral studies at Columbia. He first applied his economic research skills to the work of the Federal Reserve Board, then joined the Office of the U.S. Military Government in Germany as chief of financial intelligence for two years following WWII and then moved on to the post of economist in the Office of the U. S. Secretary of Defense. His major career work began in 1950 when he joined the International Monetary Fund where for 25 years he held a variety of senior research and policy posts. His many hobbies included travel and the documentation of those travel experiences through a camera lens. Former president of the National Photographic Society, his slide shows were seen by audiences from Washington to Middlebury.
Donald K. Yeomans '64
Scientist, leading asteroid and comet authority
As a member of the Jet Propulsion Laboratory and California Institute of Technology, Yeomans is one of this country's most respected authorities on asteroids and comets. For a number of years he was active internationally as astrometry specialist for the International Halley (Comet) Watch and was principal investigator on NASA's Comet Rendezvous-Asteroid Flyby mission. Mr. Yeoman's has been honored by the leading astronomical and scientific organizations both here and abroad for his research and contributions to our understanding of the universe and, in particular, for his work in connection with the 1985-86 International Cometary Explorer mission which led to the first fly-through of a comet and to the successful missions of the European Giotto, the Soviet Vega 1 and Vega 2 and Suisei and Sakigake spacecraft. He is the first Middlebury graduate in memory to have an asteroid (No. 2956) named in his honor.
1985 Recipients
Claire Waterhouse Gargalli '64
Equibank - then highest ranking female banking executive in the U.S.
An economics major at Middlebury, Claire Waterhouse Gargalli joined Fidelity Bank of Philadelphia immediately after graduation. At that time Fidelity was the fifth largest bank in the state, and Ms. Gargalli rose through the ranks to become head of their corporate banking department. She was later named executive vice president of Fidelity and president of Fidelity's International Bank. In 1984, Ms. Gargalli was appointed president of Pittsburgh's Equibank, earning her the highest position in American banking ever held by a woman. As president of Equibank she was responsible for all of the bank's day-to-day operations. She was instrumental in executing the bank's plan to raise $100 million in one year. Under her direction, Equibank consolidated its branch operations in 55 Pittsburgh-area communities and expanded to the Philadelphia market.
Charles Moffett '67
Museum curator, author of books and guides
Mr. Moffett joined New York's Metropolitan Museum of Art in 1972, after earning an M.A. from the Institute of Fine Arts at New York University. Over the next decade, he moved from graduate assistant to curator of European paintings, and had great success in 1978 and 1983 with shows on Monet and Manet. Manet 1832-1883 established his international reputation and earned him a variety of honors including the Prix Bernier of the Institut de France. Mr. Moffett was named curator-in-charge of paintings and coordinating curator of The Fine Arts Museums of San Francisco in 1983, the same year he taught as a distinguished Johnson Visiting professor of Art History at Middlebury. He also wrote the book, Impressionist and Post Impressionist Paintings in the Metropolitan Museum of Art, published in 1985. Mr. Moffett has served as an advisor to private collectors, Sotheby's, and the IRS and has been honored by Esquire Magazine for his fine work and many achievements. Mr. Moffett is currently executive vice president and co-chairman of Modern Art at Sotheby's.
William Montgomery '45
Doctor, author, professor, 1923-2003
 A native Vermonter, Montgomery was born in Proctor, received his M.D. degree from the University of Vermont Medical School and did his internship at the Mary Fletcher Hospital in Burlington. He is the author of more than one hundred articles, chapters and books related to the upper respiratory system. Montgomery has served as a professor in otolaryngology at Harvard Medical School and as director of the Head and Neck Tumor Clinic and director of the Rhinolaryngology Laboratory at Massachusetts Eye and Ear Infirmary.
Georgia Maxine Atkins Smith '50 (MA French School)
Teacher, Activist
When Maxine Smith received her masters degree in 1950 from the French School it represented a victory both for her and for the State of Tennessee. She attained her academic goal; Tennessee, by paying her way to Vermont, had maintained its segregated higher education system. Along with her degree from Spellman College, Ms. Smith returned to Memphis to teach, but her attention soon turned to organizing sit-ins, boycotts and other protests. As full-time executive secretary of the Board of Education she became one of the generals in the civil rights movement. She escorted the initial first graders into desegregated Memphis schools; she drove James Meredith to register at "Ole Miss" as that segregated system fell, she organized Black Mondays which saw 67,000 black children boycott schools in support of more black teachers and redistricting and she led the way to court ordered bussing.
1984 Recipients
Robert P. Beattie '55
Former Olympic skier and coach, TV commentator
A physical education major at Middlebury, Bob Beattie's name has become synonymous with competitive skiing in the United States. He began his coaching career by filling in at Middlebury for Bobo Sheehan '44 when Mr. Sheehan was working with the '56 Olympic team. Mr. Beattie then went on to the University of Colorado, where he built his team into a national power, and eventually became head coach of the U.S. team. He became president of World Wide Ski Corporation and served for many years as a commentator for ABC Sports.
Adapted from Middlebury Magazine, Winter 1985 pg. 7
James S. Davis '66
Founder, president of New Balance Athletic Shoes company
A biochemistry major while at Middlebury, Mr. Davis is now owner and president of New Balance Athletic Shoes, whose footwear, it seems, can be found on every other pair of feet on the Middlebury campus. When Mr. Davis purchased the company 12 years ago, it was a small firm known primarily for orthopedic shoes and turned out a few dozen pairs of shoes a day. By 1983 the company turned out 4,000 to 5,000 pairs a day and employed thousands of people at plants in this country and overseas. Mr. Davis has also served as a member of the Middlebury College Board of Trustees.
Adapted from Middlebury Magazine, Winter 1985 pg. 7
Sabra Harwood Field '57
Woodcut artist, designer of UNICEF card and  U.S. postal stamp
A fine arts major, Sabra Field is now a printmaker and, with her husband, Spencer, runs the Tontine Press in East Barnard, Vermont. She received her master's degree in art teaching from Wesleyan in 1959 and taught in Connecticut for several years before returning to Vermont. Her work has appeared in galleries all over the world, and in more than three dozen solo exhibitions. She has been honored with grants from the Vermont Council on the Arts and her works have won prizes in regional and national competitions. She has had prints included in the UNICEF Christmas card series and one of them, "Apple Tree Winter," was all-time bestseller. Ms. Field has done commissions of landscape designs for hot-air balloons but she is often best known as the designer of the 1991 Vermont Bicentennial stamp.
Adapted from Middlebury Magazine, Winter 1985 pg. 7 and
Middlebury Magazine, Spring 1995 pgs. 16-19
Charles F. Baird '44
Business executive, chairman of the board INCO, director of AETNA
Charles Baird, an economics major at Middlebury, served for many years as the Chairman and CEO of INCO, the Canadian based multinational mining and smelting firm that is one of the world's largest producers of nickel. Mr. Baird also served as undersecretary of the Navy during the Johnson Administration, and worked for 17 years in a series of key international posts with Exxon. He did graduate work at New York University and Harvard Business School.
Adapted fromMiddlebury Magazine, Winter 1985 pg. 7
Michelle La Pautre '54 (MA French School)
Director - Literary Agency in Paris France
A literary agent based in Paris, Michelle La Pautre is also head of the association of French literary agents. She represents approximately 50 American and British publishers, and dozens of American authors, for whom she negotiates publishing rights and paperback and film contracts. A graduate of Penn State, she earned a Masters in French from Middlebury and received her Ph.D. from New York University. She began her work as a literary agent in the late '50s, working with Georges Borchardt, and set up her own agency in 1968.
Adapted from Middlebury Magazine, Winter 1985 pg. 7
1983 Recipients
Jane Choate Beck '63
Vermont State folklorist
In 1978, the Vermont Council on the Arts appointed Jane Beck as Vermont's first State Folklorist. Since then, it has been her charge to untangle the web of folklore, folk life and folk art and discern their relationship to contemporary culture. True to this mission, she has since amassed a significant collection of myths, beliefs, stories and songs about the people, places and things that make up life in Vermont. One of her productions, seen throughout Vermont and featured on the CBS show Sunday Morning, was the widely acclaimed collection of Vermont folk art and traditional culture entitled Always in Season. She spent almost three years researching, collecting and selecting the 160 objects that were part of the exhibit. Her knowledge and interest in folklore, however, go far beyond the hills of New England. Her book, To Windward of the Land, published in 1979, deals with the occult traditions of the West Indies as told by a native master of black magic. Mrs. Beck, majored in American literature while at Middlebury.
Middlebury Magazine, Winter 1984 pg. 44
Arthur C. Bass '54
1932 - 1993
From 1975 to 1980, Art Bass served as president and chief operating officer of Federal Express. In just five years, he transformed a small, money-losing operation with limited capital into a company whose 1980 pre-tax earnings totaled $51 million. Fortune Magazine identified Federal Express as one of the ten best managed companies of the decade (1970-1980), a true testament to Mr. Bass's diligent work and accomplishments. Art Bass went on to serve as the chairman and chief executive of Midway Airlines, based in Chicago.
Adapted from Middlebury Magazine, Winter 1984 pg.44
Ronald H. Brown '62
1941 - 1996
Attorney, 1988 chairman of National Democratic Party, U. S. Secretary of Commerce Ron Brown loomed large on the national scene - including roles as a cabinet member and chair of the Democratic National Committee - similarly, he played a major role at his alma mater. From 1988 until his death he served on Middlebury's Board of Trustees, helping guide the College as it changed, just as he had helped guide the nation. When he began his work as Secretary of Commerce, Brown informed President John McCardell that he was relinquishing all of his board memberships except two - one was Middlebury.
Adapted from an article in Middlebury Magazine, Spring 1996, pg. 7;Middlebury Magazine, Winter 1989 pgs. 22-27 and
Middlebury Magazine, Winter 1984 pg. 44
Janice Eldredge Day '41
1919 - 1997
Founder, past chairman of JAFRA cosmetics
In 1954, without venture capital or corporate sponsorship, Jan Day and her husband Frank started a direct sale cosmetics firm they called Jafra (from Jan and Frank) Cosmetics, which grew at a staggering rate. Using a formula for a skin cleansing and moisturizing cream designed for Southern California's climate, the company built a reputation for quality that spread through California and, despite efforts to control the size of the company, eventually to the entire country. Today, there are more than 100,000 people involved in the "Jafra concept," in every state and in 24 foreign countries. In 1976, Jafra became a subsidiary of The Gillette Company, but Jan Day continued as chairman, guiding spirit and chief philosopher. She also operated the Jan and Frank Day Scholarship Fund, begun in 1972, which in 1983 provided financial support to 60 students from Jafra families. Mrs. Day majored in English at Middlebury.
Adapted from Middlebury Magazine, Winter 1984, pg. 45 and
Middlebury Magazine, Fall 1995, pg. 38
Melvyn H. Gussow '55
1933-2005
Mel Gussow was set on his career path before stepping out of Middlebury. With the editorship of the Campus and graduate study at the Columbia University Journalism School behind him, he served as editor of an Army newspaper in Heidelberg and then joined the staff of Newsweek, where he became an associate editor. Today, he is one of this country's leading critics and commentators on the theatre. As drama critic for The New York Times since 1970, he has helped to enhance the public understanding of new drama as few critics have. While he is at home on the Great White Way, it is in the off- and off-off-Broadway houses that he seems to find his greatest pleasure. Mr. Gussow was honored for his perception with the George Jean Nathan Award for Dramatic Criticism in 1979, and with a Guggenheim Foundation Fellowship that same year. He is the author of Don't Say Yes Until I Finish Talking: A Biography of Darryl F. Zanuck, and his articles and reviews appear in many national magazines. Mr. Gussow was an American literature major at Middlebury.
Adapted from Middlebury Magazine,Winter 1984 pg. 45 and Middlebury Magazine, Winter 1999, pg. 16
Alumni and Families
700 Exchange St.
Middlebury, VT 05753