Local and Sustainable Wood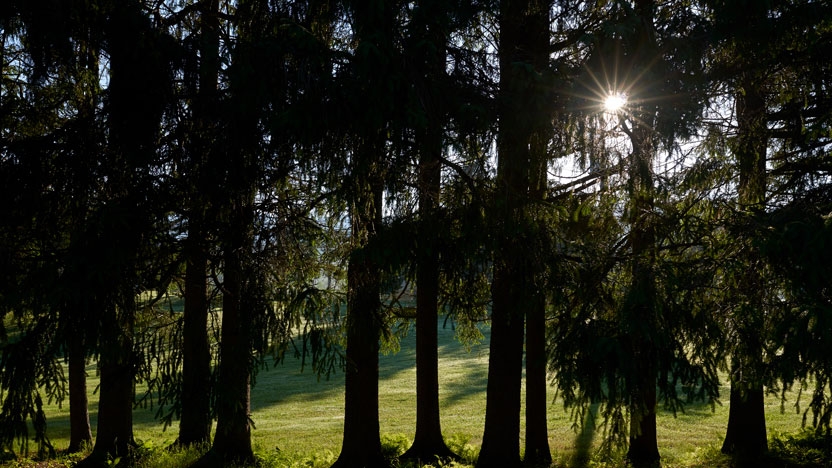 Since 1999, Middlebury has used more than 500,000 board feet of locally harvested and green-certified Vermont wood in campus construction and furnishing, influencing both the ecological management of Vermont woodlots and the economics within the local economy.
Using wood common to the northern hardwood forest—such as red oak, maple, birch, beech, and white ash—for some of these projects has highlighted local green wood.
Bicentennial Hall
Middlebury developed a partnership with Vermont Family Forests, a nearby nonprofit organization that promotes the cultivation of local family forests for economic and social benefits while protecting ecological integrity of the forest community as a whole. Seventy percent of the wood for Bicentennial Hall came from Vermont Family Forests member woodlots within 33 miles of campus.
Certifying Bread Loaf Forest Land
In 2000, 388 acres of Middlebury's land at the Bread Loaf campus had been enrolled in Vermont Family Forests certified eco-forestry program and received Forest Stewardship Council certification. In 2015, these lands became part of the Bread Loaf Conservation Project and now harvest is highly restricted.
Ross/LaForce Hall
For the Ross/LaForce facilities, Middlebury used local services wherever possible. Foresters, loggers, sawmills, kiln-drying operations, and truckers—all from Vermont and most from Addison County—cut, moved, milled, and dried the lumber that accentuates the walls, ceilings, and floors. Three local woodcraft businesses shaped the lumber into a thousand sets of ceiling panels, radial display cabinets, and the striking, horizontally sequenced panels for the Commons Lounge, in which one can actually trace the internal pattern of individual trees around the perimeter of the room. Sixty percent of the certified wood used in the Ross Dining Commons and adjacent LaForce Hall was harvested from FSC-certified Bread Loaf forests.
Influencing Others to Go Local
Based on the success of using local green wood, Middlebury has openly shared its learning curve with others.
The first major initiative of the Cornerstone Project, a group of Vermont-based institutions that collectively explore opportunities for steering institutional buying power towards the purchase of environmentally sound Vermont goods and services, has been the use of sustainably harvested certified wood from Vermont forests.
Both Fletcher Allen Health Care and the State of Vermont have incorporated certified wood into current building projects.
Middlebury responds to ongoing inquiries from universities, colleges, and private companies about the use of forest resources.