The next time you walk across campus or into your favorite building, take a closer look: energy-efficient designs, the use and reuse of materials, and sustainably harvested wood can be found all over Middlebury. 
We've recycled entire buildings, installed lights that dim as the sunlight brightens, and, in 2008, the Franklin Environmental Center at Hillcrest became the first LEED Platinum building in Vermont.
LEED Certified Buildings
We are proud to have five LEED (Leadership in Energy and Environmental Design) certified buildings on campus!
View the gallery in a new window.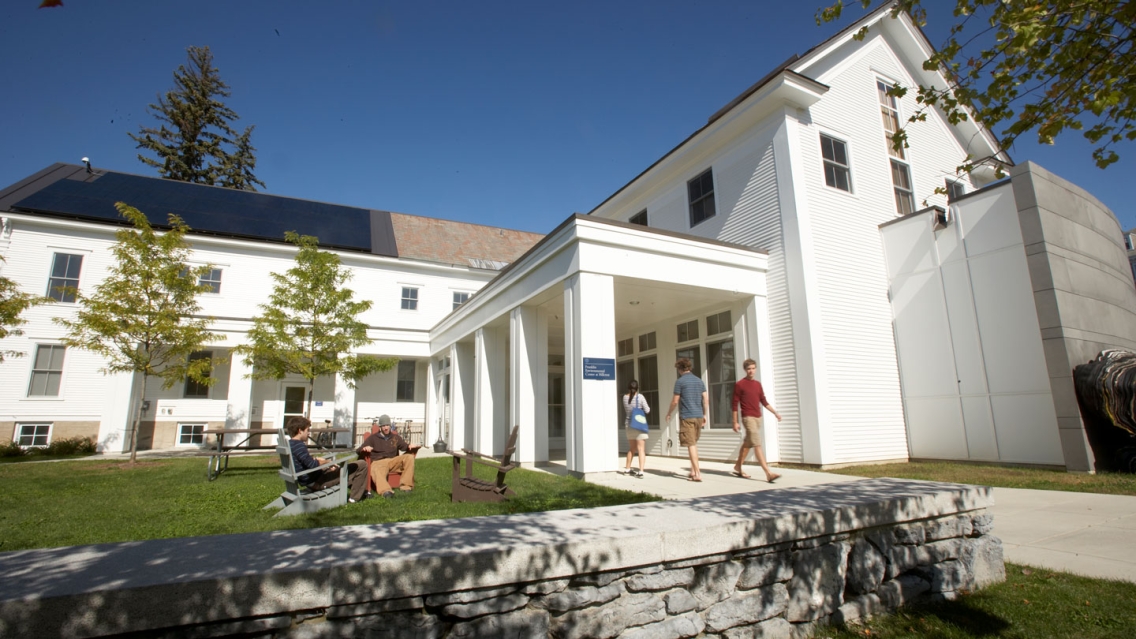 LEED Certified Buildings
Sustainable Design On Campus
Atwater Dining and Residence
With its green roof on the dining hall and innovative ventilation system in the residence halls, Atwater is a cohesive example of multiple uses of greener energy.
Axinn Center
Located on the historic Old Stone Row quad, the 82,400-square-foot Axinn Center building project preserved the original neoclassical Starr Library and the modernist Shepley Pavilion Reading Room, and added 50,000 square feet of new space.
Davis Family Library
Opened in 2004, the Davis Family Library represents Middlebury's approach to new construction with sustainable design—from lighting and landscape design to storm water management.
Franklin Environmental Center
Local materials, Forest Stewardship Council (FSC)-certified wood, groundwater exchange air conditioning, and solar panels are just a few of the sustainable features in the Franklin Environmental Center at Hillcrest.
McCardell Bicentennial Hall
The environmental enhancements to McCardell Bicentennial Hall were considered across a 10–15 year period, rather than the more typical five-year period, allowing for more progressive design strategies.
Ross Commons
Originally designed by the architect to be made of cherry, the interior of Ross Commons was changed to more sustainable birch and beech wood at the urging of the College's administration.
Local Green Wood
Middlebury regularly uses local and sustainably harvested wood in projects across campus.