McCardell Bicentennial Hall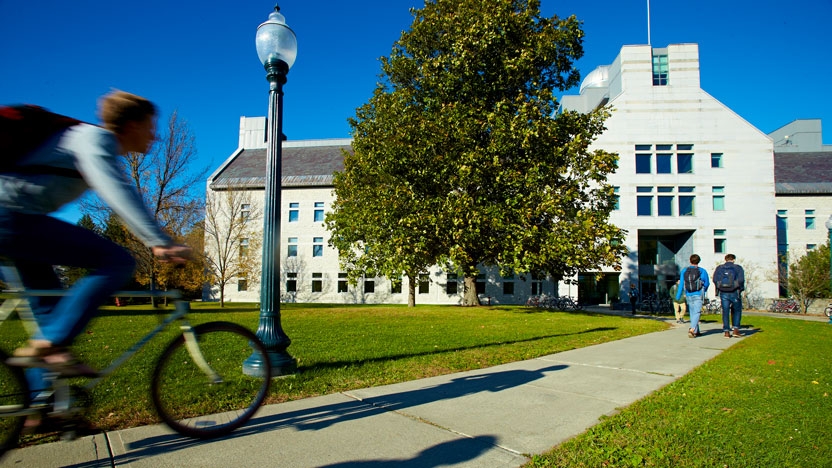 Completed in 2000, McCardell Bicentennial Hall (BiHall) uses a flexible and modular design to minimize future construction, waste, and environmental impact. 
The design also minimizes maintenance and repair costs, meaning considerably less pollution put into the environment.
Landscape and Design
BiHall's location near the largest residential structures encourages pedestrian traffic, and ample bicycle racks and a nearby bus stop encourage use of alternative transportation. Classroom spaces and workspaces are built with flexibility in mind so they can adapt to Middlebury's changing needs with minimal or no reconfiguration.
The views of the surrounding area are a focal point of the design. Daylight penetrates the vast majority of spaces, and night-sky light pollution is minimized through the use of automatic shades on windows at dusk and directional lighting in the parking area. Plants and landscaping were also chosen to minimize care and chemical application.
Building Materials
BiHall's construction utilized local and sustainable materials whenever possible, including recycled materials on loading docks, the flat roof, and for insulation; natural cork in the display boards; locally built precast concrete; and wood grown and harvested sustainably through the local Vermont Family Forests program. Most construction waste was recycled, and all excavated rock was crushed and reused on-site.
Reducing upkeep was also a priority. The local slate roof requires little maintenance, the exterior shell stone walls provide near-zero maintenance and a long life span, and the six-inch air barrier between the shell and structural walls, which provides good insulation and effective drainage, can last for at least 100 years.
Energy Efficiency
Triple-glazed windows provide 2–3 times more insulating value than typical thermal windows. Windows are also designed to eliminate condensation tendency and standard below-window heating in 90 percent of the building, reducing capital and operational costs. The ventilated "cold roof" combines substantial insulation with a continuous air/vapor system for energy efficiency and durability.
The overall size of the building's mechanical equipment is about 50 percent what is typically required for a building of similar size. Air from clean spaces like the Great Hall is reused inside labs, which also use a process cooling system and have glycol heat exchangers to reduce substantial heating and cooling losses.