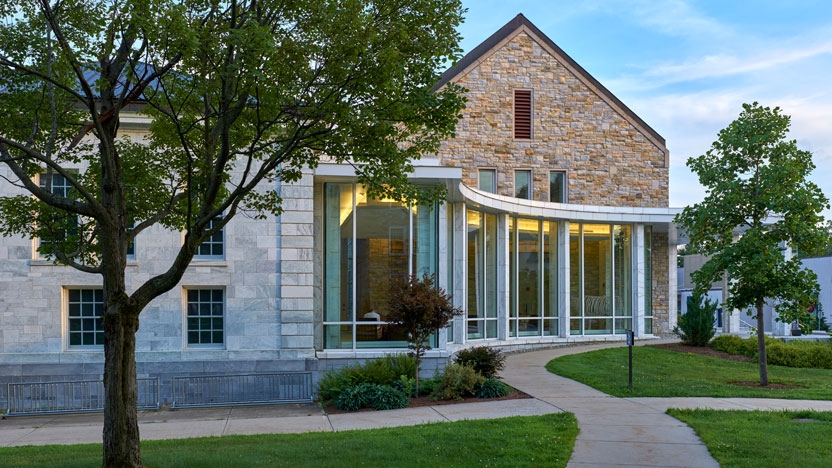 The Donald E. Axinn '51, Litt. D. '89 Center for Literary and Cultural Studies at Starr Library shows how a historic building can be updated and reintegrated into a modern campus in a sustainable way.
Because of this, the building was honored with the Boston Society of Architects' Sustainable Design Award in 2009.
Reuse and Recycling
Rather than demolishing the entire building, the College chose to refurbish as much of the original Starr Library as possible:
The original wood was restored rather than replaced, as in the Shepley Pavilion Reading Room.
More than 80 percent of the construction and demolition waste was diverted from the landfill.
Much of the beautiful stone from the exterior was reused to replace worn-out stones or to build the facade of the new sections of the building.
Stone that was not in condition to be reused was ground and used as backfill.
Construction debris that could not be reused on-site was sorted for recycling.
Efficiency
The Axinn Center was designed to maximize energy efficiency:
Heat recovery system in office wings.
Premium efficiency motors for all mechanical equipment.
Occupancy sensors for office lighting.
Heavy insulation.
Carbon dioxide sensors in classrooms that allow the ventilation systems to run only when rooms are in use.
Site and Landscape
Using the existing building site meant that land did not have to be converted from another use. The landscaping was also designed with sustainability in mind:
An erosion and sedimentation control plan was used and trees were protected throughout construction.
The site has storm water retention and filtering features and the landscaping features native plants.
The service road that ran alongside the building was also replaced with a semi-permeable concrete path, which lowers storm water runoff and also reflects the desire for a more pedestrian-friendly campus outlined in the 2008 Master Plan.