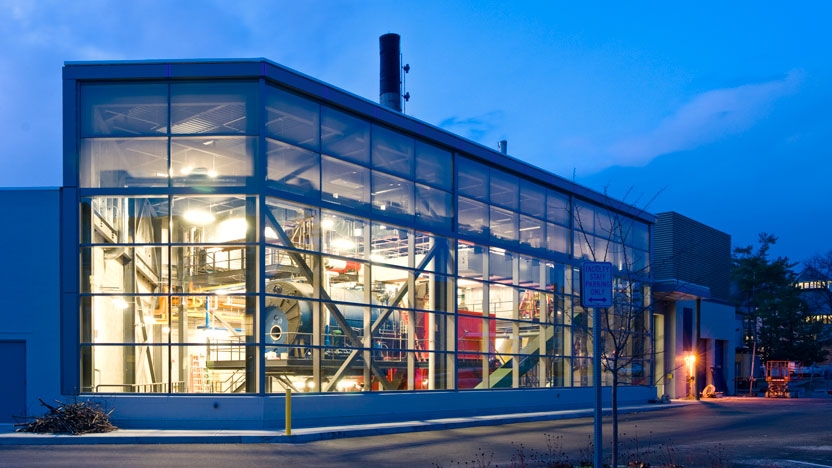 Middlebury is committed to using 100 percent renewable energy by 2028.
We will reach this goal through the Energy2028 initiative.
Biomass Gasification
Middlebury College celebrated the official launch of its biomass gasification plant with a reception, tours, and a lecture by author, activist, and Middlebury Scholar in Residence Bill McKibben on February 19, 2009, at McCullough Student Center.
Biomass is fuel derived from plants such as trees, grass, soybeans, and corn. Middlebury uses locally sourced wood chips, which are superheated in a low oxygen chamber where they smolder (not burn) and emit wood gas. Oxygen is introduced on the backside of the boiler causing the gas to ignite, producing heat (at temperatures of over 1100° F) to make steam that is distributed throughout campus for heating, cooling, hot water, and cooking.
Biomethane Digester
A partnership between Middlebury, the Goodrich Family Farm in Salisbury, Vanguard Renewables, and Vermont Gas Systems has led to a first-of-its-kind system that will begin supplying the main campus with RNG in 2021. Read more about Middlebury's commitment to 100 percent renewable energy.
Solar Farm
At the urging of students, Middlebury built a 143-kilowatt, 1.5-acre solar farm on Route 125, west of McCardell Bicentennial Hall. The 34 solar trackers on the farm are from AllEarth Renewables, a company based in Williston, Vermont. AllEarth manufactures the innovative solar energy systems, called AllSun Trackers, which feed electricity into nearby power lines. A research grade set of photo voltaic monitoring sensors and instruments was also installed to collect and store data for research by Middlebury faculty and students.
The solar farm produces about 243,000 kilowatt-hours each year—more electricity than is used annually in Forest, a student residence hall. The solar panel energy production report shows monthly progress and reports.
Supporting Local Solar Farms
In 2015 Middlebury became the exclusive purchaser of electricity from nearby South Ridge Solar Farm. In combination with the campus solar farm, 5 percent of campus electricity is now solar generated.
In 2016, Middlebury entered into a power-purchase agreement with Wilber Solar on a 500-kilowatt project, which will bring our supply of solar electricity on campus to about 8 percent of what we use annually.
Solar Decathlon
In 2011, Middlebury was the first undergraduate liberal arts college selected to compete in the U.S. Department of Energy's Solar Decathlon, an international competition to design, build, and operate solar-powered houses that are cost effective, energy efficient, and aesthetically pleasing. That house, Self-Reliance, won first place in three of the ten categories. In 2013 Middlebury placed eighth overall with a design called InSite. Both homes now serve as undergraduate housing on campus.
Solar Panels
Solar panels have been installed on the Franklin Environmental Center, the Solar Decathlon's Self-Reliance and InSite houses, and Farrell House. Together these produce about 259 kilowatt hours a year. In addition, two solar hot water systems have been installed in student housing.
Wind Power
Middlebury's location in mountainous Vermont makes us a strong candidate for producing renewable, carbon-neutral wind power on campus. From our 10-kilowatt wind turbine that's been spinning since 2005 to studying wind data at the Middlebury College Snow Bowl to determine if a turbine can be installed there, Middlebury is continually looking for opportunities to increase our wind-power output.
Material Recovery Facility
Originated as a project in an environmental studies class and funded from an Environmental Council grant, Middlebury's 10-kilowatt wind turbine produces more than 8,000 kilowatts annually—roughly equivalent to the annual energy consumption of a home—and provides approximately 15 percent of the electrical needs of the facility.
Snow Bowl
In 2006, the Middlebury College Snow Bowl was the first U.S. ski resort to institute carbon-neutral operations across its facilities through offsets from Native Energy.