New Tech Support System Coming -- Oct 5, 2021
ITS is excited to announce the October 5 launch of TeamDynamix (TDX), a new comprehensive support system to replace Web Help Desk.  The Consortium (GMHEC) and member schools have already transitioned to this new system.  Everyone will benefit from enhanced features (Client Portal, Knowledge Base, and Service Catalog) and a consistent support ticket process.
Please note the Technology Helpdesk will handle emergency calls only on October 4 so we can focus on moving current tickets from Web Help Desk (WHD) to the new TeamDynamix (TDX) system.  
Rest assured, we will still be available through all the familiar methods listed on our ITS Helpdesk site.  Oracle-related help will continue to use specific email addresses that create tickets.  
What will change?
After the "go-live" date, TeamDynamix will replace Web Help Desk and be used for all support requests.
Both Oracle and Middlebury support ticket notifications will come from Support (tdx-mailer@gmhec.org), as shown here: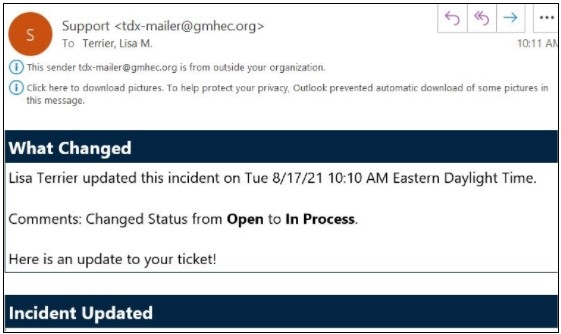 The email confirming your ticket creation will now include a ticket-specific code at the bottom which should not be removed when replying.

How can you learn more?
Review "how to" articles to get started using the new TeamDynamix (TDX) client portal:
Come by anytime during one of our open drop-in sessions and see how the new system works:
Thursday, Sept 30 – 11:00-11:30 am
Monday, Oct 4 – 2:00-2:30 pm
Thursday, Oct 7 – 2:00-2:30 pm
Zoom room link here (removed)
We look forward to working with you on this improvement of our services.
Information Technology Services
Davis Family Library 202
Middlebury, VT 05753