ISSS Pre-Orientation for Middlebury College Students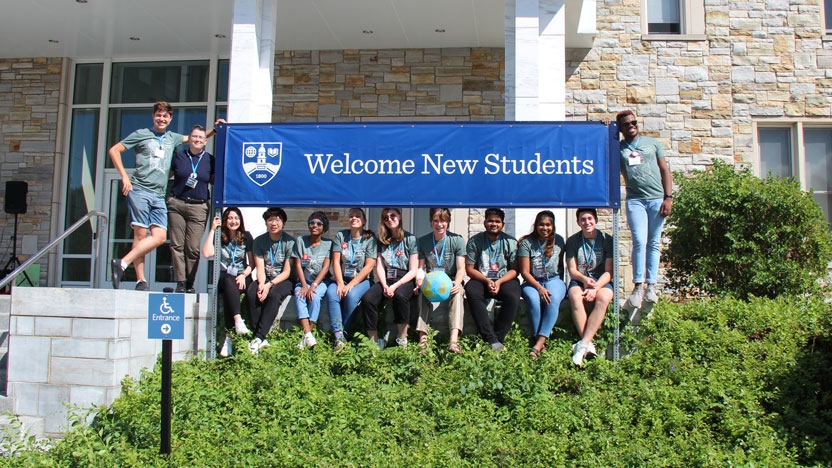 Congratulations on your acceptance to Middlebury!
International Student and Scholar Service's Pre-orientation program (formerly Early Arrival) is intended for international students including the following:
Members of the Class of 2027 and 2027.5
Exchange students
U.S. students living abroad
International transfer students
Students holding various other statuses
During Pre-orientation, new international students meet people who are excited to assist them with their transition to the Middlebury College community. This group includes Program Arrival Leaders (PALs)—experienced students eager to share their knowledge and offer support, as well as the International Student and Scholar Services (ISSS) staff, who enjoy assisting students from around the world on their journey through Middlebury and beyond.
In addition to meeting other new students, participants learn more about key topics that affect international students—such as maintaining your U.S. visa status (if applicable) and understanding employment options, while also becoming familiar with campus resources and opportunities to get involved. International students find their Pre-orientation experience to be very beneficial!
To learn more about our Pre-orientation program for international students, see the overview below. As we develop our plans for the upcoming semester starts, we will update this site with details for our Pre-orientation programs.
Pre-Arrival Guide
This guide provides information about Pre-orientation for international students, the I-20 application process (for students who require visa support), International Students' Organization (ISO) Welcome, the Friends of International Students (FIS) Host Program, FAQ - Frequently Asked Questions, Travel to Middlebury College, and Action Items.
Pre-orientation Programs
September Pre-orientation
When offered as an in-person program, pre-orientation typically takes place in early September, a few days before orientation begins. While we may offer some virtual sessions prior to arrival on campus, we envision and hope that we will be able to hold our Pre-orientation fully in-person. This will depend upon national, state, local, and institutional policies as well as the public health considerations at that time. We will update this site as needed.
Feb Pre-orientation
Previous Feb Pre-orientation programs have been a combination of in-person and virtual programming. Students have the opportunity to interact in-person for organized social activities and meals with each other and the Pre-orientation Team. Virtual sessions cover topics such as F-1/J-1 status maintenance and employment requirements, the U.S. classroom culture, cultural adjustment, and how the ISSS Office supports students, regardless of visa status.
We intend to use the lessons we've learned from the past programs to create even more effective future programs for our students who enter mid-year. 
Arriving on Campus
Spring 2024 Feb Pre-orientation Program
By mid-November, ISSS will email deposited students with details about our pre-orientation program and invite them to confirm their participation. For students arriving in F-1 or J-1 visa status, this program is required. We will provide specific information about program logistics closer to the Spring semester.
Students arriving for on-campus instruction will be informed of particular health and safety protocols and related guidance before arrival. 
Arrival/Move-in Day: Tuesday, February 6, 2024
Program Dates: Wednesday, February 7-9, 2024
Program dates are tentative, so we suggest that if you are making transportation and accommodation plans, consider obtaining flexible options in case program dates were to change. We do not anticipate the dates will change, but it is always a best practice to be prepared.
Transportation to Campus on Arrival Day 
ISSS typically offers complimentary transportation to campus for students and a reasonable number of accompanying family/friends on arrival day from specific locations only. The transportation options are tentatively scheduled to depart from the Middlebury College Amtrak stations and Burlington (Vermont) airport (BTV) and go directly to campus. You may use the transportation even if you do not fly into Burlington airport. More information is sent to students about the complimentary transportation as they progress through the arrival process. If you have questions about this, please email ISSS (isss@middlebury.edu). 
In the event of interrupted travel while you are in transit to Vermont, ISSS will send instructions to you closer to your arrival day. We will also add more information here in anticipation for arrival day.
Gentle Reminder: ISSS does NOT have capacity, unfortunately, to arrange complimentary transportation from other cities. If you require assistance exploring ways to arrive to campus or Burlington airport and/or Middlebury College Amtrak stations, please reach out to ISSS (isss@middlebury.edu). 
For those arriving to campus using their own transportation, you are kindly asked to arrive during the Welcome Center hours (TBD). We will have signs posted in town and on campus to lead you to the Welcome Center. 
For those seeking transportation to campus on their own, there are several Transportation Options  to assist you in getting from Burlington, Vermont. Tri-Valley Transit (TVT) and "Private Taxis and Shuttles" (scroll to bottom of Transportation Options page) are common choices. Some of these options do include a fee; be sure to ask prior to booking any private taxi. 
Sending Packages Prior to Your Arrival
Mail and packages are delivered to students' mailboxes in McCullough Student Center. Your address is as follows:
Student Full Name [ID#]
Incoming Student - Middlebury College
14 Old Chapel Rd
Middlebury, VT 05753
Mailbox information will be posted on BannerWeb for incoming Fall students on or soon after their arrival to campus. Students have access to their mailboxes from 7 a.m. to midnight daily. The business window has weekday hours from 10 a.m.–4 p.m. Postage stamps can be purchased at the College Bookstore and MiddXpress, our convenience store in the McCullough Student Center.
For packages, we recommend using a service you can track, such as UPS, FedEx, and insured, certified, or registered mail. Students receive an email when their packages have been processed and they will need their IDs for pickup. Packages should not weigh more than 50 lbs.
International Pre-orientation Schedule
To be shared prior to the commencement of our program.
ISSS Pre-orientation Confirmation of Participation 
The ISSS Pre-orientation program allows you, a new international student, the opportunity to arrive to campus early for several important reasons. Our program strives to welcome you to your new community, holding space to discover, explore, learn, and of course rest from your travels to arrive here safely. During this program, you will build connections with students, staff and faculty who will assist with your initial entry into the College and beyond. By participating in the ISSS Pre-orientation, you are granted more time to acclimate to your new home in Middlebury, Vermont. Our hope is that this program will help you launch successfully into the next phase of your transition to Middlebury.
ISSS Pre-orientation will cover specific topics such as resources on campus and your visa status and responsibilities. We will be sharing mandatory non-immigrant information and check-in to those students arriving in F-1 and J-1 Exchange status, creating opportunities for connection regardless of your citizenship or visa status, exploring the U.S. culture from the various lenses you bring to our community, and learning together about the U.S. higher education system at Middlebury College. Participants will also enjoy organized and informal social activities.
While program participation by students in F-1 and J-1 Exchange status at the college/university level is expected/required, it is optional for all other students. Most students who have lived or currently call home/local outside of the U.S. have elected to participate and found it to be a valuable and fun experience.
The International Pre-orientation Confirmation of Participation form for Spring 2024 will be made available in November.  If you require assistance, please contact ISSS at isss@middlebury.edu. 
Fall 2024 Pre-orientation program
By mid-July, ISSS will email deposited students with details about our pre-orientation program and invite them to confirm their participation. We will provide specific information about program logistics when we have more to share.
Students arriving for on-campus instruction will be informed of particular health and safety protocols and related guidance before arrival. 
Arrival Day/Welcome Center: TBD 2024
Program Dates: TBD 2024
*NOTE: Though we intend for dates to remain once confirmed, we must acknowledge dates are subject to change based upon the current health and safety conditions closer to the time of arrival. It is our hope to offer an in-person program, with the potential for some virtual programming prior to your arrival to campus. Please use these dates for planning purposes once available.
It is always a best practice to make every effort to purchase flexible tickets. Keep in mind, for students arriving in F-1/J-1 status, your full participation in the International Pre-orientation program is expected and required.
Updated on 09/19/2023