Find out all the ways to access library materials from off campus.
All E-resources
To access our library-licensed resources from off campus, Middlebury researchers should begin from one of the links below.
Starting place for all research
Results include all content to which the library provides access
Library catalog, best for finding materials in the library's physical collection
Curated resources provided by subject specialists
List of Middlebury's subscription databases
List of journals to which Middlebury provides access
Note on Remote Web Access
You might be prompted to enter your email address and password in a new window; this is the single sign-on (SSO) login page. You probably recognize this from your email login. SSO now also logs you into EZ Proxy through which the Library provides access to resources from outside the College's network. Access to library-licensed materials is restricted to current students, faculty, and staff.
Using your Middlebury credentials and once logged in, you will have access to all our subscription e-resources, and you might not need to log in again after you close your Web browser.  SSO is persistent, so it's possible your browser will log you in automatically across many sessions. 
If you begin at a search engine like Google, you will not be prompted to log in, so your access as a Middlebury student, faculty or staff member will not be recognized.
E-books
The library provides access to a growing number of e-books. Find them using LibrarySearch or MIDCAT. Visit our e-book guide for instructions and more information.
E-book Guide
Films and Multimedia
Streaming Video
The library subscribes to Kanopy, a streaming video platform for education, which provides us with hundreds of titles selected from a large catalog of international, foreign language, documentary, and independent feature films, viewable from browsers, compatible televisions, and other devices.
Audiobooks
View our collection of audiobooks and download to your device. Learn how to get started at our e-book and audiobook guide.
Interlibrary Loan (ILL)
Please order physical books only if you can collect them on campus. For remote access to materials e-books and scans will be made available.
Submit ILL Request
Physical Materials
The library doesn't ship physical items from our collection. To access items from our collections remotely, you may submit an interlibrary loan request for an e-book or digital scan. 
Special Collections
Remote Access
Special Collections staff are ready to share ways to teach with archives, rare books, and manuscripts during this epidemic. Please contact us at specialcollections@middlebury.edu.
Digital Collections
We are dedicated to sharing digital collections from our rare books, archives, manuscripts, photographs, audio, and video recordings. Contact us to teach and learn with digital primary sources.
Explore Digital Collections
See How to Connect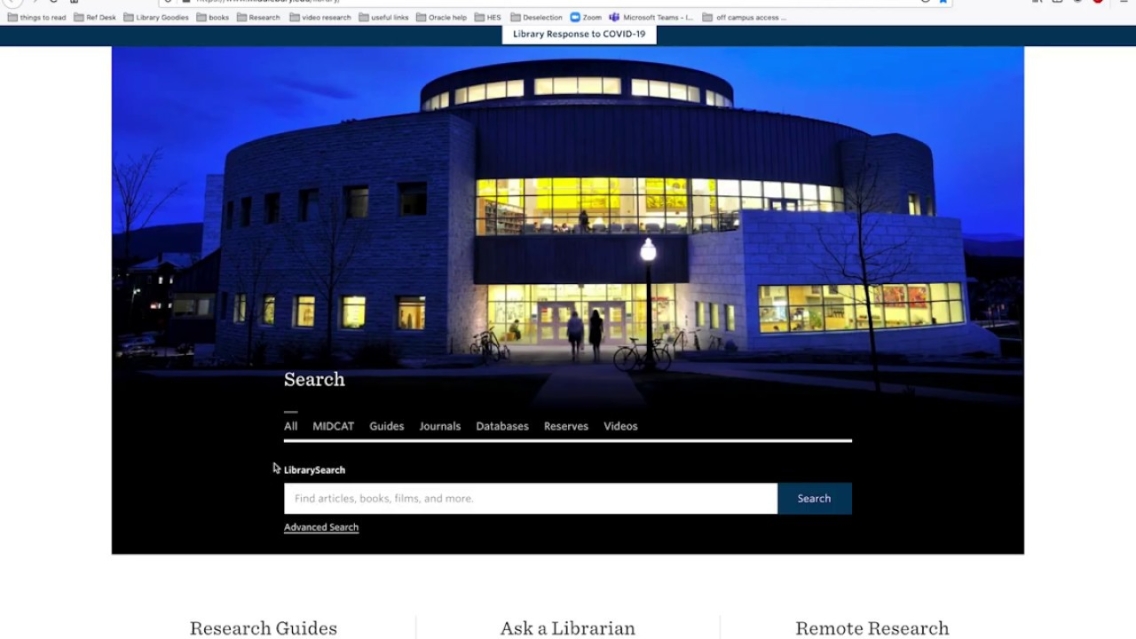 Additional Resources
Reserves

The library offers physical and electronic course materials to support instruction and research.
Was this page helpful?