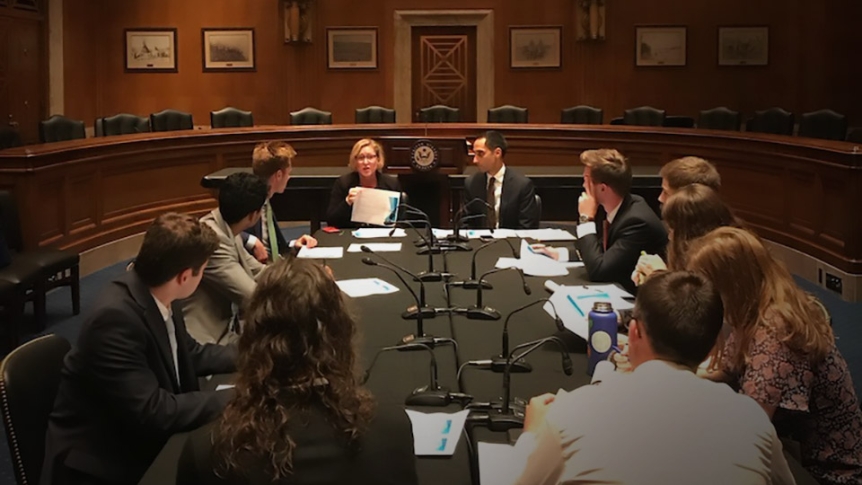 As a CapitolWorks participant, you'll have a unique opportunity to put theory into practice by learning firsthand how U.S. federal policy is developed.
MIDDVantage: Exploring Careers on Capitol Hill Video Series
In lieu of an in-person CapitolWorks program this year, due to COVID-19, we have produced a virtual series exploring different careers on Capitol Hill. The student-conducted interview series invites an insightful discussion with Middlebury and MIIS alumni highlighting their in various roles in and around Capitol Hill, offering their perspective on their jobs and how legislation and policy is developed and implemented. 

This series includes some special guests, Professor Matthew Dickinson, interviewed on our kick-off episode, and Rep. Sean Casten on our concluding episode.
Watch: Exploring Careers on Capitol Hill
Program Details
Participate in a series of seminars taught by Middlebury alumni who are deeply connected with the business of our nation's capital.
Meet with congressional representatives and other high-ranking professionals who work in government.
Make powerful professional connections that will build your career prospects.
Evening Seminars
Explore and reflect on the business of Capitol Hill with an exclusive program of evening seminars taught by Middlebury alumni instructors with extensive experience in Washington, D.C. Topics include the following:
An introduction to Capitol Hill
Networking
Appropriations
Committee hearings and markups
Lobbying,
PACs
Mentorship Program
With your acceptance into CapitolWorks, you'll also be automatically enrolled in the Middlebury D.C. Mentorship Program. Throughout the summer, you'll engage with a Middlebury alumni mentor who works on Capitol Hill and wants to share valuable academic and professional expertise with you.
Who Can Participate?
You can participate, if you're a Middlebury College student or recent graduate, regardless of major, who has secured a summer internship on Capitol Hill.
How to Apply
After you've secured a summer internship in Washington, D.C., apply to CapitolWorks.
Application Deadline: Not accepting applications. Please check back in March 2021.
CapitolWorks is a collaboration between Middlebury in D.C. and the Center for Careers and Internships (CCI).