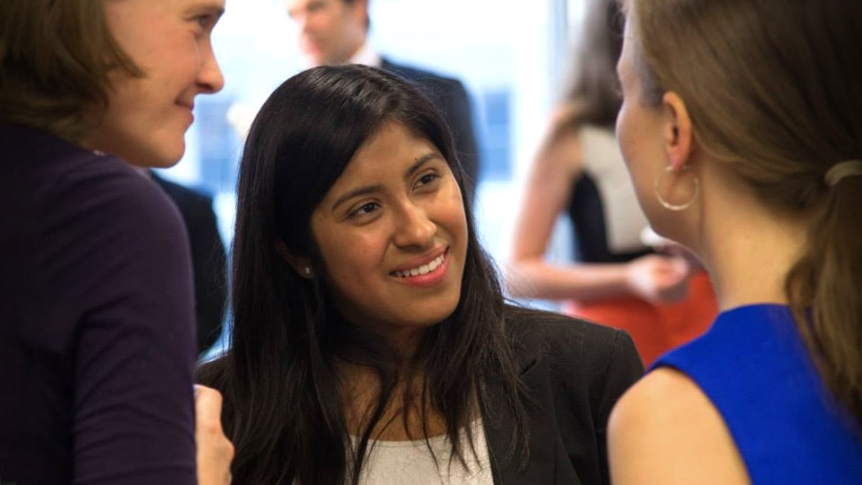 The DC Midd Mentor Program is a summer program intended to complement your internship in any industry in Washington, DC. Each student enrolled is assigned an alumni mentor in their chosen industry.
The program consists of one-on-one meetings with your alumni advisor as well as workshops, panel discussions and an important networking event for Middlebury students and alums in Washington.
The Mentorship Program launched in Summer 2014 with over 60 participating students and alumni, and four career-related events.
To learn more about the program's goals and launch, read our feature article, Mentorship Program Expands Opportunities for Student Interns in D.C.
Program Details
Students and recent graduates who are interning in Washington, DC are invited to participate in our summer Mentorship Program. Interns are paired with alumni mentors in their particular fields of interest. Mentors offer career advice, connections to area resources, and anecdotes about their professional and academic experiences.
In addition to the mentor match, the Middlebury in DC office offers a variety of programming to help the mentees expand their professional network and hone their career-related skills.
2020 Dates
The summer Mentorship Program in DC will run in June and July of 2020.
Eligibility
Any current Middlebury student, even those that have graduated this year, are eligible to apply, regardless of major. This program is open to international students.
Prospective Programming 
Mock Interview Workshop: Participants develop their professional interviewing skills in one-on-one mock interviews. The alumni interviewers ask essential interview questions and give personalized feedback to each participant.

Career Panels: Panelists share their experiences that helped shape their career paths from graduation to their present positions.

Alumni and Summer Intern Reception: The networking event of the year! Students meet with alumni and staff to chat about work, life, and other interests. 

Résumé Writing Workshop: Participants learn how to use their resumes to tell a narrative in order to set them apart in the job market for their target industry. This hands-on workshop provides individualized feedback on resume content, organization, and layout.

Cover Letter Writing Workshop: This workshop provides personal feedback on cover letter content, structure, and development. Cover letters are an important piece of your professional portfolio to land the position you want, and many times a first impression. Learn tips for creating a stand-out cover letter that will get the reader's attention, and receive advice on your own cover letter. 
"I feel I made meaningful connections with my mentor that will be valuable throughout my professional career." |
- Viviana A. '16 (mentee)

"I enjoy helping Midd kids. Not everyone has a mentor and it's one of the most important things to develop in your career." 
- Michael S. '10 (mentor)

"I was very impressed that the match between myself and my mentor was very well coordinated - she works in a field and a company that I'm very interested in, and was able to share some valuable insights on the international development space." 
- Bree B. '15.5 (mentee)

"I didn't realize how much I had learned being out in the 'real world'. I felt like I actually had a lot of great advice to share with my mentee." 
- Christian H. '06 (mentor)

"I liked having a mentor but still meeting other alumni through the workshops and other events hosted at Middlebury in DC."
- Mirella L. '15 (mentee)

"I enjoyed encountering the new generation of high-achieving Midd students; being reminded of the open-endedness of career possibilities and choices when one is just starting out." 
- Stefan S. '88 (mentor)
Apply
Interested in participating in Middlebury in DC's summer Mentorship Program?
Apply Now