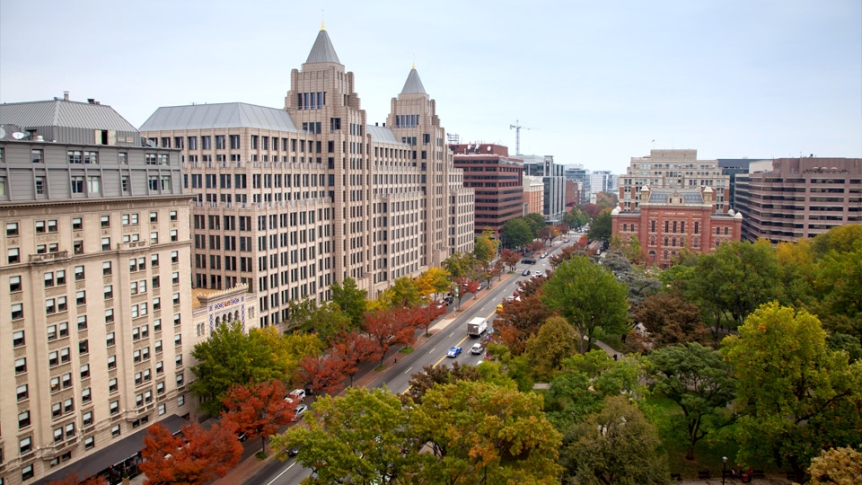 Downtown
Downtown D.C. is conveniently located and filled with new retail venues, numerous transportation options, high-end/casual dining, all within a close proximity to work. It includes neighborhoods such as Penn Quarter and Chinatown which have exciting entertainment corridors such as 7th St. and H St. NW.  Everything is accessible by both metro and bus, as well as capital bike share.
Attractions include the Smithsonian American Art Museum, the National Portrait Gallery, and American Art Museum (both housed in the same neoclassical building), the Newseum, the International Spy Museum, Madame Tussauds, and Ford's Theatre. Don't forget to visit the Verizon Center, home of the Washington Wizards and Capitals!
U Street
The U Street corridor is known for its art galleries, shopping, dining, and growing musical venues. It's a neighborhood rich with culture and history that has plenty to offer to its residents, and tourists. There is an abundance of rentals in this area; over 10,000 apartments and condos have been added to U Street Corridor in the last few years.
U street can be easily accessed both by bus routes and metro stations. The neighborhood is home to many restaurants, including Busboys and Poets, &pizza, and Ben's Chili bowl, as well as a farmer's market that pops up on saturday mornings on 14th and U.  Want to unwind? Meridian Park, located only a few blocks away can provide the perfect place to relax and read on the weekend.
Columbia Heights
Columbia Heights is a thriving multinational neighborhood located on the 14th and 16th Street corridors within the Northwest quadrant of the District. Sitting on top of a hill, the views of the city are unmatched. The neighborhood lies between Piney Branch Park (a portion of Rock Creek Park) to the north and the beautiful Meridian Hill Park to the south.
A walker's paradise and very bikeable, Columbia Heights is serviced by its own Metro station for the Yellow and Green lines. Metro buses run north and south along 14th St. and 16th St. and the Circulator bus runs east and west throughout the city. Columbia Heights is home to a number of exciting cultural institutions such as the Mexican Cultural Institute, the GALA Hispanic Theater, the Dance Institute of Washington, and the Greater Washington Urban League.
National Mall
The National Mall is a large park running through the center of DC. The Mall is surrounded by monuments and museums and attracts millions of visitors every year. The 1.9 mile-long mall has been the venue for many important events, such as presidential inaugurations, protest rallies, and celebrations during national holidays. Let's not forget about the annual Cherry Blossom Festival! Memorials, museums, and government buildings can be found on or are adjacent to the Mall, the most significant of which are listed below.
Memorials: Lincoln Memorial and Reflecting Pool, Vietnam Veterans Memorial, World War II Memorial, Korean War Veterans Memorial, Martin Luther King, Jr. Memorial, Washington Monument, Peace Monument, Capitol Reflection Pool
Museums: National Museum of American History, National Museum of Natural History, National Gallery of Art, National Museum of the American Indian, National Air and Space Museum, Freer Gallery of Art, Arthur M. Sackler Gallery, National Museum of African Art, National Museum of African American History and Culture
Government buildings: White House, Capitol, Supreme Court, Library of Congress, National Archives
In addition, Washingtonians use the Mall for recreational activities and picnics. The Mall is most easily accessible via the Smithsonian station of the Washington Metro.
Capitol Hill/ Eastern Market
Capitol Hill is the area east of the Capitol Building, where you can find many landmarks, such as the Supreme Court building, the Library of Congress, and the Folger Shakespeare Library. It is one of Washington's oldest and most densely populated neighborhoods. Picturesque townhomes line many of the streets in this 2-square mile historic district, while rental apartments are located primarily in the eastern part of the neighborhood.
There are three Orange/Blue/Silver line stops in Capitol Hill: Capitol South Station, next to the Library of Congress and Cannon House Office Building; Eastern Market Station, near the year-round, indoor/outdoor local food and art market of the same name; and Potomac Ave. Station. Capitol Hill comes alive at night with various restaurants, bars, and music venues to explore on Pennsylvania Avenue and Barracks Row (8th Street SE).
Union Station, DC's largest ground transportation hub, with Amtrak and bus stations, a local Red Line Metro stop, and a diverse collection of shops and restaurants, is just a few minutes away. In addition to the bus and train routes, Capitol Hill allows for easy driving access in and out of the city, as the neighborhood lies some of the city's main arteries, including I-695, I-395, I-295 and Route 50.
Georgetown
Georgetown is one of the most famous neighborhoods in Washington DC, with its many boutiques, museums, dining, and nightlife. While most of the shops and restaurants are located on M Street and Wisconsin Avenue, the other areas are largely residential, with a mixture of historic mansions, vintage townhouses, and rental apartments. The Georgetown Washington Harbour Waterfront on Potomac River is a popular spot among locals to hang out, go for a run, or dine during the spring and summer months. Right next to the river you can find the C&O Canal that offers miles of walking and biking trails. Georgetown University, with its world acclaimed academic institutions and teaching hospital, is a major employer in the area.
The closest metro stations are the Foggy Bottom-GWU station (a 15-minute walk from Georgetown) and the Rosslyn, Virginia station, which is a short walk across the Key Bridge. Although there is no direct access to the metro from Georgetown, numerous buses bring you quickly to the rest of the city. Georgetown is also within walking distance of Dupont Circle, The Kennedy Center, and a water taxi (with a stop at Washington Harbour) which connects Georgetown with the National Mall, Old Town Alexandria, and the National Harbor.
Southwest Waterfront
At the SW Waterfront you can find a mix of low and mid-rise apartments, new retail shops, restaurants, and condominiums. Boats can be rented at a number of marinas on the east bank of the Washington Channel. The Wharf, a large redevelopment project the first phase of which will open in the fall of  2017, will increase the appeal of the area even further, since it will include millions of square feet of residential, office, hotel, retail, cultural, and public uses including waterfront parks, promenades, piers and docks. Although SW Waterfront is removed from downtown, it is still close to the National Mall and many government buildings and museums. Other attractions of the neighborhood are the Arena Stage and the renowned floating fish market, where fresh fish, shellfish and can be purchased all year round. Washington National Baseball Park is one metro stop away, accessible via the Navy Yard stop.
Ideally situated among major commuting corridors (I-395, South Capitol Street), the Green Metro line and bus routes, the neighborhood is enhanced by bike lanes and walkways.
Arlington
Directly to the west of DC, Arlington, Virginia contains several neighborhoods such as Rosslyn, and Courthouse that are conveniently close to DC. Notable sites in the county include Arlington National Cemetery, The Pentagon, and the US Air Force and US Marine Corps memorials. Ronald Reagan National Airport is accessible via the Blue and Yellow lines and provides easy access to domestic flights.
Rosslyn
Located across the Potomac River, Rosslyn Station is the first metro stop in Virginia and is a short metro ride on the Blue, Orange, or Silver line from the heart of DC. Rosslyn's highrises house both commercial spaces and apartments, and the neighborhood is more urbanized than DC proper. Rosslyn features a growing number of restaurants and bars, as well as various film and musical festivals held throughout the year. The US Marine Corps Memorial is a short walk from the Rosslyn metro station.
Court House
Accessible via the Court House and Clarendon Metro stops on the Orange and Silver lines, Court House features residential and business highrises like those in Rosslyn. An AMC movie theater is a nearby attraction, as are various restaurants and bars throughout the neighborhood.
Silver Spring
A suburb of DC, Silver Spring lies just north of the city, in Maryland. It is a popular place to live, with fast and easy access to DC, and offers a large number of cultural and recreational opportunities to its residents. In addition, housing is generally more affordable than in DC.
The red line of the Metro brings you to places such as Union Station, Metro Center, or Dupont Circle in less than half an hour. Over the last decade, the construction of Downtown Silver Spring has led to an expansion of dining and shopping options. Furthermore, a variety of cultural events take place in Silver Spring every year, such as the Silver Spring Jazz Festival, and the Silverdocs Documentary Festival. The Fillmore music venue, as well as the American Film Institute's Silver Theatre, are located in Silver Spring as well.