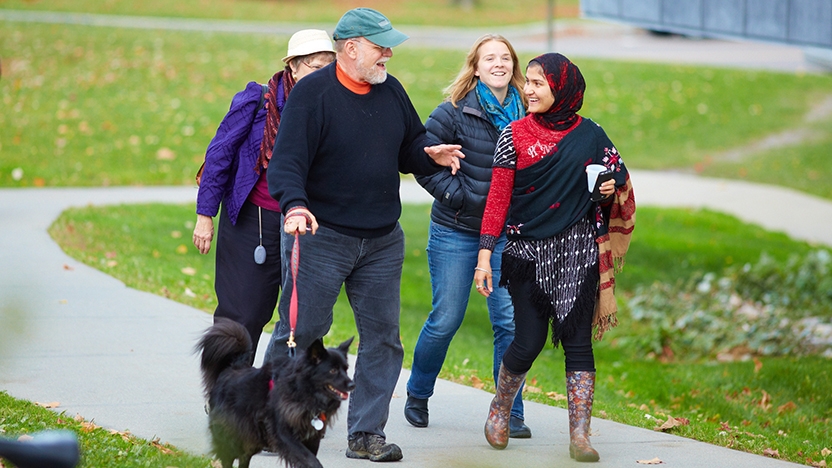 Supporting the Middlebury Experience
Parents' Fund gifts are unrestricted and support current-year experiences, making an immediate difference in the lives of students and faculty.
Gifts to the Parents' Fund support every aspect of the Middlebury experience, creating opportunities for learning and discovery. These gifts also make the institution more nimble, providing President Laurie Patton and her leadership team with the ability to respond to opportunities as they arise.
Make a Gift
Creating Immediate Impact
Annual Parents' Fund gifts are an important complement to our endowment, which is invested for the long term and provides a stable source of income for College programs.
Because Parents' Fund gifts can be spent in the year they are received, a gift of $5,000 to the fund has the same impact in any given year as a $100,000 gift to the endowment. That's because, in a typical year, Middlebury aims to spend about 5 percent of the value of its endowment—or $5,000 in the case of a $100,000 endowment.
Last year alone, Middlebury parents contributed an exceptional $3.9 million to the Parents' Fund, dollars that went right to work for today's students.
Preparing Students to Navigate the World
The Parents' Fund is essential to maintaining the caliber and depth of the College's programs and student opportunities.
Every day, Middlebury introduces students to something new—new ideas, discoveries, perspectives, and possibilities—and develops their capacity to grapple with the complex forces shaping our communities. Students leave the College prepared to embrace and solve the intellectual, cultural, social, environmental, and economic challenges of our day.
Creating this kind of educational experience requires the support of everyone who appreciates its value. It takes you, and your gift to the Parents' Fund, to support the programs that prepare Middlebury graduates to understand the world and contribute to it.
Learn More
Contact Dana Barrow, associate director of Parent Giving, 802-443-2888, barrow@middlebury.edu.
Alumni and Families
700 Exchange St.
Middlebury, VT 05753