Recycling and Waste Management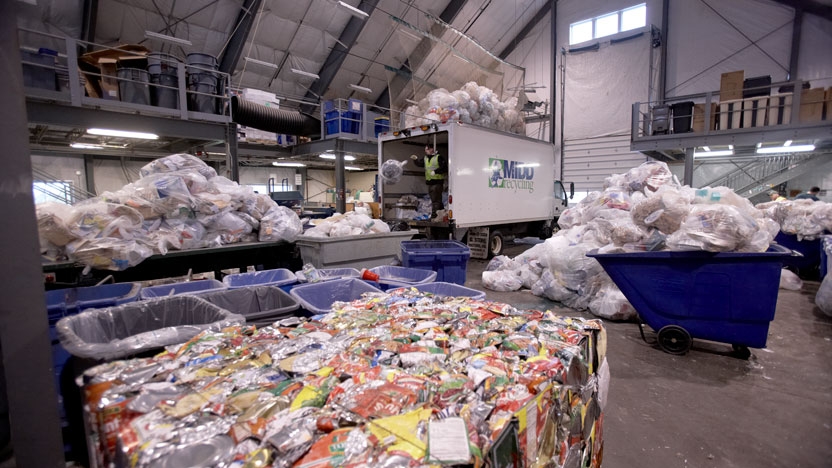 With our 5,700-square-foot Material Recovery Facility, we ensure that nearly 70% of campus waste never goes in the landfill.
The Reuse Trailers
Middlebury definitely does not let reusable items go to waste! Anything reusable—from clothes to electronics to school supplies—that comes to the Material Recovery Facility (MRF) is stored in the reuse trailers until someone comes along to find it.
Here's what you need to know to take advantage of the reuse trailers:
Open year-round except for about a month around move out time.
Located at the Recycling Center, which is down the hill from Ridgeline by the windmill on Rt 125.
Open Monday through Friday 7:30 to 3:30.
During the summer and fall, $5 gets you a small bag to fill with anything you want and for $10 you can get a big bag. Electronics are always free!
THE MRF AND REUSE TRAILERS ARE CLOSED DUE TO COVID UNTIL FURTHER NOTICE. 
Steps to Successful Recycling
Faculty, staff, and students are expected to empty and sort their own trash and recycling at the Centralized Recycling Stations located throughout every campus building. These stations are placed with consideration to building use and fire code. Each station has at least one trash, one paper and one glass, metal and plastic bin. We adjust the number of bins at each station depending on the needs of the building.
Use your blue recycle bin in your room or work area. See recycling guidelines below.
Use your gray/black/tan trash bin for non-recyclable items such as food wrappers, styrofoam, tissues, paper towels, hygiene products, and other materials.
Use our building's compost bin for all food waste, compostable food containers and utensils (anything from dining halls, the Grille, and other on-campus cafes), and tea bags. 
Use your building's waste station to empty bins when they are full.
Recycling Guidelines
Middlebury recycles all types of paper, cardboard, glass, #1-7 plastics, tin, and aluminum. Most recyclable items are clearly marked with that information. We also recycle our fluorescent light bulbs, batteries, veggie and motor oil, cds, disks, cell phones, and electronic equipment. 

Not sure if the item recycles? Contact recycling@middlebury.edu.
Recycle It
Colored paper    
White office paper
Newspaper
Envelopes (windows OK)
Post It notes    
Magazines    
Books (hardcover & softcover)    
Boxboard (i.e. shoe and cereal boxes)    
Paper bags      
Notebooks
#1 PETE (water bottles, food and beverage containers, etc.)
#2 HDPE (laundry soap bottles, milk jugs, tubs)
#3,4,5,6 & 7 Plastics (tubs, food containers, etc.)
Aluminum (beverage cans, clean foil and pans)
Tin cans
Aerosol cans (empty please)
Metal lids
Trash It
Candy wrappers
Paper cups
Paper plates
Label sheets
Carbon paper
Aluminum lined paper
Styrofoam 
Empty motor oil containers
Plastic grocery bags