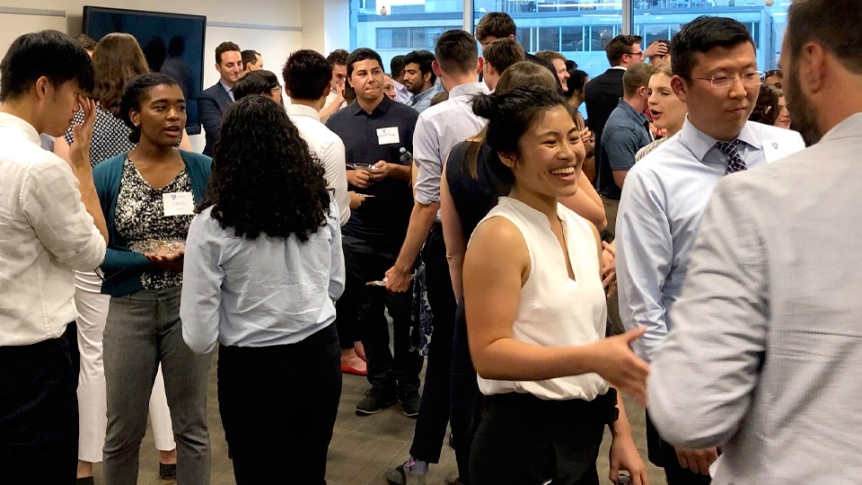 Upcoming Events Schedule
Stay tuned for upcoming events…
Past Events
We have worked with faculty, staff, and alumni from both Middlebury College and the Middlebury Institute of International Studies, at Monterey to offer engaging lectures at our Middlebury in DC office. Select presentations have also brought together participants from all three locations, thanks to our state-of-the-art video conferencing capabilities. Keep reading for highlights of our past events.
Mock Interview Workshop
July 13th, 2021
Participants brushed up their professional interviewing skills in one-on-one mock interviews. The alumni interviewers asked essential interview questions and gave personalized feedback to each participant.
Resume Workshop
June 18th, 2021
This event was an opportunity for the students to learn how to use their resume to tell a narrative that will set them apart in the job market for their target industry. This hands-on workshop provided these students with individualized feedback on their resume including relevant content, organization, and layout. 
Cover Letter Writing Workshop
This workshop provides individualized feedback on cover letter content, organization, and layout.
Alumni and Summer Intern Reception
The networking event of the year! Students meet with alumni and staff to chat about work, life and other interests. 
Career Panel: Working on Capitol Hill
Panelists share their experiences that shaped their career paths from graduation to their present positions.
Live From DC: Election 2020 - Two Policy Futures Diverge
CCI and Middlebury in DC, in collaboration with the Middlebury Professional Network, and co-sponsored by the Rohatyn Center for Global Affairs hosted a discussion among Middlebury alumni on the future landscape of policy-related careers.
Matter at Hand: The 2020 presidential election will determine the future landscape of policy-related careers. What if the incumbent wins? What if the challenger wins? Richard Haass P'16.5, President of the Council on Foreign Relations and Chris Matthiesen '04, Partner at Federal Hall Policy Advisors, will discuss the foreign and domestic policy continuum represented by the two candidates' policy prescriptions, as well as, the implications for future federal government agency, think tank, NGO, and international relation career roles. Please join them to understand how the two policy roads lead to two divergent career futures.
A Discussion with Ann Friedman of Planet Word
Tuesday, December 15, 2020
Ann Friedman, Founder and CEO of Planet Word, joined in a discussion with Stephen Snyder, Dean of the Middlebury Language Schools, VP for Academic Affairs, and Kawashima Professor of Japanese Studies.
Planet Word, which opened in October, 2020, is "the museum where language comes to life"; an immersive language experience located at the historic Franklin School in Washington, D.C. Stephen chatted with Ann about Planet Word and how her vision for such an institution became a reality.
Questions? Contact the Alumni Office.
Frontier Market Scouts
Middlebury in DC hosted the Frontier Market Scouts training and fellowship in its offices this February. The FMS two-week Certificate Training provided participants with the knowledge and foundational network to launch a career in the field of impact investing and social enterprise management.
J-Term Urban Education Internship
During the month of January, Middlebury students worked as interns in a classroom or program at one of three schools in Washington, DC. Students spent four full days at the school each week and on Fridays, engaged in an extensive reflective seminar at the Middlebury in DC office with Professor Jonathan Miller-Lane and Director of Middlebury in DC Fariha Haque.
J-Term Early-Netherlandish Art Course
Middlebury students spent a week in Washington, DC with Director of the Arts Pieter Broucke learning about Early-Netherlandish art from Till-Holger Borchert, the German director of the Groeningen museum in Bruges, Belgium. Students met with curators and conservators at the National Gallery in Washington, DC and the Walters Art Gallery in Baltimore, MD, and held a seminar meeting at the Middlebury in DC office.
DC Mentorship Program: Mock Interview Workshop
This was a great opportunity to acquire valuable interviewing skills. Middlebury Alumni Matt Groh and John Hedden generously donated their time to conduct the mock interviews and give individualized feedback to each participant.
DC Mentorship Program: Field Guide to Careers in the Environment
This event was an opportunity to explore pursuing various careers in the environment.  Alums Ayesha Dinshaw, Nick Rome and Christine Chau discussed the experiences that shaped their career paths.
DC Mentorship Program: Social Event on the National Mall
On July 7 the members of the DC Mentorship Program were invited to partake in a social event organized by Middlebury alumni Peter Baumann and Mahli Brister. The event took place on the National Mall, and provided the opportunity for alumni and current students to meet and interact. Activities included lawn games, football, and other sports.
Middlebury on the Hill
Fellow Middlebury alumni NJ Congressman Frank Pallone '73, VA Congresswoman Barbara Comstock '81, and NJ Congressman Albio Sires MA'85 spoke to a group of Middlebury Alumni on the Hill.
The Faithful Scribe: A Story of Islam, Pakistan, Family, and War 
Given by Shahan Mufti '03
Shahan Mufti uses the stories of his ancestors, many of whom served as judges and jurists in Muslim sharia courts of South Asia for many centuries, to reveal the deepest roots—real and imagined—of Islamic civilization in Pakistan.
More than a personal history, The Faithful Scribe captures the larger story of the world's first Islamic democracy, and explains how the state that once promised to bridge Islam and the West is now threatening to crumble under historical and political pressure and why Pakistan's destiny matters to us all.
Middlebury School of the Environment
Professor Stephen Trombulak teaches Environmental and Biosphere Studies at Middlebury College and is the founding director of the Middlebury School of the Environment. He shared the details of the new school to interested students, alumni, and friends of the college just before its Summer 2014 launch.
Field Guide to Careers in the Environment
Six Middlebury College alumni shared their professional experience and expertise with students, alumni, and friends of the college this July. In addition to the audience at our Washington, D.C. office, students from the School for the Environment participated in the panel discussion via video conference.
Inspired by the event, panelist Michael Silberman offers two tips for recent graduates and job seekers on his blog.
Brazil on the Rise
Former New York Times reporter Larry Rohter spoke live from Middlebury College to an audience in DC. Larry Rohter served as a correspondent in Rio de Janeiro for Newsweek for fourteen years and later as The New York Times bureau chief. He is widely considered a top expert on Brazil.
Online Events
MIDDV

antage Series: Exploring Careers in…