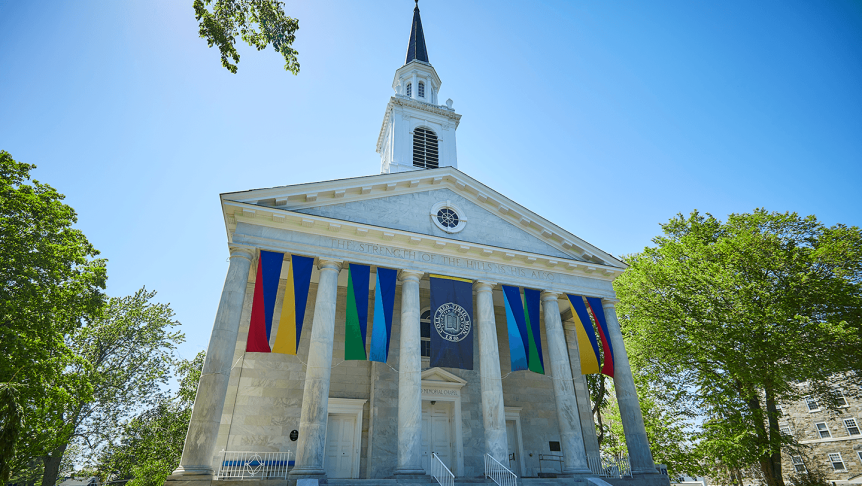 Middlebury Chapel serves as a place where the College community comes together on occasions of significance.
Middlebury Chapel was built in 1916, at a time when chapel services were part of the daily routine for all students. Although the last chapel requirements disappeared decades ago, Middlebury Chapel is still the center of great activity. Convocation in September and Baccalaureate in May still frame the academic year. Chaplain Jordan leads Sunday morning Chapel Services at Middlebury Chapel during special event weekends. Choral ensembles and campus a cappella groups regularly perform in Middlebury Chapel, and during the summertime it is the scene of frequent weddings. The chapel also hosts lectures, concerts, and other major public events.
Please note: Middlebury has removed the name "Mead" from its chapel because of Governor John A. Mead's role in advancing eugenics policy in the early 20th century. The building is now referred to as Middlebury Chapel. The decision was made by Middlebury leadership following a recommendation by a working group of faculty, staff, students, and alums. The working group carefully considered the issue and the complexities involved: the immorality of eugenics practices, the historical context and conventions of the time, and the awareness that the chapel—and the ceremonies and events that have taken place within it—has deep personal, spiritual, and cultural meaning for generations of Middlebury people. Read full announcement.