What is Rakugo?
Rakugo is a traditional storytelling performance. The performer sits on a 2′x2′ cushion on the stage and tells a story that may involve several characters. He may stand up on his knees but never on his feet. His only props are a fan and a tenugui (Japanese towel). The leader, Yanagiya Sankyo, is one of the leading rakugo players in Japan. The other player, Ryutei Saryuu, is his apprentice.
Yanagiya Sankyo

(柳家さん喬)
, the leader of the two rakugo players, was born in 1948. He became an apprentice to Yanagiya Kosan VI in 1967 and received a shin'uchi rank in 1981. He is a veteran rakugo performer who can portray the subtle emotions of a character during a performance. He is currently a board member of the Association of Rakugo Performers.
The second player at Middlebury, Ryutei Saryuu (柳亭左龍), is Yanagiya's apprentice. Saryuu was born in 1970 and became an apprentice of Yanagiya Sankyo in 1993. He also received a shin'uchi rank in 2006. Like his teacher, Sankyo, Saryuu concentrates on classical stories (Koten) and has an orthodox performance style.












What is Kamikiri?
Kamikiri is a performance where the player receives a request from the audience (e.g., the Statue of Liberty) and cuts an image out of a plain piece of paper, without drawing an outline. The act lasts only a few minutes, and then the performer asks for another request. The performer, Hayashiya Niraku, is one of a handful professional performers in Japan. Both rakugo and kamikiri are performance arts unique to Japan.
Hayashiya Niraku (林家ニ楽) was born in 1967 into a kamikiri family. His father, Shoraku the second, was a famous kamikiri performer, and Niraku entered the business by being an apprentice with his father in 1989. He has been performing on stage since 1991, and is one of a handful of professional kamikiri performers.
All three performers have made numerous appearances on TV and other forms of media in Japan.












Click on the photo to the left to see photos from this year's (2010) performance.
Videos of Past Performances at Middlebury
Ryutei Saryuu performing Fugunabe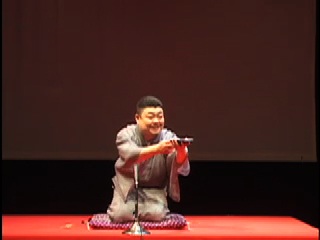 Hayashiya Niraku performing kamikiri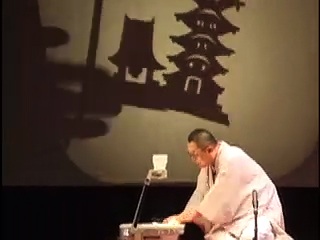 Yanagiya Sankyo performing Shinigami