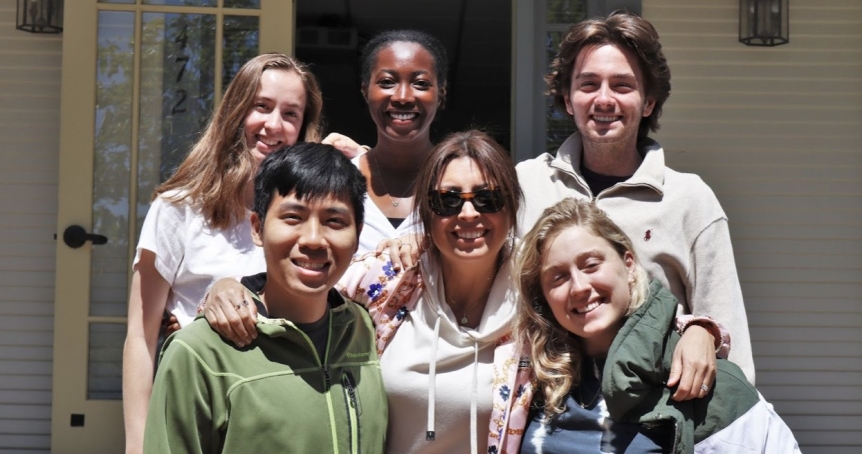 Middlebury Social Impact Corps
Supported by the Kathryn Wasserman Davis Collaborative in Conflict Transformation
Middlebury Social Impact Corps (MSIC) is a partnership-based program that connects students to social change through unique experiential learning opportunities. A select cohort of Middlebury College (Interns) and MIIS graduate students (Scholars) are matched with a community partner focused on impact within a local/regional context. This experiential learning program focuses on six pillars: adaptability, commitment, inquiry, narrative, reflection, and partnership. In partnership with organizations, MSIC members gain knowledge, skills, and dispositions for purposeful careers in social impact. Students engage in community-based research, partnership development, mentorship relevant to the community partner and communities with whom they work, preparing them to become purposeful global citizens in the field of social impact. The MSIC Team is Dr. Netta Avineri (MIIS Language Teacher Education & Intercultural Communication Faculty Member, MSIC Faculty Director) and Dana Anderson (Creativity & Innovation Associate Director, Elizabeth Hackett Robinson '84 Innovation Hub.)
What makes Middlebury Social Impact Corps unique?
Cohort-based experience that brings together MIIS graduate students and Middlebury College students for collaborative learning and mentorship
Meaningful community partnership-based opportunities focused on sustainable social change
Deep intercultural engagement in local/regional communities
Mentoring and ongoing training by faculty members, practitioners, and social impact professionals
Multiple opportunities to explore the role of conflict transformation in enacting social change at different scales
Training, Reflection, and Debrief:
A unique part of the MSIC program is the meaningful training that the participants participate in before their experience. The training will include in-person and online elements facilitated by Middlebury College and MIIS experts in the fields of social impact, community and global development, and intercultural communication. Throughout the experience, participants will engage in regular reflection and inquiry and will participate in a narrative-based post-experience debrief at the end of the program.
By participating in Middlebury Social Impact Corps, undergraduate interns will:
Engage individually within a structured internship experience
Embody a set of team roles within a project-based curriculum
Complete deliverables associated with MSIC curriculum and community partner job descriptions
Demonstrate understanding of their contribution to the mission of the community partner, the Middlebury Social Impact Corps cohort, and the greater good of the community in which they are placed
Additionally, the MISC graduate scholars will:
Engage in action research about their experience within the cohort and with the community partner
Explore models of partnership for social impact
Demonstrate leadership & collaboration skills by engaging in intern and cohort mentorship
Reflect upon and explore their contribution to the mission of the community partner, the MSIC cohort, and the greater good of the community in which they are placed
Questions? Contact:
Dr. Netta Avineri, Language Teacher Education & Intercultural Communication Associate Professor, MSIC Faculty Director
Dana Anderson Associate Director, Creativity & Innovation, Elizabeth Hackett Robinson '84 Innovation Hub