The Alumni Plaque Award recognizes alumni in a Reunion class who have provided exceptional service to Middlebury—service that has benefited the College, its students, and its alumni.
Ann Einsiedler Crumb '71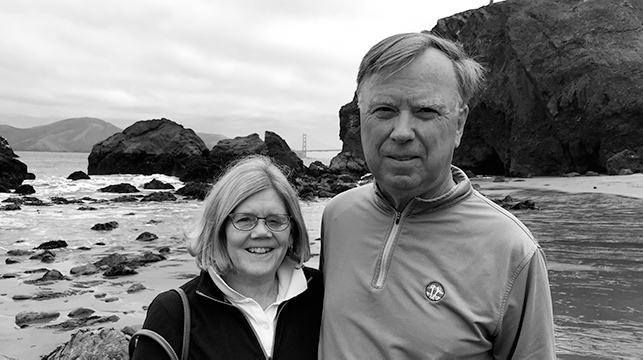 Since she arrived on campus as a first-year student in 1967, Ann Einsiedler Crumb P'00, '03, '07 has demonstrated a deep and abiding commitment to Middlebury. She strongly believes in the College's importance and mission, and she has dedicated much of her life to furthering that mission—as a volunteer over five decades and as a staff member for nearly 30 years. Thanks to Ann's work in both of those roles, generations of students have had access to life-changing opportunities at Middlebury.
Ann began her volunteer service after graduating with a major in history in 1971. As a member of the Alumni Admissions Committee, Ann interviewed prospective students and trained and supported other alumni interviewers in finding the best candidates for Middlebury. She raised funds to support Middlebury students as a class agent, lead class agent, and member of the Alumni Fund Advisory Council. As a career services advisor, she shared her knowledge of fundraising and alumni relations with students and alumni interested in careers in college and university advancement.
In the 1980s, Ann served on the Middlebury Alumni Association Board as a director and then as an officer of the board. Two decades later, as staff liaison and ex-officio member, Ann helped to guide the board through the first decade of the 21st century.
Overseeing alumni relations was just a part of her work over decades in Middlebury's Office of Advancement, where she was instrumental in the success of three major fundraising campaigns. Ann mentored generations of colleagues with her trademark kindness, discretion, and understatement, and these colleagues went on to raise hundreds of millions for Middlebury.
Ann is instrumental in keeping the Class of 1971 connected. She has served on numerous Reunion committees and is co-chair for her 50th Reunion. She has always been the go-to person for classmates who needed information or advice about Middlebury.
Ann has helped to move Middlebury forward. And she has done it with grace and warmth, never seeking credit or recognition. The College has benefited greatly from her organizational skills, attention to detail, vast experience, and understanding of what needs to get done and who needs to be involved to make things happen.
With gratitude for her devotion and service to Middlebury and her many accomplishments on its behalf, we are honored to give Ann the 2021 Alumni Plaque Award.
Jim Keyes '71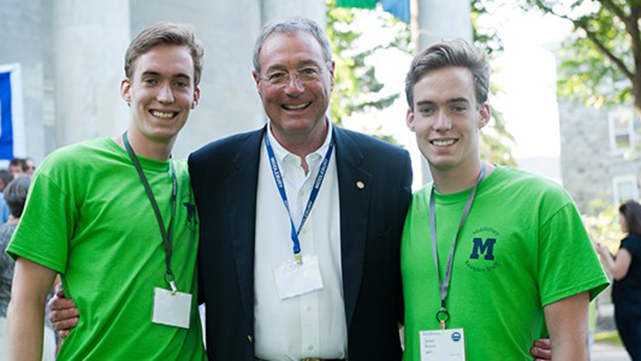 James R. Keyes '71, P'17, '17 has been actively involved with the College since shortly after he graduated with a degree in geography. For decades, he has made time for Middlebury in his busy life as a banker, board member for many organizations, and parent, always serving wherever he was needed. That service continues today, as Jim has spent the past year helping rally his class to celebrate their 50th Reunion—despite a global pandemic.
Ask anyone who knows him, and they will smile and describe Jim as an unsung hero. He works quietly behind the scenes to help Middlebury, never seeking credit or accolades for his many accomplishments as a volunteer.
Jim's first volunteer role was in Boston's alumni chapter, nurturing the Middlebury community there and ensuring events and programs met the needs of the Boston alumni. He has served as a class agent, leading by example and educating his fellow alumni about the importance and rewards of supporting their alma mater, and as an alumni admissions interviewer and later chair of the Alumni Admissions Program. His legacy includes the many talented students who were admitted to the College and who had their first, important contact with Jim or with admissions volunteers he mentored.
Jim served on the Middlebury Alumni Association Board of Directors in the 1990s, including a stint as chair of the Nominating Committee. Alumni, trustees, and administrators took notice of his quiet competence, and he was elected as an alumni trustee in 2000. In all, he served 11 years on the board, resigning to take a position as vice president for advancement at Middlebury. During his tenure as trustee, he chaired the Audit Committee, an essential but not glamorous assignment, where he oversaw the financial reporting process, the audit process, and the College's system of internal controls and compliance with laws and regulations.
But perhaps Jim's greatest contributions have been as a connector of people and a creator of opportunities. Alumni across the generations talk of how he would drop anything to help them and other alumni, sharing his contacts, providing leads, competing with colleagues to get more students from Middlebury hired at Bank of Boston than from any other college. And he was instrumental in keeping his basketball teammates connected over 50 years, rallying them to return and support the current team.
With gratitude for his decades of unstinting dedication to Middlebury and his longstanding loyalty as an alumnus, we are honored to give Jim the 2021 Alumni Plaque Award.
Alumni and Families
700 Exchange St.
Middlebury, VT 05753