Community. Connection. Let's work together!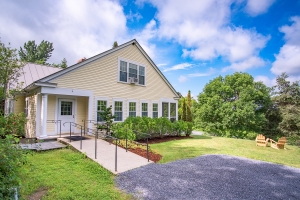 We are at a new location!
Come visit us at our new location at 26 Blinn Lane! Located on the way to the Knoll, follow the College street sidewalk and take the stairway behind Ross right to our door.
The Center's staff and faculty collaborate with community partners, students, and fellow staff and faculty to initiate and sustain community-campus connections, design and fund hands-on learning experiences, and mentor and train emerging civic leaders.
If you would like to schedule a meeting with particular staff, the best way to get in touch is to email that person directly. You may also reach us with general questions at communityengagement@middlebury.edu.
The Center for Community Engagement has relocated to offices at 26 Blinn Lane. With more space for programming and a full kitchen, we are excited at all of the opportunities for connection this new space will offer. We are still working semi-remotely while we get settled into this new space, so feel free to contact one of us directly to find a time to connect!
Center for Community Engagement
Middlebury College
Middlebury, VT 05753