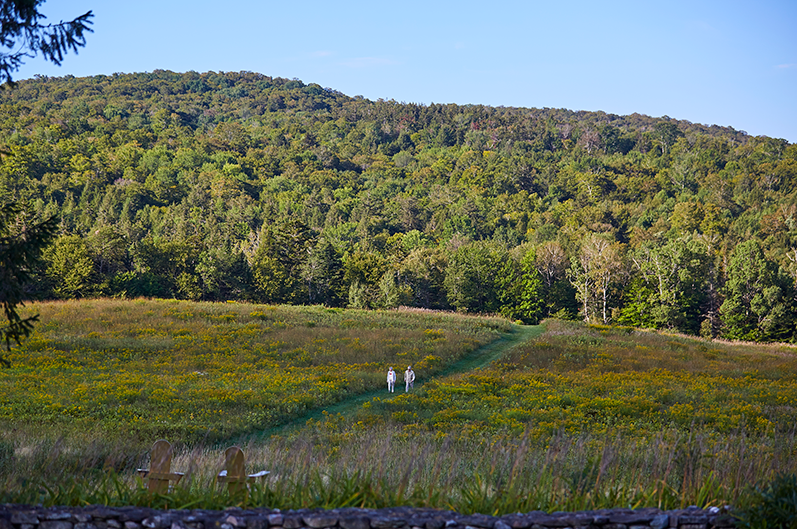 Here are important details for Alumni College participants. 
Planning Your Drive?
Please keep in mind that lots of road construction is happening! For the latest road conditions, visit New England 511 and select Vermont.
Staying at Bread Loaf
Bread Loaf is a quaint old campus. The lodging is very rustic. Keep that in mind as you prepare for your stay. Here is a map of the Bread Loaf campus and buildings.
 
Rooms are simply furnished, with linens, towels, one pillow per bed, and blankets. Although the buildings are heated, the heating systems vary. Though rooms have extra blankets in the closet, it may be prudent to bring an additional blanket and warm layers.
 
The campus consists of one main building (the Inn) and many smaller houses or cottages. Most of the sleeping arrangements are single beds—either one or two in a room. We do not put more than one person in the same room unless you are attending as a couple or you request it.
 
With few exceptions, bathroom facilities are shared.
 
The lighting in the bedrooms may not be conducive to evening reading. You may wish to bring your own reading light or flashlight.
 
There is extremely limited cell phone coverage, so hopefully you can "turn off" for a few days and immerse yourself in your weekend. There is Wi-Fi at Bread Loaf, and computers are available.
 
Telephones are located in the hallways of all living quarters.
 
Dress during Alumni College is casual. The temperatures at the Bread Loaf campus in early September can range from the 80s during the day to the 50s in the evening, so please pack warm clothes and layers.
 
There are social hours and dinners where the College will be providing wine and beer. By state law no outside beverages may be brought into these events. Please respect the staff's role in enforcing this law.
 
There is a general store a short drive from the Bread Loaf campus.
 
The address at Bread Loaf is 4299 Route 125, Ripton, VT 05766.
 
The phone number for the Bread Loaf Inn front desk is 802-443-2700.
 
Checkout on Sunday is by 11:00 a.m.
Thursday Check-In Details
When you arrive, please go to the front desk of the Bread Loaf Inn to receive your building/room assignment. You will receive the rest of the information you need for Alumni College at check-in in the Bread Loaf Barn at 9:00 a.m.
 
Please come to the Bread Loaf Barn on Thursday, August 31, after 9:00 a.m. to pick up your information packets, which will include a weekend schedule, roster of attendees by class, campus map, and name tag. Lunch will follow at noon.
Wednesday Arrival
Available only with advance online registration and payment
Check in at the Bread Loaf Inn front desk between 3:00 p.m. and 11:00 p.m. to receive your room key. If you are running late, please call us at 802-443-5183. 
Alumni College check-in opens at 9:00 a.m. Thursday in the Bread Loaf Barn.
Dinner is not provided on Wednesday evening, but breakfast will be available at 7:00 a.m. on Thursday morning in the Inn dining room.
 
FYI: Midd Alerts
Middlebury will expand its campus emergency alert system to include Reunion guests over the weekend.  In the case of emergency, notifications via texts, calls, and emails will be sent, based on registration info collected.        
| | |
| --- | --- |
| The text message will begin: | Midd Alert |
| The phone call will come from: | 802-388-0409 |
| The email will come from: | Midd Alert |
Learn more about our emergency response procedures.
Alumni and Families
700 Exchange St.
Middlebury, VT 05753