Be a Middlebury Language Schools Champion and help refer new students.
Learning a language is no easy task at Middlebury. It requires a lot of hard work and dedication. If you are reading this, it means that you have reached a significant milestone. We want you to be proud of this and share your accomplishment to help refer new students. 
What do I do next?
Click on the download button below;
Save the Badge image;
Post it on social media (Facebook, Instagram, LinkedIn, Blog, etc.) with a link to our website (www.middlebury.edu/language-schools) and any reflections on your Middlebury experience.
Be proud and spread the word!
Download the Badge here!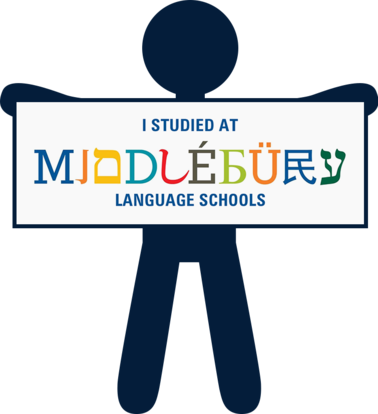 Here is what our alumni have to say…
"Middlebury is the best language school in the world. Studying abroad does not compare to the immersion atmosphere created by the Language Pledge at Middlebury."
"Going to Middlebury was the best decision I have made. The experience opened up a whole new world."
"The community is incredible, the energy and passion of the students is inspiring, the academic culture of the school is really exciting, the campus is absolutely beautiful, and financial aid was significant."
"This was one of the best experiences I've had both personally and professionally. I will never forget my Middlebury days."