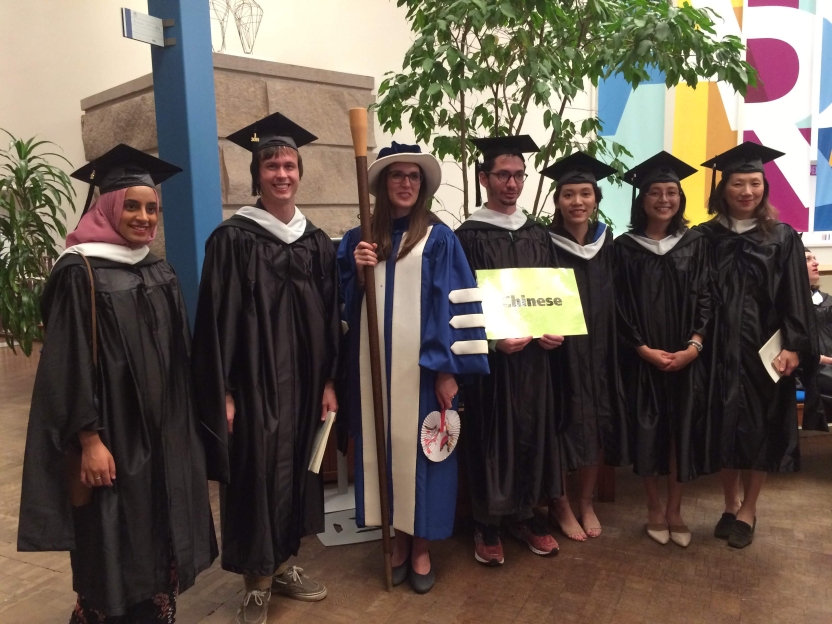 The ceremony for Language Schools Master of Arts and Doctor of Modern Languages degree recipients will be held Friday, August 6, 2021 at 4:00 PM in Middlebury.
 
It is our intention to hold Commencement in person for students studying on campus––to the greatest extent we are able to do so.
While we cannot predict what COVID-19 guidelines will be in effect at that time, we predict that it will be too early in Vermont's COVID-19 recovery process to welcome people into our community on a large scale. As a result, we currently will not be able to welcome families and friends to join the celebration on campus.
We will stream the events live so that all may celebrate virtually. 
Regalia
All Language Schools MA and DML degree recipients attending in-person are required to wear traditional regalia (caps and gowns). Graduates without regalia will not be allowed to participate in the ceremony. 
MA candidates may purchase regalia at the Middlebury College bookstore from Wednesday, August 4, through Friday, August 6, at 3:00 PM. The cost to purchase MA regalia is $49.50 (plus tax of 7%). The bookstore is open from 8:30 AM to 5:00 PM, Monday through Friday.
DML candidates may purchase or rent doctoral regalia. The cost of a cap and gown rental is $36.50 (plus tax of 7%). DML candidates will be given a doctoral hood during the ceremony. To purchase (deadline is June 25), contact Sue Hebert. To rent (deadline is June 9), go to the Middlebury bookstore online and click "Graduation Items." Select Item 2008630 and "PICKUP ORDER" (if attending in-person).