Join old friends and new in this beloved Middlebury tradition!
Return to Learn
We are hoping to meet you all again in person when it is safe to do so. Even as we do our part to protect public health and safety, you can still expand your mind and connect with your favorite Middlebury professors online through our Faculty at Home series.
Course Offerings
Take a look at this sampling of courses from past Alumni College weekends.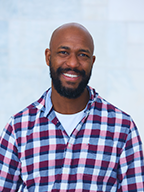 James Brown, Bob Marley, and Beyoncé: Protest Music as Political Mobilization Across Countries
Kemi Fuentes-George
Associate Professor in Political Science
This course looks at how music is used as a form of protest and solidarity against global and local forms of sociopolitical repression. Though often presented in a heavily stylized format, the themes, ideas, and content of politically oriented music is often no less important a means of communicating vital social and political facts to the mass public. The primary focus is on understanding and comparing repression across different contexts, so the material has a very noticeable comparative politics theme. We will discuss, for example, the government and state structure of various countries, including the United States, Nigeria, Jamaica, and Chile from the 1960s to the modern era. In addition, we will pay attention to issues of transboundary solidarity among, for example, the black diaspora in sub-Saharan Africa, the Caribbean, and the United States. By the nature of the course, the material will be interdisciplinary; we will read, in addition to comparative politics literature, articles in sociology and critical theory.
Victoria's Secret
Antonia Losano
Professor of English and American Literature and Gender Studies
In this course, we'll explore poems, short fiction, and paintings by 19th-century writers and artists that expose a wild underside to the Victorian imagination. Prepare to discover how much more complicated the Victorian era is than we knew.
Conservation and Place: Connecting with the Forests and Wetlands of Bread Loaf
Marc Lapin
Associate Professor in Environmental Studies
Explore the forests, wetlands, and streams surrounding the Bread Loaf campus in this mostly outdoor course. Learn about the recent conservation project that has protected these lands; study ecological relationships and ecosystem values; and participate in thoughtful learning activities, readings, and discussions. Plan to walk up to three miles of woods roads and trails each day and to spend several hours at a time outside.
The Rise and Sprawl of the Modern American City
Caitlin Myers
Associate Professor of Economics
Over a relatively short period of time, the U.S. has become an urban nation. This course will explore the relationship between technological innovation and urbanization, with a primary focus on the American city. We will consider the rise of Chicago and the sprawl of Houston, the role of the housing market in the financial crisis, the economic impacts of big box stores, and how neighborhoods affect economic mobility.