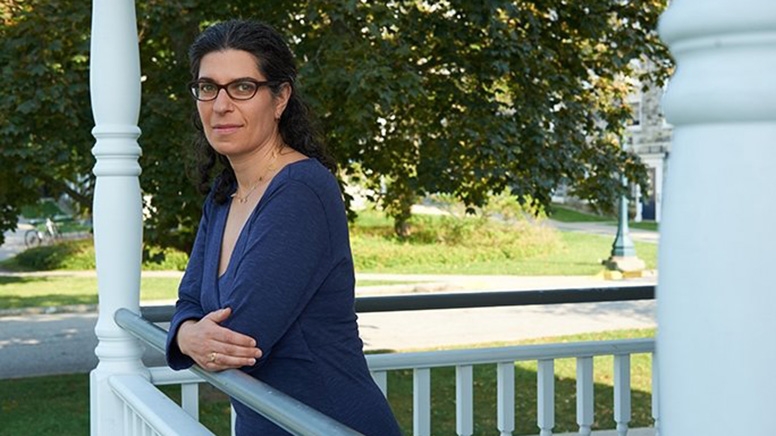 Reflections on the New Year
Judaism has many new years, as do our secular lives. The Jewish New Year of Rosh Hashanah comes just as classes are beginning again. The fresh start of the semester, and of the fall season, also harkens a fresh start for our lives. This is a new year in which we see ourselves and our actions more clearly, and in which we have the energy to start again, to renew our efforts in the endlessly inventive project of living well.
This Rosh Hashanah, we are embracing a new machzor, the Hebrew word for the High Holiday prayer book that guides us through the wilderness journey of reflection, repentance, and renewal that Jews embark on during the High Holidays. Thanks to the generosity of the Silton family, who established a fund to "support the annual observance of the High Holidays," we were able to purchase books for Middlebury's Jewish community. Lev Shalem is an elegant book: the central liturgy of the holidays is surrounded with margins of poetry, Hasidic stories, and reflections on the process of returning to our truer selves. We hope this book, with its combination of powerful traditional liturgy and a plurality of perspectives on the themes of the holidays, will itself bring a renewed energy to how we experience this sacred time in the year. So too, the stories of people contained within this issue of Hillel HaYom suggest an inventive, new way of approaching the chosen passions, work, or callings of each one.
As you each embrace this season, may you feel the sense of newness in the air of autumn, and in the renewal of your own thoughts and actions toward a life full of love and meaning.
L'shanah tovah,
Rabbi Danielle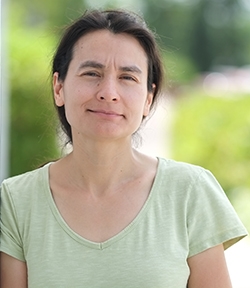 Jewish Studies Update
BY PROFESSOR REBECCA AYAKO BENNETTE
Jewish Studies at Middlebury sponsored and cosponsored eight events throughout the past academic year, thanks to generous support from the Quint Foundation and the Aquinnah Fund, as well as the efforts of several colleagues both within Jewish Studies and in other programs.
The annual Quint Lecture was given by Professor Jonathan Sarna, who provided a thought-provoking talk titled "Is America Different? Anti-Semitism in the United States in Historical Perspective." The topic fostered lively discussion afterward at our yearly banquet.
The visit by Roman Kent, chairman of the American Gathering of Jewish Holocaust Survivors, was another notable event. Kent spoke about his experiences during the Holocaust as well as about his many subsequent philanthropic efforts. Several students also had the unique opportunity to talk with Kent in smaller settings. Overall, this was a successful year of events in Jewish Studies at Middlebury.
The new academic year will welcome a new group of fellows to inspire more students to explore their relationship to Jewish prayer.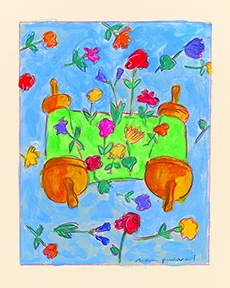 On the Cover
Psalm 103:15 Man, his days are like those of grass, as a flower of the field that blooms
"The Mourner's Kaddish is a prayer recited in memory of the dead. Yet, the prayer makes no mention of death, loss or mourning. Nor is there mention of the person who died. Its theme is the greatness of God."
Roman and Jeffrey Kent: An Intergenerational Dialogue at Middlebury
BY KARIN HANTA, PHD, PROFESSOR OF THE PRACTICE, LINGUISTICS/GENDER, SEXUALITY, AND FEMINIST STUDIES
My class on the Holocaust & Exile in Translation affords students an opportunity to try their hand at translation through different text types. Taught in collaboration with faculty from the Middlebury Institute of International Studies in Monterey, we examine the depiction of the Holocaust and World-War-II-induced exile across different cultures and languages.
This past spring, my students translated Roman Kent's children's book My Dog Lala, and a chapter from his autobiography, Courage Was My Only Option, from English into their second language of study. They then had the opportunity to meet, hear from, and question the author and his son Jeffrey. Roman Kent is the Chairman of the American Gathering of Jewish Holocaust Survivors and served as the treasurer of the Conference on Jewish Material Claims against Germany, as well as a member of their negotiating committee. Jeffrey Kent is a real estate investor and theater producer.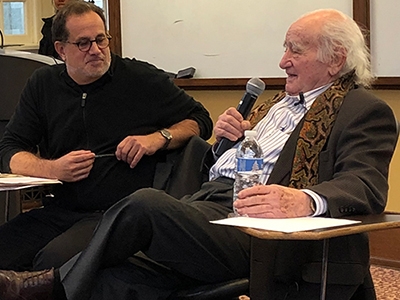 On April 3 and 4, the week leading up to Yom Hashoah, the Kents paid a visit to the class, which was also attended by students of Associate Professor of History Rebecca Bennette's class, Genocides Throughout History. In a public lecture following the visit, Roman Kent engaged in an intergenerational dialogue with his son about his life story.
Born in Lodz, Poland, Mr. Kent spent the early war years in the Lodz Ghetto and survived, with his younger brother Leon, the Auschwitz, Mertzbachtal, Dornau, and Flossenbürg concentration camps. One sister, Renia Kopelman, also survived and was sent to Sweden at the end of the war, where she stayed, married and had three children. Roman and Leon arrived in the United States in 1946 under the auspices of the children's quota of the Displaced Persons Act. They were placed with and cared for by a widow, Mrs. Marx in Atlanta, Georgia. After attending Emory University, Roman became a successful businessman in New York City, and his brother Leon went on to become head neurosurgeon of Kaiser in Los Angeles.
On April 4, Children in the Holocaust, a 1983 documentary Roman Kent coproduced, was screened as part of the Holocaust Film Fund series. Narrated by Liv Ullmann, the film featured interviews with adult survivors who recall the plight they endured when they were children during the Holocaust. Released three years before Claude Lanzmann's Shoah, this film helped usher in a rich stream of documentaries on the Holocaust. After the documentary, students and faculty members joined the Kents for a dinner at Brainerd Commons.
Members of the Middlebury community were moved by their meeting and interaction with Roman and Jeffrey Kent."Roman is a living example of the highest level of human spirit despite devastating experiences," said Susan Simmons, a business systems analyst at Middlebury, who attended the meeting. "To see his son Jeff play his role of support and furthering the outreach […] certainly added to the presentation."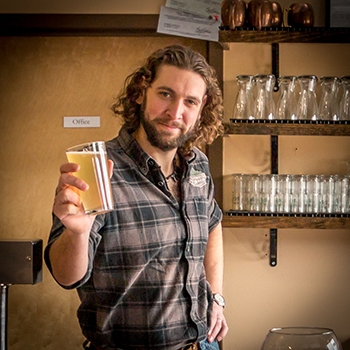 A Feast for Body and Soul
AN INTERVIEW WITH RICKY KLEIN '07
Hillel hosted Groennfell Meadery's Ricky '07 and Kelly Patton Klein '09 at Middlebury this past spring. They gave a talk at Weybridge House, the local foods theme house, about the art and business of making mead. Kelly is Groenfell's CEO, and Ricky is the head mead maker at the Colchester, Vermont, meadery. Ricky shared his thoughts on the connections between food, ritual, and religion.
When you and Kelly came to Middlebury to talk about the art of making mead, you spoke of being in the business of feasting. What is your theory of "feasting"?
I believe the majority of the Western world has forgotten how to feast. Feasting is a matter of ritual. The rules, the dishes, the symbolism all give the feast its meaning. One of the last vestiges [of ritual] I experienced is the Passover seder. There's a great comfort in knowing exactly what to expect and, rather than the rules rendering the feast boring, the seder continues to fill me with joy year after year.
I try to bring that feeling to events at the Mead Hall. We hold four annual feasts that folks travel hours to attend. The food is good, and the mead is lovely, but I think it's the ritual that brings them back, year after year.
You combine meadmaking, Vikings, and Jewish holidays—three things I never thought I would see in the same place. How do they all come together for you?
It really came about in the way these things have happened throughout history: We made do with what we had to celebrate our faith. The Jews of Poland and Sweden still managed to celebrate Sukkot without a single Levant fruit available. Our restaurant serves Viking fare, and that started as a bit of a joke to see if we could manage to recreate all of the Jewish feasts with only Viking-era ingredients. Just because something is fun and a little silly doesn't mean it can't also be deeply moving and serious.
Can you explain the connection between mead and Passover? In other words, is meadmaking Jewish?
During Passover in the 19th century, kosher wine was practically unavailable in many parts of the United States, so the easiest beverage for Jewish families to make at home was mead. Simply buy honey, a little baker's yeast, and maybe some spices to throw in and you have a kosher-for-Passover homemade wine that is guaranteed safe to drink.
You didn't come to Middlebury College with the intent to become a meadmaker. How has your Middlebury education contributed to your vision of Groennfell?
I studied religion and philosophy at Middlebury before pursuing an MDiv to become a Unitarian Universalist minister. Many of my thoughts surrounding the importance and place of feasting come from that line of study.
That said, first and foremost I'm a small business owner, and that means that every day the tasks that lie before me are as varied as any liberal arts semester. This week I have written an op-ed, given guidance to the state legislature on wastewater, brewed two batches of mead, met with two brewers to plan a collaboration, run expansion numbers for two dfferent parts of our facility, and started a tour of Massachusetts celebrating our product release.
Any liberal arts education, especially one from Middlebury, teaches one to approach the world with an expectation of the unexpected. Nothing could have served me better.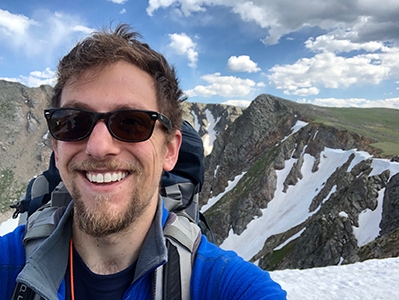 Discovering His Spiritual Path
David Yedid '15 didn't always know he wanted to be a rabbi, but when he looks back at a picture of himself lighting Shabbat candles at his synagogue preschool, it seems clear that he has been on this path for a long time. Still, he was surprised one January term at Middlebury to find that all his extracurricular activities were leading in that direction. He was tutoring local kids and fellow college students for b'nai mitzvah, interning at a local hospice, and starting the current LGBTQ group on campus, Q&A. None of these things seemed to have anything to do with his geography major, which he loved, but they turned out to be core to his calling to go to rabbinical school.
Now Dave is entering his second year at the Jewish Theological Seminary, and he has just been named a Wexner Graduate Fellow/Davidson Scholar, which is one of the most prestigious fellowships in the Jewish world. This fellowship allows him to make connections with a cohort of people with different goals for the Jewish people.
Dave's main goal is building a Jewish sensibility around trauma care. His older brother, may his memory be a blessing, died of drug overdose when Dave was studying abroad in Israel during a gap year. Since then, Dave has been involved in addiction and trauma care. He is part of the team that developed BaMidbar Wilderness Therapy, a Jewish therapy program out of Ramah in the Rockies. He hopes to erode some of the silence he experienced around addiction in the Jewish community.
"My spiritual path has been marked by being a mourner, and I felt a lot of comfort in Judaism when my brother died," he says. He hopes to bring together his love for Jewish learning and teaching Torah and his love for wilderness and direct care with youth going through challenging times.
Hillel Students Abroad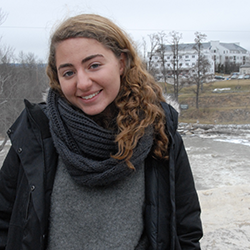 Sophie Lavine '21.5, South Tel Aviv, Israel
I've been to Israel many times on family trips and on summer programs, but last fall, during my time abroad, I approached Israel in a different way. Over my Febmester, I spent six months living and working in South Tel Aviv, which is home to Israel's community of non-Jewish African asylum seekers, primarily from Sudan and Eritrea. I worked in two local schools, both made up of African students. I organized activities for them, helped with homework, and spent time getting to know them. I felt like I was taking part in Israeli society for the first time. Getting to know these children who saw Israel as their home gave me an entirely different perspective on Israel and the meaning of a Jewish state.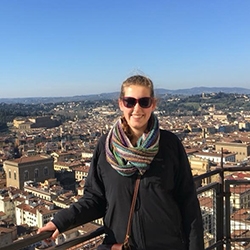 Sarah Asch '19.5 Córdoba, Spain
During my semester abroad, I had the unique experience of being one of the only Jewish people in the city. Having grown up in a fairly Jewish environment, this isolation from my community presented challenges and opportunities to learn and grow. I got to teach my Spanish friends about my religion and culture, as I was the first Jew most of them had ever known. I studied art history at the local university, including one course on medieval Christian art and another on the Islamic artistic legacy in Spain and Portugal. It was fascinating to learn about the history of other religions, especially in a different cultural and linguistic context. While I learned a great deal about myself and my values, I'm excited to return to Middlebury and the Jewish community there.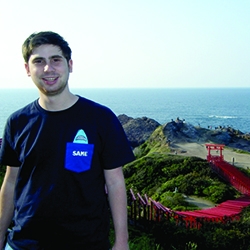 Ben Freedman '19, Tokyo, Japan
Studying in Tokyo was a surreal experience on many levels. I visited some of the most beautiful places I've ever seen in my life; had conversations in Japanese that transcended the conventional topics we'd learned how to discuss in class; and met a wide array of people from all different backgrounds. In one sense, it was a nice break from the academic rigor of Middlebury; in another, it was actually the same exact amount of rigor, amplified and repackaged not as homework and tests but as everyday life. In this unfamiliar landscape, there was obviously no sympathetic teacher there to correct grammar mistakes and point out cultural nuances. While certain day-to-day tasks required little to no thought, other tasks—asking for directions; interviewing local shop owners; selecting and purchasing a SIM card and signing an accompanying contract—really put my classroom skills (as well as life skills) to the test.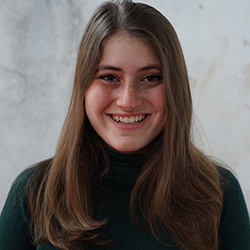 Hannah Krutiansky '19, Madrid, Spain
I spent last fall studying in Madrid. My first weekend there I went to a Masorti synagogue where I met a French student who was also studying in Spain. Together we explored the diverse and complex Jewish community of Madrid. The community is predominantly Sephardic, with a lot of Moroccans who left Spain after the Inquisition and returned within the last few generations, as well as recently arrived Jews from Latin America. It was very interesting to navigate the different groups that made up the community. Not only did the experience reaffirm my faith in my religion but also I now question, on a deeper level, the traditions my family taught me and why we have chosen to observe Judaism the way we do.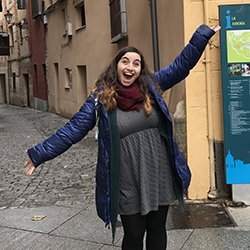 Abigail Browngoehl '19, Madrid, Spain
As I prepared to leave our cozy Middlebury Hillel for a nonreligious semester in Europe, Rabbi Danielle approached me about KAHAL, an organization that connects Jewish Americans studying abroad with Jewish communities and other Jewish youth. I signed up, and before I even left for Madrid I was receiving emails about Shabbat dinners waiting for me across the ocean. My first weekend in Madrid I went to a Shabbat service and was incredibly surprised to find a carefree and homey community. They welcomed me and my far-less-than-perfect Spanish, invited me to celebrate with them, asked me about myself, and most importantly, fed me challah. For Passover, my friend and I went to a seder in an old synagogue in Prague, and the next day we went to an Easter Mass at a stunningly blue church in Bratislava, Slovakia. The seder was entirely in Czech, and the Mass was entirely in Slovak—we didn't understand a word of either service, but it was incredible to spend these special holidays immersed in the culture of the countries that welcomed us.
Donate
The Hillel Hayom is an annual newsletter published each fall to highlight Jewish life at Middlebury, including reflections on the times, lecture and event coverage, and the sights and sounds of students, staff, and faculty.
Enjoy current and past issues.