Faculty Access to Handshake
We are pleased to be able to offer faculty and staff access to Handshake to use in your student advising. You can see what is available for students as they seek summer, winter term, or postgraduate opportunities, and are planning their future. If you experience problems logging in, or have any questions, please contact Charles Caldwell, CCI's Handshake System Administrator: charlesc@middlebury.edu or x5106.
Enter cci@middlebury.edu in the email text box (do not click on Middlebury Login button) and click "Next"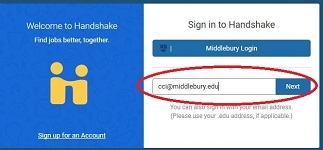 Click on the link, Log In using Email and Password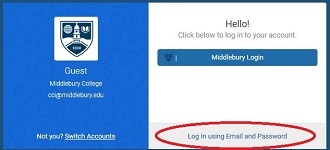 Enter Password: Handshake@CCI and click the Log in button
Important Notes:   
Please
Do NOT make profile public to Employers.
Do NOT make profile public to other students
Do NOT apply for any opportunities, sign up for appointments, interviews, etc..
Feel free to explore all other aspects of Handshake
For You tab - items are presented to students based on algorithm using student behavior (searches, opportunities flagged as favorites, events, etc.)
Jobs - provides ability to search for jobs and internships, save searches and create alerts. Under the Jobs tab, you will also see applications, on campus interviews and employers
Events - provides a list of upcoming events, ability to schedule an appointment with a CCI Advisor, list your upcoming appointments, ability to search for events and a calendar.
Students - Lists basic info about Middlebury students that have made their profile public to other students. You will not be able to view their profile because the Guest account is not public to other students OR employers. Please do not change this setting!
Career Center -
My School - Basic info about Middlebury College, Upcoming events, ability to schedule an appointment, and a list of the CCI staff.
Appointments - Schedule an appointment, view upcoming appointments, and view past appointments.
Resources - Handshake and career related articles available within Handshake.
Experiences - This is how students request funding for internships and other experiences
Surveys - Code of Conduct and others as needed.
Let us know what you think!