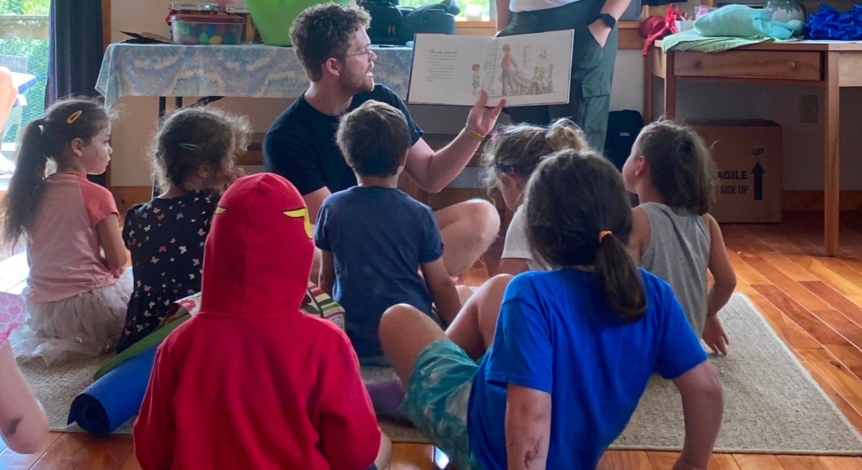 The field of education includes teaching, administrative, and coaching positions in public schools and charter schools, independent schools, higher education, summer camps, and adult education. It can also include educational policy, research and consulting; educational non-profits and organizations often related to access and social justice; and educational publishing and technology, as well as a myriad of careers such as museum education, health education, environmental education, and training in businesses and organizations. 
The Big Picture
Middlebury alums are college professors, elementary school teachers, high school counselors and speech pathologists, deans, admissions counselors, directors and program coordinators at educational non-profits, educational consultants, editors at university presses, teachers at gap-year and semester programs, environmental educators, nutritionists, museum educators, international educators and more.
And Middlebury students have taken part in thousands of different types of educational internships from Breakthrough Collaborative, to the Department of Education, to Grass Roots Soccer. 
What You Can Expect
You could be drawn to work in education if any of the following are true: 
You want to make a difference in people's lives… 

You love to share information with others… 

You have a passion for a particular subject area… 

You want to influence the next generation… 

You love kids… 

You love researching, writing, and creating knowledge… 

You believe deeply that everyone has a right to be successful… 

You want to influence educational policy… 

You love sports… 

You want to connect people to their environment… 

You are good at mentoring others… 

You want to teach in another country… 
Areas of Focus
Education Administration
Graduates can pursue roles in education administration at various levels, such as becoming a school principal, assistant principal, or district superintendent. These positions involve overseeing school operations, curriculum development, staff management, and student services. 
Education Policy
Graduates can work in education policy organizations, government agencies, or advocacy groups, where they can contribute to shaping education policies, conducting research, and advocating for educational reforms at the local, state, or national level.
Curriculum Development
Graduates can join educational publishing companies, educational technology firms, or school districts as curriculum developers. They work on designing, evaluating, and implementing instructional materials, programs, and assessments to enhance student learning. 
Educational Technology
With the increasing integration of technology in education, graduates can pursue careers in educational technology (sometimes called edtech), including instructional design, e-learning development, educational software development, or educational technology consulting. They can contribute to creating and implementing innovative technological solutions in classrooms and educational settings. 
School Counseling
Graduates can become school counselors, providing academic, career, and personal counseling to students. They assist with academic planning, college applications, and social-emotional development, supporting students in their personal and educational growth. 
Higher Education
Graduates can explore careers in higher education institutions, working as admissions officers, academic advisors, student affairs professionals, or faculty members. These roles involve supporting students in their academic journey, coordinating programs, and conducting research. 
Education Consulting
Graduates can work as education consultants, providing expertise and guidance to schools, districts, or educational organizations. They may focus on areas such as curriculum design, assessment strategies, school improvement initiatives, or educational technology integration. 
Adult Education
Graduates can pursue careers in adult education programs, community colleges, or vocational training centers. They can teach adult learners, design training programs, or coordinate workforce development initiatives. 
Nonprofit and NGO Work
Graduates can join nonprofit organizations or non-governmental organizations (NGOs) that focus on educational initiatives. These organizations may work in areas such as education access, literacy, education for underprivileged communities, or international education development. 
Educational Research
Graduates interested in research can pursue careers in educational research institutions, think tanks, or academic institutions. They can conduct research on various educational topics, contribute to policy discussions, and publish findings to advance the field of education. 
---
Top Resources
Public School Teaching & Administration 
Teaching or working at a public school allows you to live anywhere in the U.S. and it helps you be part of the community while giving back and making a difference in children's lives. Although all 50 states and the District of Columbia require teacher licensure, their rules vary by state. Teaching at a public school right after college may require provisional certification.  Here are some resources to get you started.
Summer Teaching Experiences
Generation Teach

They recruit talented and diverse college and college-bound students.

Upward Bound

Provides fundamental support to participants in their preparation for college entrance.
Public Education Resources
SchoolSpring

The premier online employment source for educators.

Nemnet Minority Recruitment

Committed to assisting schools and organizations in the recruitment and retention of diverse teachers, administrators & coaches.
Selected Public School Teacher Preparation/Fellowships and Residencies
MATCH Corps

Designed to close the Achievement Gap between minority and non-minority students, and economically disadvantaged students.

Teach Kentucky

Attracting well-qualified college graduates to Louisville, KY, through an Innovative and supportive Teacher Recruitment Program.

Teach for America

Trains nearly 2,000 individuals, provides them training during summer institutes, places them as full-time, paid teachers.

Math for America MfA

A 5-year MfA Fellowship which includes a full tuition scholarship for a master's degree program and 4-years of teaching in NYC.

Miami Teaching Fellows

Providing Miami-Dade County with a new group of teachers who will work to increase student achievement.
Private School Teaching & Administration
Private schools, also known as independent schools, include both day and boarding schools.  Because private schools do not receive tax dollars, removing state requirements, they often have more flexibility in the courses they offer and the curriculum standards they use, and teachers sometimes have more autonomy in the classroom. Teachers and administrators are also often asked to take on additional responsibilities in the lives of their students and school, such as coaching, academic advising, student organization advising, residential life, and more.   Here are some resources to get you started. 

Independent Schools Summer Teaching Internships (these schools and many others are also great places to work) 
Independent School Resources
Higher Education
Higher Education in the U.S. refers to a variety of both public and private institutions of post-secondary education. Positions in higher education fall into the larger general categories of faculty (teaching/research), and administration, which can be anything from deans, admissions counselors, human resource officers, etc. Most faculty positions require a Doctoral degree and include teaching, research and advising responsibilities. Some positions, such as adjunct or positions at community colleges may only require a master's degree.  Here are some resources to get you started. 
Education Nonprofits
Working at an educational non-profit or NGO may be a good way to combine your interest in education with wanting to do something good for the world.  Non-profits are tax-exempt organizations that are typically mission-driven to serve the public interest.  Those focused on education are often involved in educational access and social justice issues.  Here are some examples to get you started. 
Education Research/Policy
Jobs in educational research or policy might have you working at a think tank, government agency, NGO, consulting firm, law office, publishing house, library, etc.  
International Education
Teaching oversees is an opportunity to combine your interest in teaching with living in another country.  Many opportunities do not require a teaching certificate, especially those involving teaching English. Other opportunities may require teacher certification and previous teaching experience.  NGOs might provide another way to seek non-teaching educational positions oversees.  Here are some resources to get you started. 
Outdoor/Experiential Education
Educators who want to teach outside of the walls of a classroom might be interested in environmental education or other experiential education which might include travel education, camps, and gap-year or semester programs.  Here are some examples to get you started.
Stories from the Field
To learn more about potential career roles, see the following resources in which alums share their career experiences.
futureforward features several alumni and parents who are leaders in a variety of career fields, discussing their industry's current environment, their perspective on the future outlook for that career field, and action steps students can take now to position themselves for entry into those career fields.
MIDDVantage is a virtual career exploration program that offers Middlebury students and alumni—through the perspective of Middlebury alumni and guests—exposure to fields of interest.
Live From D.C. is a live webinar designed to engage guest speakers in a number of career fields in discussions about topics of interest driven by current events, frequently having policy implications and an array of career opportunity dynamics.