Reserve Officers' Training Corps (ROTC) Program
For many students, Reserve Officers' Training Corps (ROTC) programming provides a way to explore careers in the military even without committing to full military service.

ROTC develops leadership skills, critical thinking, confidence, and a thorough understanding of ethics and decision making for successful careers as military officers. Graduates serve in the Active Army, Army National Guard, or Army Reserves before either continuing their military careers or bringing their advanced leadership capabilities to the civilian world.

Middlebury students and alumni have a long-standing tradition of serving their countries and the world, at home and abroad. Visit the Middlebury Serves web page to learn more.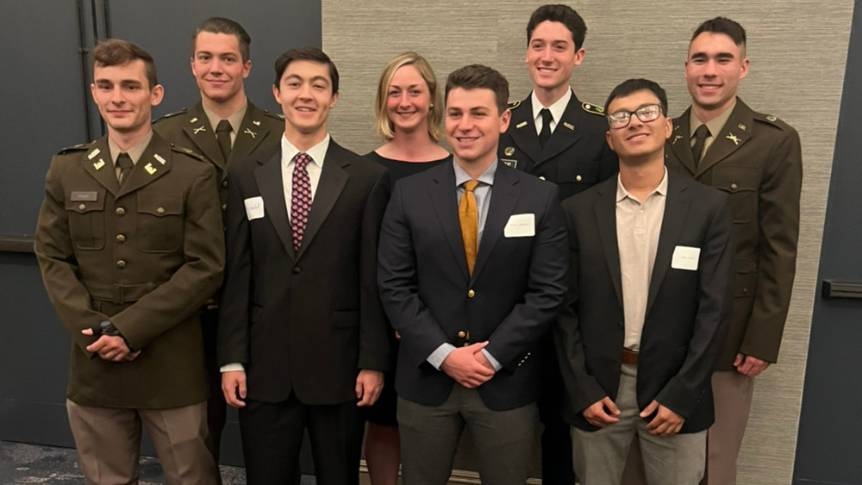 Middlebury College, in partnership with the University of Vermont Army Reserve Officers' Training Corps (ROTC) Program, offers training and education to college students interested in serving as commissioned officers in the United States Army after graduation on either a part time or full time basis.
In addition to supporting Middlebury's cadets, UVM's ROTC program also includes students from the State University of New York at Plattsburgh, Champlain College, Castleton State College, and Saint Michael's College.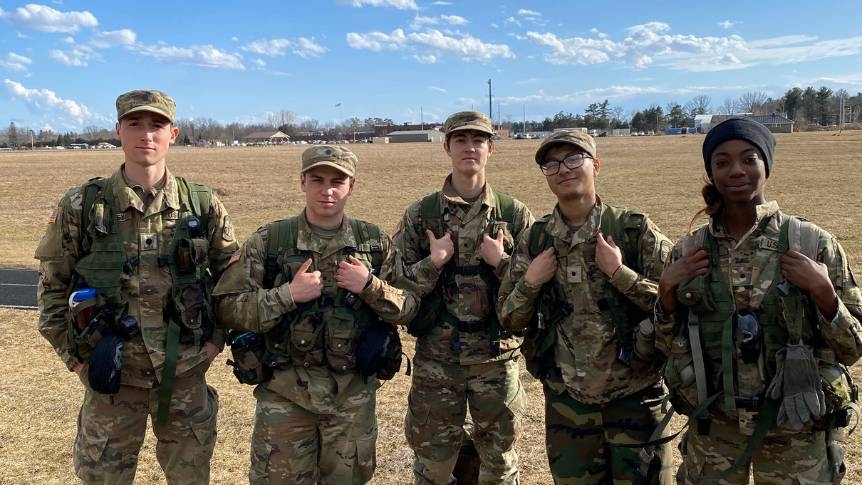 Overview
Army ROTC is one of the best leadership courses in the country and is part of your college curriculum.
During classes, leadership labs, physical training, and field training exercises, you will learn firsthand what it takes to be a leader, develop leadership capacity and teamwork in others, and critically assess complex problems that are both local and global in scale. Cadets train—physically and academically—to analyze problems, act decisively, and respond to challenging and often ambiguous situations. Courses focus on military history, leadership and personal development, adaptive leadership, organizational management, and military strategy and tactics.
Cadets conduct physical training at Middlebury three days per week, and carpool to UVM once per week for leadership labs and military science class. Cadets also conduct one weekend-long training exercise, one Saturday training exercise, and one evening formal event at UVM per semester. Upon graduation from college and completion of Army ROTC, you will earn the rank of a Second Lieutenant and serve in the Active Duty Army, the Army Reserve or the Army National Guard.
In Army ROTC you will learn to become a leader—not a person who simply gives orders, but a person with field experience, deep authenticity, and wisdom grounded in practice. Being an Officer in the U.S. Army means you're a counselor, a strategist and a motivator. It provides transferable skills for leadership roles in any organization. As an Officer, you will lead other Soldiers in all situations and adjust to environments that are always changing.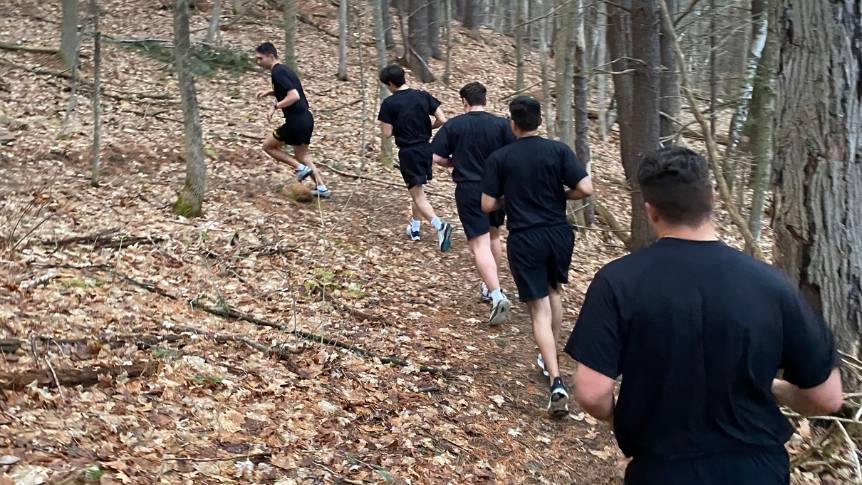 Scholarship Opportunities
ROTC cadets can receive one of the three following scholarships. All scholarships pay Middlebury College tuition and fees. In addition, each provides a monthly stipend and a generous allowance for textbooks.
High School Scholarship: Prospective Middlebury College students may apply for this scholarship during their senior year of high school. This scholarship enables a cadet to commission into Active Duty, Reserve, or National Guard. It is available in 2-, 3-, and 4-year formats.
Line Scholarship: ROTC cadets may be awarded a line scholarship after performing well in ROTC amongst their peers. This scholarship enables a cadet to commission into Active Duty, Reserve, or National Guard. It is available in 2-, 3-, and 4-year formats.
National Guard (Minuteman) Scholarship: ROTC cadets who know they would like to commission into the National Guard are eligible for this scholarship. It requires the cadet to commission into the National Guard. Recipients are required to attend paid "drill" weekends (once per month, for 9 of 12 months) and 2 weeks in August with the National Guard. It is available in 2-, 3-, and 4-year formats.
Funding
Recipients of any of the three ROTC scholarships mentioned above are also awarded a $420 monthly stipend and $1,200 per academic year for textbooks.
Transportation
Middlebury College provides funding to help cadets participating in ROTC training and classes travel between Middlebury and UVM to participate in ROTC training and classes. This is traditionally through gas reimbursement or utilization of school vans.
Credit
Middlebury students completing work in the ROTC program at the University of Vermont are eligible to receive up to three credits towards their Middlebury College degree: one academic credit upon completion of the first two years of ROTC classes and one credit upon completion of each of the third and fourth years of ROTC classes. In addition, ROTC cadets may also receive a physical education (PE) credit. (PE credits are a Middlebury graduation requirement.)
The credits awarded will be general non-graded credits and will not satisfy any major, minor or distribution requirements. For more information, see the College Handbook.
Military Obligation
The objective of ROTC is to develop your capacity to serve as an officer in the Army. However, only those cadets who decide to contract into the Army (usually during junior year) have an obligation to serve. Up until that point, cadets can participate in ROTC without a future service obligation. Practically speaking, that means students participating in ROTC have up to two years to decide whether or not their future career will involve military service. Cadets who commit to the service obligation will go on to serve in active duty, local Reserve or National Guard units, or in the Ready Reserves. Cadets pursuing graduate school may be eligible for an educational delay of service or other programs that help pay for advanced degrees.
Contact 
 If you're an alum and have news to share, or are interested in connecting with students interested or currently enrolled in ROTC, contact the Center for Careers and Internships at cci@middlebury.edu.