Arts, Media, and Communications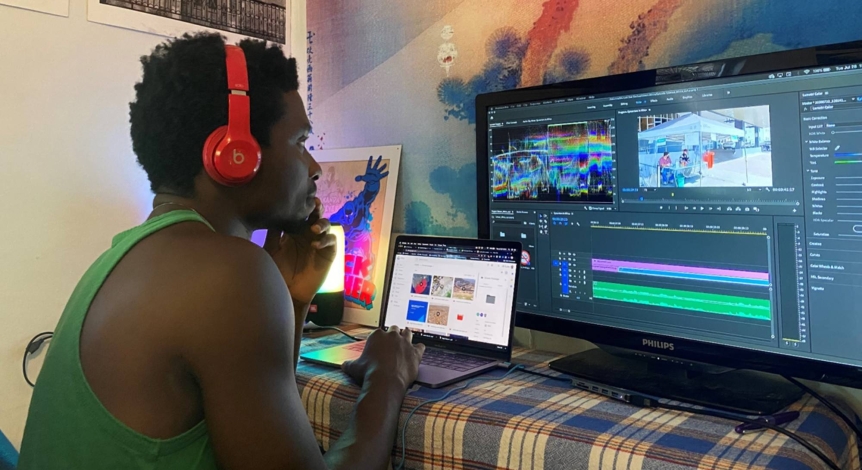 The arts, media, and communications career path covers a wide range of professions that have one major element in common: highly competitive points of entry that require a lot of determination and effort. 
The Big Picture
Are you interested in BEING an artist?  This could be related to performance, design, painting, sculpting or composing.  What about COMMUNICATING about art?  That involves more studying, curating, teaching and reviewing.  Or even FACILITATING art?  This means advocating, organizing, marketing, fundraising, managing, presenting. 
Are you a news junkie? Journalism is certainly changing with the evolving digital landscape, but opportunities do still exist at newspapers and magazines of all sorts.  Are you an entertainer at heart?  In the Arts this could be in the visual or performance spaces like galleries, museums or theaters.  In film, radio and television these are other venues where you can unleash your creative zest.  Sports, music and fashion are all parts of culture that you can cover in the media, in many shapes and sizes. 
Another thing true of this career path: trajectories are rarely straightforward and clearly accessible. YOU get to lay out your creative path, so don't be waiting around for opportunities to come your way.  Go out and get them!  Read on to learn more about how to take advantage of lots of resources in Arts, Communications and Media. 
What You Can Expect
You could be drawn to work in this career path if… 
Creativity oozes out of you, but not always.  Yes, you might be the person ready to perform in front of the camera or on the stage, but also equally able to work behind the scenes in an important support role. 

You want to influence people's behavior and decisions.  Whether via the written word or motion picture or audio, you have the chance to make an impression on an audience. 

You're curious to discover and share trends in news and culture.  As someone who likely already follows current affairs, you're ready to put that interest to work reporting for a magazine, news agency or other publication. 
---
Areas of Focus
Here are 7 areas you can explore within this broad career path: 
Advertising/Marketing/Public Relations
It is quite common to talk about these 3 areas of work together. Although they are all interrelated, there is a significant difference between the three. 
Advertising is the means of communication to a target audience using mostly paid media such as television, radio, the Internet, and print publications. 
Marketing is the overall process of communication and delivering products to a target audience through the marketing mix of product, price, place and promotion. 
Public Relations is a communication method used by businesses to convey a positive image to a target audience and the general public. Examples of PR methods include but are not limited to, press releases, community involvement, and speaking at public forums on issues important to a target audience. 
Architecture and Design
This area includes a wide range of topics related to development, construction and engineering, interior design, landscape architecture, and urban planning.  
Digital/Social Media
A career in social media typically involves working to raise awareness of a company's mission, products, programs, and services among its customers by communicating with them across social media channels. To accomplish this, the person in this position might create written stories, blog posts, messages, and videos and disperse them across social platforms like Instagram, Facebook, TikTok, and Youtube.  
Film/Radio/Television
There are the big networks and studios (NBC, ABC, Fox, Viacom, Warner Brothers, Columbia Pictures, Disney and more) and plenty of smaller, independent shops too.  Roles range from in front of the camera to pre- and post-production positions in music, sound, lighting, writing, costume, effects and of course acting.  New York and Los Angeles are the major geographic centers of this entertainment business. 
Performing Arts
Theater, Dance and Music make up the core of this area.  Whether your dream is Broadway, Lincoln Center, Hollywood or something else, there are sure to be hours spent diligently practicing and perfecting your craft.  Combined with a little luck, and surrounding yourself with the right people, the performing arts could be the career for you. 
Visual Arts
Work in museums, galleries and auction houses encompass this area.  Art educators and therapists, public art programs, arts advocacy groups, and community arts organizations operate primarily, but not exclusively, in the non-profit sector.  The commercial art world, which concerns itself with the buying and selling of arts objects, is a for-profit arena. Auction houses, art brokerages, galleries, and commercial art dealers fall within the commercial art arena. 
Writing/Publishing and Journalism
For someone considering this career area, the key is getting as much writing experience as possible and to read, read, read. If you have a natural curiosity, like to write and write well, thrive in time-driven situations, know how to ask the right questions, and have good interviewing and listening skills, these areas may be a field worth considering.
---
Top Resources
Find below some of the best information we think is available to help you learn about this career path. 
The Baer Faxt

The art world's most trusted source of breaking news, insider intelligence and art market insights since 1994.

Art Collecting.com

A comprehensive online gallery and art guides for major art cities and every US state.
Architecture and Design
Additional reading available through Middlebury's library:

A Planet to Win: Why We need a Green New Deal

The Death and Life of Great American Cities 
Coroflot

The job board for hiring design talent
Film, Radio, and Television
Additional reading available through Middlebury's library:

Peter Biskind's book Down and Dirty Pictures : Miramax, Sundance, and the rise of independent film

David Rensin's book The Mailroom: Hollywood History from the Bottom Up

Jonathan Kern's book Sound Reporting: The NPR Guide to Audio Journalism and Production

Jessica Abel's book Out on the Wire: The Storytelling Secrets of the New Masters of Radio
No Film School

Founded by an alum, the leading worldwide community of filmmakers, video producers, and independent creatives.

The Ankler

All things media. All things Hollywood. All in one place.

Film Freeway

The world's #1 way to enter film festivals and screenplay contests.

Transom

A Showcase and Workshop for New Public Radio.

The Gotham

Founded over 40 years ago in 1979 as the Independent Filmmaker Project (IFP).

Staff Me Up

The #1 Network for Production Jobs In TV, Film, Digital, Media & Entertainment.

Mandy

The #1 jobs platform for cast, crew and creative professionals.

ProductionBeast

A mighty job board for videoprofessionals. Where productions discover and hire the best creative professionals.
Writing, Publishing, and Journalism
Music
Additional reading available through Middlebury's library:

Donald Passman's Book All You Need to Know about the Music Business
Advertising, Marketing, and Public Relations
Additional reading available through Middlebury's library:

Connected by Design: Seven Principles for Business Transformation Through Functional Integration
AdAge

Leading global source of news, intelligence and conversation for the marketing and media community.
Stories from the Field
To learn more about potential career roles, see the following resources in which alums share their career experiences.
futureforward features several alumni and parents who are leaders in a variety of career fields, discussing their industry's current environment, their perspective on the future outlook for that career field, and action steps students can take now to position themselves for entry into those career fields.
MIDDVantage is a virtual career exploration program that offers Middlebury students and alumni—through the perspective of Middlebury alumni and guests—exposure to fields of interest.
Live From D.C. is a live webinar designed to engage guest speakers in a number of career fields in discussions about topics of interest driven by current events, frequently having policy implications and an array of career opportunity dynamics.