Government, Law, and Policy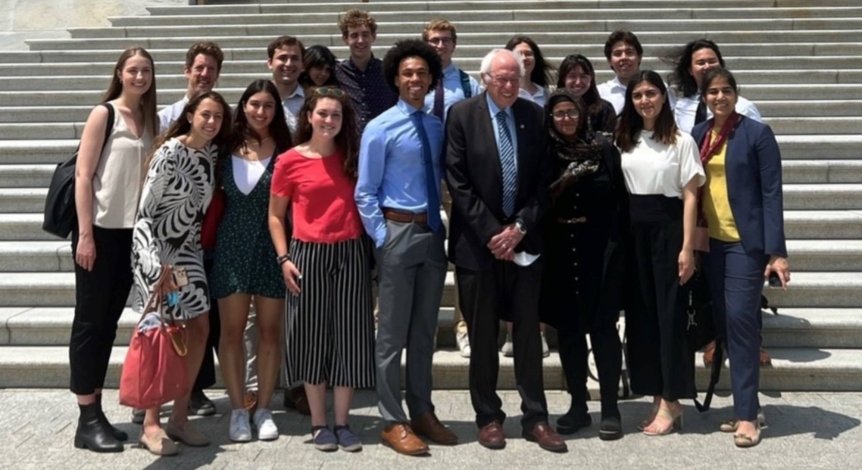 The Partnership for Public Service puts it best: "There is no better place to make a difference to our country than in our government, which touches all aspects of our lives, from the air we breathe, to the food we eat, to the roads we travel. Government employees are on the front lines of solving challenging and complex issues such as global warming, health care, and our economic health. As a civil servant, your work can have a positive impact on both our county and our world. 
The Big Picture
In our federal government, there are jobs for every type of person with every type of background, but the people most likely to succeed are those who want to have a significant impact on people's lives and care deeply about good governance. They are "change agents" — optimistic, skilled people with a can-do attitude that is complimented by a sense of realism and practicality, recognizing that government changes come in small measures."
In this career path you can also apply your talents to state and local government offices, think tanks, on Capitol Hill or in the military. On the legal side of the equation, you can put your interest in criminal justice or advocacy to work with all sorts of clients, in front of a judge in a courtroom or using your influence to persuade people with your written and oral communication skills behind the scenes.
What You Can Expect
This type of work might speak to you if… 
Research is your friend.  You want to use your qualitative and/or quantitative skills to write and argue and present information to influence decisions.  Knowledge from any number of social science fields, from sociology to economics to psychology can be applied to work in government, policy and law. 

Public service is your calling.  Have you been the beneficiary of a government service?  Maybe this is your time to give back and work for the greater good. 

You like affecting change, directly or indirectly.  You should think about if you have a preference for working where you can directly see the impact, for example, teaching children in a classroom.  Or do you perhaps prefer to affect education policy at some level, and work for the Department of Education, for example. 
You have the political bug.  You have never missed voting in an election.  You like the energy and spirit that comes with working on an issue with a team and the thought of losing leaves a sour taste in your mouth.  Non-partisan is not part of your vocabulary, and you are ready to fight for the issues you believe in and find an elected official to rally with. 
Areas of Focus
US Federal Executive Branch Agencies and International
Department of Justice.  Environmental Protection Agency.  These are 2 of more than 120 federal departments and agencies (and that doesn't include the U.S. Postal Service) where roughly 2 million civilians have government jobs, the largest employer in the US.  These jobs are also available in all 50 states, not just DC, and all U.S. territories and in more than 140 foreign countries.
State and Local Offices
This could be in a Governors' office or other state-wide entities or in the Mayor's office of a big city or small town.  What level of impact do you want to have?
Legislative work on Capitol Hill and the world of politics and campaigning
In this fast paced, challenging environment your title could be legislative assistant, scheduler, or campaign worker in the office of your favorite Congressman or Senator.  There are opportunities in 535 Congressional offices (100 in the Senate, 435 in the House), plus in over a hundred committees and subcommittees.  If you want to serve in the world where politics and policy meet, this could be for you.
Intelligence Work
Are you attracted to the alphabet soup of CIA, NSA, DoD, FBI and more?  There are 18 federal agencies working together to protect the USA by collecting, analyzing and distributing information used for national security decision making. 
Military
A career in the Armed Forces is a great way to serve in one of five active duty military branches – Army, Air Force, Navy, Marines, or Coast Guard. In school you might explore ROTC or after graduation consider attending an Officer Candidate School (OCS).
Think Tanks
Think tanks are public-policy research analysis and engagement organizations that generate policy-oriented research, analysis, and advice on domestic and international issues. Whether on a topical interest like international affairs, environment or education, or a regional issue in Asia, Africa or Europe, there is a group of scholars out there studying the situation where you can apply your research skills and dive deep into the issues.  There are over 6,000 think tanks around the world, from well-known names like Brookings Institution and American Enterprise Institute to the Energy and Resources Institute in India and Istituto Bruno Leoni (IBL) in Italy. 
Political Consulting, Communications, and Risk Analysis and Government Affairs
Political risk refers to the possibility that investors will lose money or make less money due to political decisions or events occurring in a country or emerging market in which they have invested.  Opportunities in this work exist in large consulting firms and insurance companies like Eurasia Group and Kroll Associates and also smaller financial companies, ratings services and energy firms. Political consulting or communications groups advise campaigns on virtually all of their activities, from opposition research and voter polling, to field strategy and get out the vote efforts.  Some examples are KSE Partners, Glover Park Group, VH Strategies and Lake Research Partners.
Legal
Maybe you're thinking about law school at some point.  Perhaps you envision yourself at a large corporate law firm, or more on the public interest side of law.  Are you more interested in civil or criminal, prosecution or defense?  Before law school, and even as a permanent career, some grads take on paralegal or legal assistant roles to see what the field is like.  These could be at any size law firm focusing on a certain issue, and also at public defender offices or district attorney offices. 
---
Top Resources
Find below some of the best information we think is available to help you learn about this career path.  Yes, I know you can use Google and search for other sites.  These are what I determined to stand out as top notch and best of class. 
State and Local
USA.gov

The U.S. government's official web portal to all federal, state, and local government web resources and services.
Intelligence
Intelligence.gov

Explore this site to better understand the 17 federal intelligence agencies working together to protect you.

Clearance Jobs

The largest security-cleared career network, specializes in defense jobs for professionals with federal security clearances.
Military
Today's Military

With cooperation from the service branches, this site strives to paint an accurate picture of life in today's Military.

Army ROTC

During classes, leadership labs, physical training and field training exercises, you will learn firsthand what it takes.

Middlebury Serves

Highlights the contributions and impact that alumni and students have made and continue to make through their military service.
Political Consulting/Government Affairs
Public Affairs Council

A leading nonpartisan, nonpolitical association for public affairs professionals worldwide.

Society for Risk Analysis

A multidisciplinary, interdisciplinary, scholarly, international society for those who are interested in risk analysis.
Stories from the Field
To learn more about potential career roles, see the following resources in which alums share their career experiences.
futureforward features several alumni and parents who are leaders in a variety of career fields, discussing their industry's current environment, their perspective on the future outlook for that career field, and action steps students can take now to position themselves for entry into those career fields.
MIDDVantage is a virtual career exploration program that offers Middlebury students and alumni—through the perspective of Middlebury alumni and guests—exposure to fields of interest.
Live From D.C. is a live webinar designed to engage guest speakers in a number of career fields in discussions about topics of interest driven by current events, frequently having policy implications and an array of career opportunity dynamics.