Patrick J. Durkin '79 Public Service Leadership Awards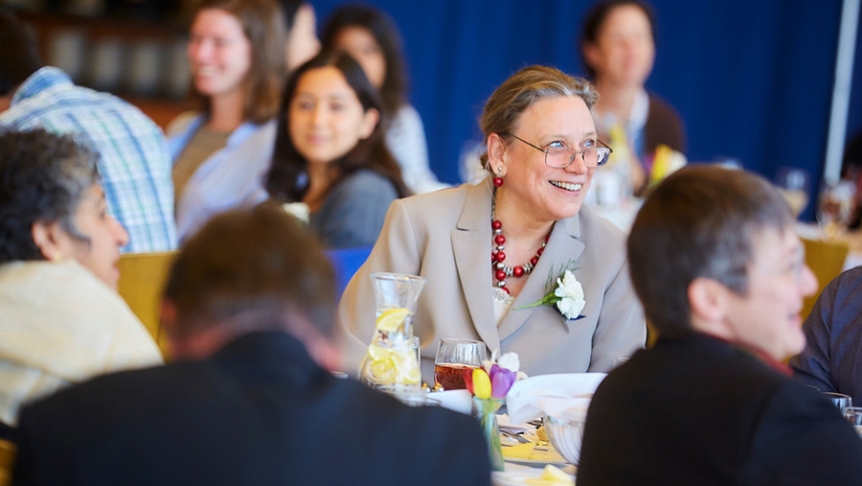 The Patrick J. Durkin '79 Public Service Leadership Awards honor individuals' service and leadership in public and community affairs.

The PSLAs were inaugurated in 1994 through the support of Patrick Durkin '79.
The 30th Annual Patrick J. Durkin `79 Public Service Leadership Awards were presented on Wednesday, April 26, 2023!
Thank you to everyone who attended the 2023 Patrick J. Durkin `79 Public Service Leadership Award ceremony! If you missed the ceremony, you can watch the Zoom recording of the event and read the Newsroom article! You can find the names of award recipients of 2023 Public Service Leadership Awards below.

Look back in March 2024 for information about the 2024 Patrick J. Durkin Public Service Leadership Awards!
The PSLA award ceremony is held every spring semester to recognize individuals and partnerships for their service with communities and contributions to the public good. Honored awardees are invited to make a donation to a non-profit of their choice. We follow current campus Covid guidelines at the in-person event, which at this time includes optional masking; there will also be a livestream of the event for remote viewing.
Student and Partnership Awards
The Center for Community Engagement awards six general awards to student leaders, in addition to four named awards:
The Dana Morosini Reeve '84, P'14 Endowed Memorial Public Service Award, given to the student who best exemplifies Dana's spirit and determination as she tirelessly and selflessly devoted her life to caring for her husband Christopher Reeve and, through the Christopher Reeve Foundation, to her work as an advocate for all those with spinal cord injuries
The John M. McCardell Jr. Public Service Award, given to the student who best exemplifies efforts that bring Middlebury, both the College and the Town, more closely together for a public benefit. In this way, we honor the values to which John had been so strongly committed during his tenure as president and celebrate others who continue the tradition of this very important work
The Bonnie McCardell Public Service Award, given to a student for actions in support of youth and who best exemplifies outreach in one of the following areas: (1) youth and family services, (2) literacy, and (3) the special needs that arise during the critical middle and early high school years
The Tiffany Nourse Sargent '79 Engaged Partnership Award: Given to honor an educational partnership between Middlebury College and a community organization to address community needs. The partnership honored could be a collaboration that supported academic coursework, research, student organization(s), or another meaningful learning endeavor.
Faculty Award
The Award for Community Engaged Teaching and Scholarship recognizes and rewards a Middlebury College faculty member of any rank in any field or discipline for high quality work integrating community engagement into their teaching and/or research. The award recipient demonstrates a record of successful teaching and/or research that is carried out through long-term, collaborative community-engaged partnerships that address a community-identified need or priority. The co-production of knowledge through these partnerships results in a public value and/or scholarly impacts in the field(s) of inquiry.
Alumni Award
The CCE will award The Public Service Leadership Alumni Award to a Middlebury College graduate who demonstrates a dedication to the common good through significant collaborative contributions in public service and leadership. Alumni are invited to nominate themselves (or others) for the honor.
Questions? Contact Kailee Brickner-McDonald at kbricknermcdonald@middlebury.edu or 802-443-3010. 
2023 Awardees
The John M. McCardell Jr. Public Service Award
The Bonnie McCardell Public Service Award
The Dana Morosini Reeve '84 Memorial Public Service Award
Public Service Leadership Awards
Katie Cantrell `23
Gabriella Chalker `24
Javier Merino Herrera `25
Gayathri Mantha `25
Laura McDow `26
Gwen Orme `23
Ethan Schmitt `24.5
Daniza Tazebekova `26
Maya Teiman `25
Patrick Wachira `23
Public Service Leadership Alumni Award
Rachel Sider `14
Chris Wood `88
The Tiffany Nourse Sargent '79 Engaged Partnership Award
Sunshine Schools and Language in Motion: Vikas Jhunjhunwala `96 and Anjana Giridhar `23
Award for Community Engaged Teaching and Scholarship
Dr. Kristin Bright, Assistant Professor of Anthropology