Public Service Loan Forgiveness
The path to reducing your monthly student loan payment and working toward loan forgiveness could be getting much easier. That's because Middlebury College employees and their family members have access to a powerful financial wellness benefit to help navigate the complexities of the Public Student Loan Forgiveness program. Brought to you through TIAA and Savi, this tool not only helps strengthen your financial footing in the short-term, but it also positions you for student loan forgiveness. Savi users lower their loan payments by $140 per month and receive $40,000 in loan forgiveness on average.
 
Middlebury provides assistance with filing for the Public Service Loan Forgiveness program through SAVI.
For support setting up your Savi account or upgrading to the Essential subscription, call the technical support line: 833-604-1226 which can be reached on weekdays 8:30am - 8:00pm ET.
Once enrolled in the Savi Essential subscription, you have access to one-on-one customer support! Find the "Contact Support" button in your account to ask questions and/or request a call.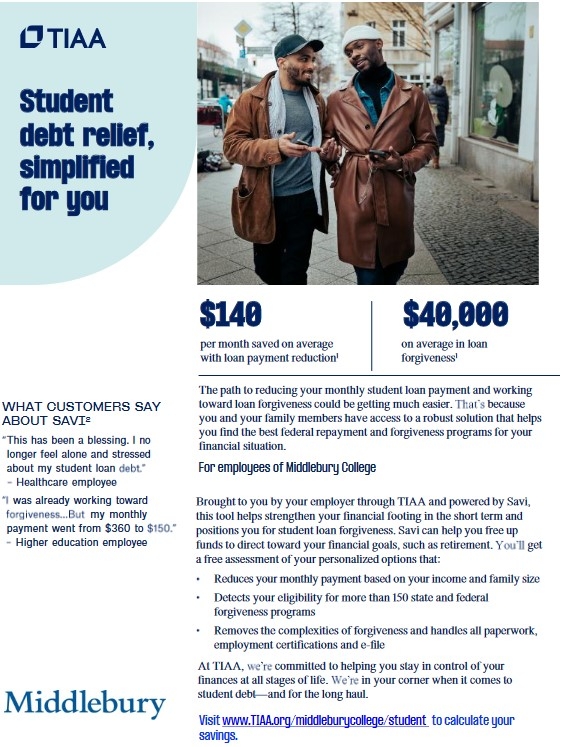 Frequently Asked Questions
Savi and your employer are independent entities. Savi and TIAA are independent entities. A portion of any fee charged by Savi is shared with TIAA to offset costs to support the program. In addition, TIAA has a minority ownership interest in Savi.  TIAA makes no representations regarding the accuracy or completeness of any information provided by Savi. TIAA does not provide tax or legal advice. Please contact your personal tax or legal adviser.
©2022 Teachers Insurance and Annuity Association of America-College Retirement Equities Fund, 730 Third Avenue, New York, NY 10017
2386751 (8/22)