Each quarter, we update our Drupal editors on what's new with Middlebury's websites. Our goal, as always, is to be as supportive and responsive as possible to all your web needs, and we encourage you to reach out to us with any questions!
New Homepage
On May 25, we launched the new homepage for Middlebury.edu. This effort is the capstone on a project to redesign, rebuild, and edit over 30,000 pages of content on our old Drupal 7 website.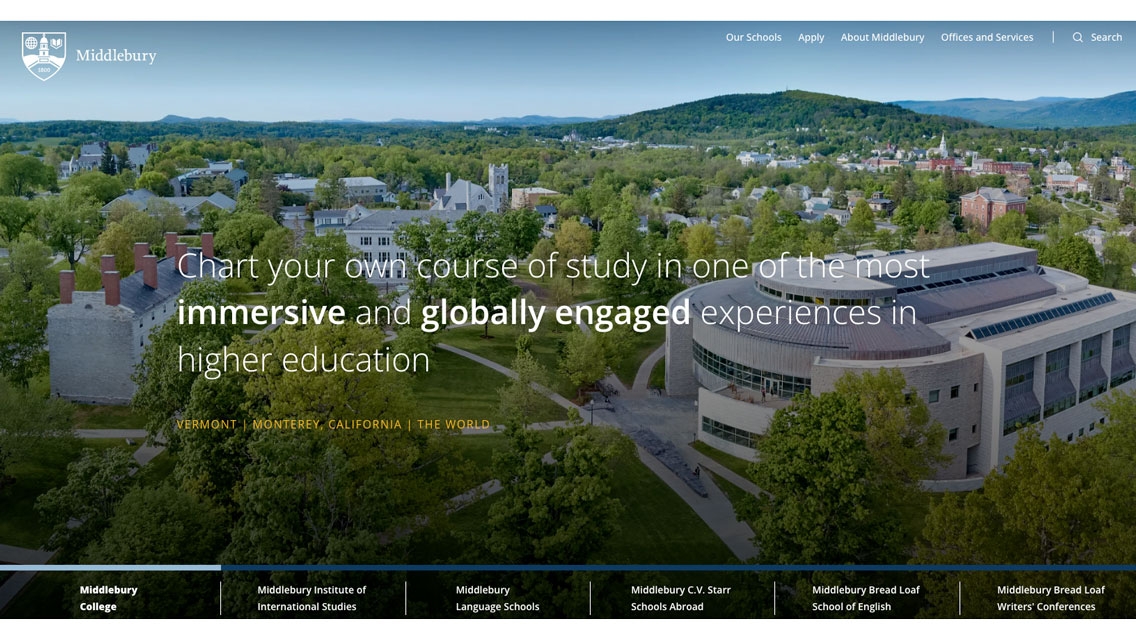 It is through the partnership with you—more than 250 offices and departments—that this project is a success. THANK YOU!
While this is an exciting milestone, one that sees a new institutionally focused homepage for Middlebury, this is not the end. We will continue to work with all of you to improve our sites and look forward to sharing those improvements in future updates.
Important Announcements
New Audience Pages
To help you quickly find links to the pages you use the most on the website, we've updated the audience-focused pages for all of the Middlebury websites. Please be sure to bookmark these pages and share with your teams as they will no longer be available from the new institutional home page. They are available in the footers of individual schools.
Office URL Change
On April 11, we updated the URLs for all of the sites previously located at middlebury.edu/office/. You should have received this email explaining the reasons for this. But the key takeaway is that this does not in any way affect people's ability to access your site. It was merely a necessary technical step in our process to launch the new Institutional homepage.
New Features
Soft Delete
In order to prevent unwanted deletion mishaps, we have implemented a "soft delete" safety net that saves any deleted content for 30 days. The "delete" option that used to be in the top of the editing module will be moved to the "Current State" functionality, where you choose "draft," "published," or "archived." 
If you mistakenly delete a page, you can now un-delete it by changing it back to Published through the "Queued for Deletion" report. Please request help if needed. 
Read more at Drupal Now Holds onto Deleted Pages for 30 Days.
HighEdWeb Membership 
Middlebury recently joined HighEdWeb with an institutional membership. Membership benefits are available to anyone with a middlebury.edu email address. Join now through our Middlebury membership.
HighEdWeb offers professional development and community-building opportunities for everyone involved with digital efforts at your college or university. Benefits for you include access to the following:
Professional Development Library 
Community groups and networking
Discounts on professional development
Career and team-building opportunities
What's Next
Now that we have completed the website redesign, we are actively working with our Drupal editors across the institution to help improve and enhance their existing sites. As we move into summer, it's a great time to take a look at your sites and assess how they're working for you: 
How is your website working out?
What's missing?
What needs updating?
How can we best support you?
If you're interested in engaging with us to discuss how your website is working for you, just make a request!
Tips and Tricks
Education
Did you know that we're continually adding and updating our library of Drupal support material? This documentation is an excellent resource to help you improve your Drupal expertise.
Submitting a Ticket
If you can't find what you need in our documentation, we are here to support you—just request help and we'll be in touch within one business day.
Training
You can also sign up for training if you want to brush up on your Drupal editing or of you have a specific question.
Drupal Module Updates
Offices 
Removed the experimental Flowchart content type and uninstalled the bricks module it relied on.
Course Catalog
Fixed an issue that was preventing paginated results that filtered by distribution requirements from being navigable.
WordPress Plugin and Theme Updates
Information Technology Services
Davis Family Library 202
Middlebury, VT 05753