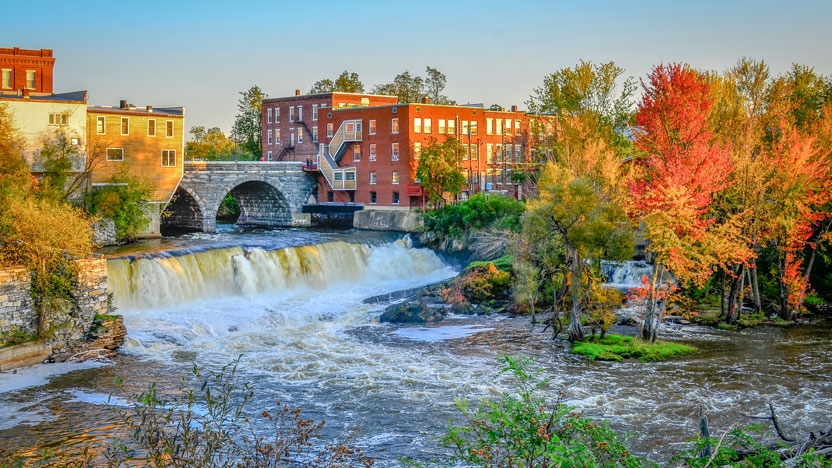 Below you'll find general tips and services specific to the Middlebury area.
Banking 
There are many different banking options in the U.S. When you are choosing a bank, ask about automatic teller machine (ATM) and checking fees, and minimum balances. Some banks offer special student accounts. Middlebury College has National Bank of Middlebury ATMs on campus. 
What to Bring When Opening an Account
A minimum of $100 USD to deposit
Your passport
Form I-20 or DS-2019 (or other visa document)
Form I-94 (accessed electronically at https://i94.cbp.dhs.gov/)
Local mailing address: Students, be sure to know your campus mailbox number.
Note: You may be asked to provide a Social Security Number (SSN). If you are not working, you will not be able to apply for a SSN. You can explain to the bank that you are not eligible for a SSN.
Banks in Middlebury
There are a few options for banking in Middlebury.
Citizens Bank
Key Bank
National Bank of Middlebury
People's United Bank
Communication Services
Campus Phones
If you would like a telephone land line in your room, you may request service through the Personal Information link on BannerWeb. There is a $50 installation fee per academic year. If you receive financial aid, you may be eligible for a waiver of the $50 installation fee by speaking to Student Financial Services or emailing them at financialaid@middlebury.edu. You can expect service within 2 weeks of your request, but you will need to provide your own telephone (ISSS has a limited number, so if you need one please don't hesitate to ask).
Cellular Services
Verizon Wireless and AT&T offer the best reception and service plans for the Middlebury area. Sprint PCS/ Nextel also has reception in Middlebury and competitive plans. For details on these or other cellular carriers' coverage, please visit their websites as listed below.
When considering different providers (especially a two-year contract plan), please be aware that many service providers in the United States do not have any roaming options, so if this is relevant to you, please investigate this feature before committing to a two-year contact. Reception may be poor in a few on-campus locations (due to College building design) and off-campus due to Vermont's terrain and limited cell tower coverage.
It is fairly common in the United States to sign up for a two-year contract plan with a service provider (i.e. carrier) in which the contract includes the use of a locked phone (i.e. it does NOT work with any other service provider). Unfortunately, in order to do that, many phone carriers require you to have a U.S. Social Security Number or pay a large deposit in order to enroll in a contract. You do not need a contract in order to have cellular services!
If you already have an unlocked phone, or buy one (options discussed below), you can purchase a plan known as the "pay-as-you-go" option. This means you pay a set monthly fee for a certain amount of talking/texting and data. For example, you could pay $40 per month for unlimited talking and texting. You can renew this each month as long as you want without being obligated to sign up for a two-year contract. A TracFone has a similar option which allows students to buy phone credit rather than sign up for a contract.
Another option that service providers won't advertise but is available is "pay-per-use". This means you don't have to pay a set monthly fee. For example, you could buy a line and add US $15 credit to your account. Then the provider will charge you 10 cents per minute and 20 cents per text. For this option, your credit expires after one or three months depending on the amount purchased/used and your service provider's regulations.
If you already have a phone, AT&T is the most compatible, but it is best to check with AT&T before committing to any plan. If you do not have a phone, you can purchase a new one from a phone store, but it will be expensive if you don't enroll in a contract plan (discussed earlier). Many students choose to purchase an unlocked phone online on websites like Amazon – or from reputable refurbished phone stores – and then take the unlocked phone to a carrier, like Verizon Wireless or AT&T, to purchase a "pay-as-you-go" or "pay-per-use" option. If you plan to use a service provider, such as Verizon Wireless, then you must have an unlocked phone that works with their service.
Please check with the service provider BEFORE purchasing an unlocked phone.
Cellular Providers in the United States
Pre-Paid and Contract Options:
Verizon Wireless: 22 Court Street, Middlebury (802.443.8500)
AT&T: Hannaford Shopping Plaza, Route 7 South, Middlebury (802.388.4433) – You can take the free Tri-Valley Transit (TVT) Middlebury Shuttle bus there.
Pre-Paid Plans:
Tracfone – Can be purchased at Kinney Drugs, Walgreens or Martin's Hardware/RadioShack, Middlebury – You can take the free Tri-Valley Transit (TVT) Middlebury Shuttle bus there.
Net10 – Can be purchased at Kinney Drugs, Walgreens, or Martin's Hardware/RadioShack, Middlebury – You can take the free Tri-Valley Transit (TVT) Middlebury Shuttle bus there.
Boost Mobile (formerly Virgin Mobile)
Alternative to Cellular Services
Some students choose not to get a cellular phone. Another option is to take advantage of the widespread availability of Wi-Fi on campus and use devices (such as an iPad, tablet, or computer) to communicate with students and family back home. There are options, such as Google Voice, Viber and Skype, where you can buy credit and call landline and phone numbers without having a U.S. one!
Driver's Licenses
As an international  student or scholar, you may legally drive on the roads of the State of Vermont for up to one year from your date of arrival if you have an International Driving Permit AND a valid home country license AND if you are from one of the designated countries or territories. A valid home country license is limited to a licensed driver who is at least 18 years old and limited to a vehicle of the type covered by the license. For detailed information and to access the list of designated countries, please visit https://dmv.vermont.gov/licenses/foreign-licenses.
Applying for a Vermont License
International students and scholars can apply for a Vermont driver's license through the Department of Motor Vehicles (DMV). The DMV has a mobile office in Middlebury on certain days of the week at the Addison County Court House (behind Shaw's grocery store).  If this is your first U.S. Driver's license, you will need to take three tests:
Written test
Driving test
Vision test
(Canadian Citizens may turn in their Canadian license for a Vermont license with only the eye test.)
You will need access to a car to take the driving test; if you do not own a car you will need to borrow one.
Please be aware that you cannot take the written test and the driving test on the same day, so you will need to visit the DMV twice to take all of the required tests. You should therefore plan to allow at least two weeks to obtain your Vermont Driver's License.  For further information about driving licenses, and the Driver's Privilege Card which you may be eligible to obtain, please check the DMV website here: https://dmv.vermont.gov/licenses/types-of-licenses-ids/driver-privilege-card   
You should call or email the DMV to schedule an appointment for a written and driving test. See contact information, hours and locations for the DMV in Middlebury.
Learning to Drive
You might consider learning how to drive by enrolling in the services of a local driving school.
Prepare for a written exam in advance by using the Driving Training Manual. A printed version should be available at any DMV office, or check out an online version.
Going to the DMV
For Students: When you go to the DMV, you will need to present your current Form I-20 with a valid signature on page 2, passport, F-1 visa as applicable, proof of enrollment, and I-94 record (Your I-94 record can be printed). In addition, you will need proof of a Social Security Number (SSN) or documentation from the Social Security Administration (SSA) that you are not eligible for one. To obtain this documentation, visit any SSA in person. There are two SSA locations in Vermont: Burlington and Rutland. For more information, visit https://dmv.vermont.gov/licenses/identity-documents/social-security-information.
Proof of enrollment verification may be requested two ways.
If you already have a social security number, follow the instructions provided by the Registrars' office here https://www.middlebury.edu/registrar/records/enrollment-and-degree-verifications. 
If you do not have a social security number, follow the instructions provided by the Class Deans' office here - https://www.middlebury.edu/college/student-life/class-deans#frequently-asked-questions. See the Frequently Asked Questions section and select the "How can I get a copy of an enrollment verification letter?" option. 
For Scholars: When you go to the DMV, you will need to present your Form DS-2019 or Form I-797, passport, and I-94 (https://i94.cbp.dhs.gov/I94/#/home). In addition, you will need proof of a Social Security Number (SSN).
Transportation
Storage
You can find information on storage options for your belongings on the Residential Life website here. Please be sure to read the "Storage" section as well as "Tips and Tricks" section where you will find an answer to the question "Where can I store my stuff over the summer?". Storage options include a student-run storage business called Middlebury Campus Storage.
Other Resources
You can find more great information about living in our area on the following websites: 
Middlebury Chamber of Commerce
Addison County Chamber of Commerce
We hope you enjoy your time in our little town!
updated 8/23/2023