Careers and the Humanities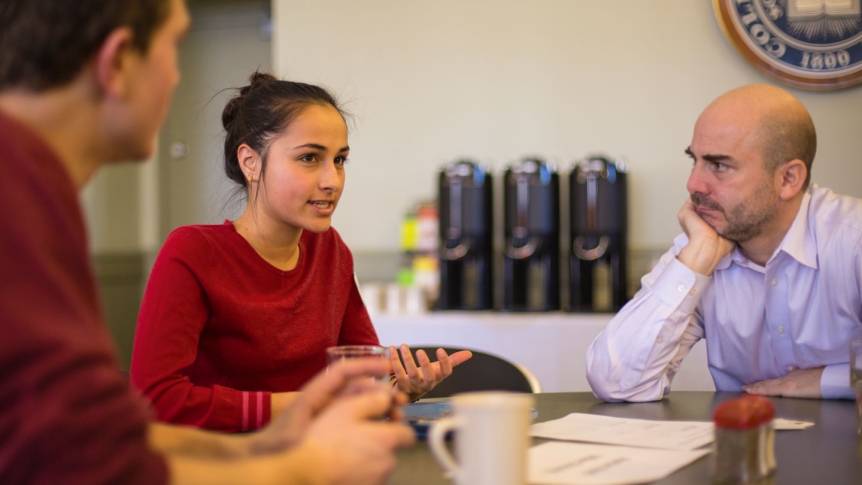 Humanities fields at Middlebury are essential for helping to train responsible, well-informed, and intellectually resourceful global citizens.
Graduates from Humanities departments and programs leave Middlebury with excellent writing, reading, speaking, and critical thinking skills, with global historical and cultural awareness, and with extensive research skills, often involving primary source materials.
Alumni enter a wide range of fields, including journalism, medicine, academia, finance, business, law, museum work, library work, fields related to the arts, publishing, media production, and many others.
What Employers Value in the Workplace
Humanistic analysis addresses vital contemporary concerns from a variety of disciplinary perspectives, and in the context of careful interpretation of stories, experiences, cultures, and artifacts from the past and present.
Across all its disciplines, humanistic study actively builds valuable skills in the following areas: 
Critical thinking and analysis
Clear and persuasive writing and oral presentation
Creative and interdisciplinary thinking
Comprehension of complex moral and ethical questions
Global awareness and sensitivity to other cultures
Independent and original research
Imaginative and creative skills for problem solving and design
Whether you choose to focus your academic studies on history, philosophy, languages, literature, or another Humanities field, you will actively build skills that are increasingly valuable to employers across a range of fields.
According to a recent survey carried out by the Association of American Colleges and Universities, 93 percent of employers approached said that a demonstrated capacity to think critically, communicate clearly, and solve complex problems is more important than a candidate's particular major.*
Supporting these figures, a 2020 report from the American Academy of Arts and Sciences Humanities Indicators shows that 81 percent of employed Americans frequently use at least one Humanities skill on the job, and 29 percent of Americans feel that their career advancement was impaired by a deficiency in one or more humanistic skills.** 
The same wide-ranging report confirms the broad employment opportunities for holders of Humanities bachelor's degrees—including the following:
Art, design, and media
Business and finance
Community and social services
Computer-related fields
Education
Health care
Law
Management
Museum and library fields
Sales and marketing
Job satisfaction among Humanities degree holders is high. In the survey carried out for this report, 84 percent of workers with a bachelor's degree in the Humanities reported high job satisfaction, while 90 percent of workers with an advanced Humanities degree expressed satisfaction. 
* From the Association of American Colleges and Universities, "It Takes More Than a Major: Employer Priorities for College Learning and Student Success," 2013 (accessed June 15, 2020).
** https://www.amacad.org/publication/humanities-american-life/section/6
For more detail on the distribution of Humanities degree holders among different employment areas, see this report: The State of Humanities in the Workforce and Beyond  
Center for Careers and Internships
Whether you're looking for an internship, wondering about a career, or just beginning to discover your options, the Center for Careers and Internships is the place to start.
Alumni Profiles
American Studies
Self-Employed, Harvey & Associates, LLC
"The skills, knowledge, and approaches learned as an American studies major enabled me to examine the problems and solutions in the workplace through the multidisciplinary prism of economics, history, sociology, and political science."
Self-Employed Director and Cinematographer
"As an American studies major, I was able to explore a fascination with audience perception."
Project Director, United World Colleges (UWC) in Colombia
"American civilization has framed a view of the world that is fundamentally interdisciplinary."
Classical Studies
Assistant Vice President, John Hancock Financial Services
"Classics taught me to take the long view. Latin taught me to solve problems, and Middlebury taught me to know my audience."
Operational Law Attorney, U.S. European Command
"Studying classics has been crucial in how I understand the motivations and decisions of our culture and government today."
Assistant Professor of Roman History, University of British Columbia
"Even if you don't plan to continue in the field, classics will be more useful for your post-Middlebury future than you realize."
Senior Attorney, Defending Vulnerable Populations Project, CLINIC
"Classics taught me how to think and analyze on a micro level—language structure and grammar—but also on the macro level, to develop arguments and theories."
English and American Literatures
Coverage Team, Coinbase Institutional + Coinbase Ventures
"Being an ENAM major makes you more valuable to your company."
Consultant at Bain & Company
"Writing my English and American literatures thesis gave me the confidence to face any future challenges in my life and career."
History
Washington Bureau Chief, Slate Magazine, and author of The Dictator's Learning Curve (Doubleday, 2012)
"My history major opened everything up for me."
International Credential Evaluator, World Education Services
"The skills and aptitudes you gain from a history degree prepare you for any field you want to pursue."
Vice President, Equity Research at Goldman Sachs Group Inc.
"Being a history major has made me a more interesting person."
Assistant Dean, Academic Services: College of Arts and Sciences at the University of Cincinnati
"History taught me to find the truth behind every story."
Italian
Digital Media Entrepreneur, Storyteller, Willa Kammerer & Firestarter Interactive, LLC
"My Italian major is a part of me I can always tap into."
Axinn Center for the Humanities
Axinn Center at Starr Library
Middlebury, VT 05753