Patrick J. Durkin '79 Public Service Leadership Awards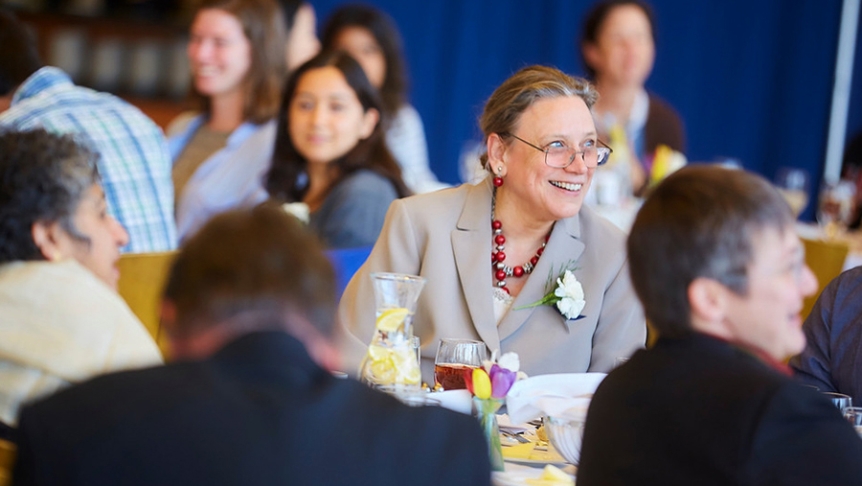 The Patrick J. Durkin '79 Public Service Leadership Awards honor students' service and leadership in public and community affairs.

The PSLAs were inaugurated in 1994 through the support of Patrick Durkin '79.
Thanks for all the students, faculty, staff, and community partners who made our 2022 PSLAs a success!
Public Service Leadership Awards
Thank you to everyone who joined us to celebrate the 29th Annual Public Service Leadership Awards on May 4, 2022. If you missed this year's event, you can watch the recording here. You can also read Middlebury's Newsroom article about the event here.
PSLAs are held every spring semester to recognize student leaders for their service with communities and contributing to the public good. Honored awardees are invited to make a donation to a non-profit of their choice. We will follow current campus Covid guidelines at the in-person event, which at this time includes optional masking.
The Center for Community Engagement awards six student Public Service Leadership Awards as well as:
The Dana Morosini Reeve '84 Memorial Public Service Award, given to the student who best exemplifies Dana's spirit and determination as she tirelessly and selflessly devoted her life to caring for her husband Christopher Reeve and, through the Christopher Reeve Foundation, to her work as an advocate for all those with spinal cord injuries
The John M. McCardell Jr. Public Service Award, given to the student who best exemplifies efforts that bring Middlebury, both the College and the Town, more closely together for a public benefit. In this way, we honor the values to which John had been so strongly committed during his tenure as president and celebrate others who continue the tradition of this very important work
The Bonnie McCardell Public Service Award, given to a student for actions in support of youth and who best exemplifies outreach in one of the following areas: (1) youth and family services, (2) literacy, and (3) the special needs that arise during the critical middle and early high school years
The Tiffany Nourse Sargent '79 Engaged Partnership Award: Given to honor an educational partnership between Middlebury College and a community organization to address community needs. The partnership honored could be a collaboration that supported academic coursework, research, student organization(s), or another meaningful learning endeavor.
Questions? Contact Kailee Brickner-McDonald at kbricknermcdonald@middlebury.edu or 802-443-3010. 
2022 Awardees
Public Service Leadership Awards
Emily Bulczynski '22
Amanda Coccia '22
Emily Hyer '23
Cassie Kearney '22
Grace Kirkpatrick '22
Shivapriya Nair '25
Andrés Oyaga '23
Emma Pagni '23.5
Linh Tran '22
Nicholas Wagg '22
Emma White '22
Rostyk Yarovyk '25
Indira Yuldasheva '22
The John M. McCardell Jr. Public Service Award
Luke Robins '23
The Bonnie McCardell Public Service Award
Madeline McKean '22
The Dana Morosini Reeve '84 Memorial Public Service Award
Kevin Mata '22
The Tiffany Nourse Sargent '79 Engaged Partnership Award
Middlebury Regional Emergency and Medical Services (MREMS) and Middlebury College