As a liberal arts student, you have a wide range of majors and career options open to you.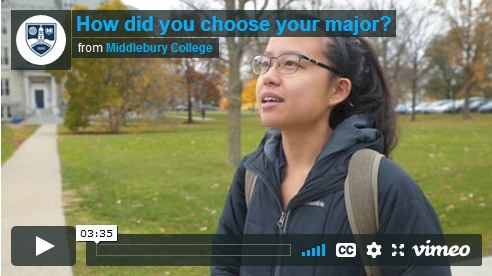 Selecting a major at Middlebury is an exciting point in your academic career, but it may also feel like a big decision.
In addition to your first-year seminar advisors, other faculty, upperclassmen, peers, alumni, family, the team at the CCI is happy to offer advice and resources to help you in this decision. 
Guides by Major and Minor
CCI has developed guides that offer valuable information on learning goals specific to majors and minors. These guides also provide suggestions for campus involvement, internships, and real-life career examples of Middlebury alumni. To access these resources, simply download the major and minor guides that interest you.
Field Guide Events
During the academic year, meet Middlebury alumni from a specific major at a CCI Field Guide event. Alumni come to campus to discuss how the liberal arts and their major has had an impact on their life and career decisions. See upcoming and past field guides. 
Network
Middlebury alumni build meaningful and dynamic careers in every field you can imagine, from every major. Students can find our alumni and discover the many interesting and creative ways our graduates apply their liberal arts learning to engage the world by searching Midd2Midd, our on-line alumni/student community.
Check out a list of previous internships and sort by major to get ideas from your peers. 
Check out Midd2Midd for more ways to connect with Middlebury's broad and engaged alumni network.
Meet with an Advisor
CCI career advisors provide guidance to help you think through decisions about majors and potential career paths. Make an appointment in Handshake. 
Additional Guides
What Can I Do With This Major?
Developed by the University of Tennessee Center for Career Development, this is a good working list across a wide variety of majors. The information can give you ideas about career fields that might interest you, but don't limit your thinking to only these areas—you can pursue a variety of post graduate goals with any academic major, especially as a liberal arts graduate. The CCI holds a subscription to this site for future reference.