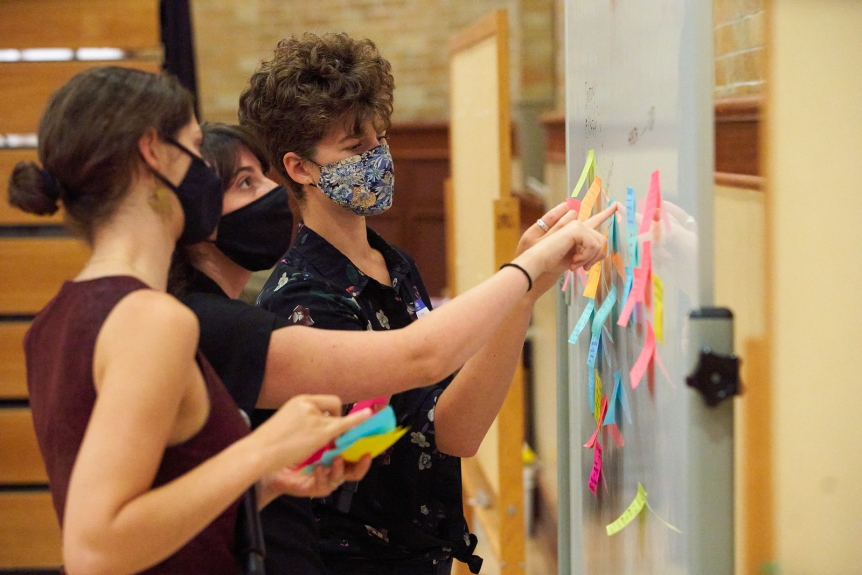 Middlebury has a long and important history of leadership on climate change on campus and beyond.
Starting the earliest environmental studies program, fostering student activism, launching 350.org, shifting to carbon neutrality, and now prioritizing the broad-reaching pillars of Energy2028 underline some of the various scales and avenues this action has taken. But climate change has not gone away. Indeed, the urgency to act has only increased, and in pursuing its mission of "preparing students to lead engaged, consequential lives, contribute to their communities, and address the world's most challenging problems," Middlebury must continue to innovate. 
Through a generous donation from the Erol Foundation, the Climate Action Program (formerly Climate Action Capacity Project) launched in fall 2020 and seeks to both support the vital work being done and explore ways to pilot new opportunities to drive real impact.
Learn more about the Climate Action Fellowship, follow us on instagram @middclimateactioncapacity, apply for student funding during the academic year, and check out some of the amazing events we've supported in our below highlights.
Mission
To provide all Middlebury College students with the knowledge, motivation, and capacity needed to be effective and transformative leaders on climate change across backgrounds, disciplines, and career paths. 
Overview
The Program is focused on finding ways to best engage and equip students to become agents of change through onramps and launchpads. Flowing from the mission, the Program's Guiding Principles will seek to do the following: 
Deepen: Support existing work and needs of students and the Middlebury community already engaged in climate action. 
Broaden: Expand definitions of climate leadership and provide new engagement platforms to better equip the entire Middlebury population to participate in climate action. 
Connect: Collaborate and solidify relationships with existing student, faculty, and staff groups to amplify current efforts and plan new opportunities. Look across disciplinary and organizational lines to identify common threads. Foster inclusivity.
Contextualize: Recognize the needs, opportunities, and challenges we face, especially around racial justice and the pandemic. Examine and foster avenues to delve into theories of change. 
Adapt: Focus on efforts that allow for trial and error. Listen, assess, and adjust efforts proactively. 
Apply: Emphasize the need to bridge theory and practice, meaningfully engaging in experiential learning and activism. 
Integrate: Allow space and time to synthesize efforts, bringing all of the pieces together.  
Build: Provide meaningful, long-term building blocks and culminating, consequential experiences with legs. 
Communicate: Tell effective stories about progress, challenges, and learning throughout. 
Middlebury students are already well aware of the existential threat of climate change. Many are grappling with grief, anxiety, paralysis, futility, or frustration (to name a few emotions) as they make sense of their place in this moment. Given this baseline, the need is around translating concern into purpose and action by exploring the following:  
Frameworks for understanding why we are where we are. 
What our trajectories could be.  
How we should approach action given various theories of change.  
What we would need to do to achieve key goals.  
How different roles and skills would (or would not) support that work. 
And how to support students and other community members in taking on those roles. 
While the first years of the CAP involve a great deal of experimentation, concrete focus areas include the following: 
A yearlong paid fellowship program.
Speaker events, trainings, and skill shares. 
Working closely across departments, school units, and student groups. 
Developing enhanced connections between alumni and students (and the school).  
Pursuing ways to tangibly explore climate change from various lenses in the curriculum. 
Contact
This Program stems from various and intensive discussions between students, faculty, staff, and alumni around the ways in which Middlebury can act to ensure that its students are prepared to take on the realities of climate change. It is deeply connected to the Franklin Environmental Center team and Energy2028 and involves collaboration across the school.
Feedback, questions? Reach out any time to mbbrown@middlebury.edu!