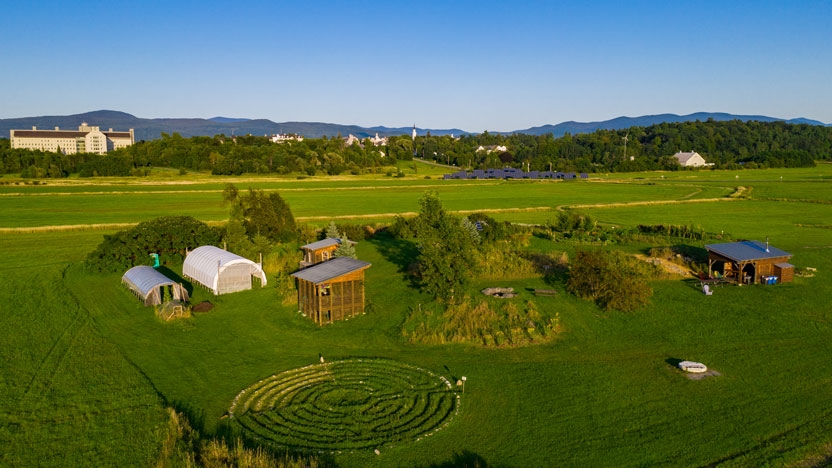 The Middlebury College Knoll explores food as a medium to cultivate well-being in people, place, and the planet. We root our work in celebrating connection and dismantling oppression. 
We are fundraising!
As the Knoll celebrates 20 years of bringing our community together around food, land work, wellness, and justice, we're delighted to announce a crowd-funding campaign to support our dear Knoll! Donations, no matter how big or small, support the longevity of this space dear to our hearts. Read more on the blog!
The Knoll offers three main program areas and ways to engage: the Educational Garden, the Outdoor Kitchen, and the Serenity Garden. We host  faculty, staff, students, and our local community for classes, research, gardening hours, internships, and events.
The Educational Garden serves as a place for students to learn about gardening and agriculture through research and hands-on experiences. We grow food for Midd Dining and each year we contribute produce to our robust local gleaning program coordinated by HOPE, a local nonprofit. 
 
The Outdoor Kitchen is a space to cultivate community. In a typical year, we host pizza nights and help co-host celebrations for campus partners. Interns learn to cook with the wood-fired oven and make pizzas with vegetables from our gardens.
 
The Serenity Garden is a work-in-progress on the western slope of the Knoll. This garden is a collaboration with the Scott Center for Spiritual and Religious Life. In 2012, His Holiness the Dalai Lama blessed a large round marble bench. We also constructed a labyrinth to celebrate 15 years of the Knoll in September 2017. 
Learn More About the Knoll
Check out the intern-run blog
Browse our Annual Reports for full details of our programs
Visit the Knoll
The physical address of the Knoll is 152 Vermont Route 125, Cornwall, VT. Driving access is limited during the spring and fall, but visitors are invited to park cars at the intersection of Bicentennial Way and Route 125, then walk the short dirt road to the Knoll. When the weather allows, we will leave the gate open and visitors may park at the Knoll.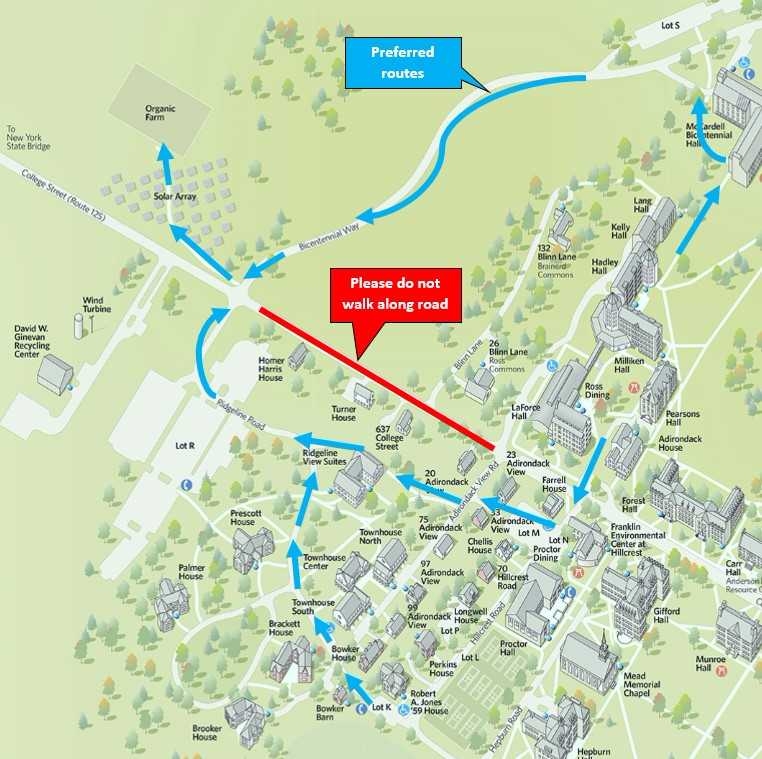 Please be respectful of our rules while visiting:
Please keep dogs on leashes
Stay on paths
Leave the harvesting to us*

please note all are welcome to snack from the Grazing Garden

Please pack out what you pack in
Burn permits and event registrations are required for all campfires
The Knoll Crew
Megan O. Brakeley '06, Associate Director of the Knoll
Megan guides all aspects of the Knoll's programming and partnerships, manages the educational garden, supports interns, and helps organize events at the Knoll. Megan graduated from Middlebury College (Spanish and Environmental Studies) and holds a Master of Environmental Management from the Yale School of the Environment. She moonlights as a Snow School Instructor at the Middlebury College Snow Bowl and serves as a member of the Porter Medical Center Board. Prior to this role, Megan worked at the College with the Center for Community Engagement and as a Posse Mentor. mbrakeley@middlebury.edu
Academic Year and Summer Interns
From starting seedlings in the spring to harvesting in the fall, the Knoll relies on student volunteers and interns. Volunteers and interns help manage all aspects of the Knoll, including facilitating Volunteer Hours, growing and selling produce, event management and support, and participating in regular farm visits to learn more about our local food community. 
Read full introductions of each season's amazing group of Knoll Interns on the blog
Former Knoll Staff
Sophia Calvi '03.5, Director of Programs, Sustainability & Environmental Affairs
Food and Garden Educator 2012-2013, Associate Director of the Global Food and Farms Program 2013-2018
Sophia took all the food classes as an undergraduate at Middlebury! Bill McKibben's first class "Local Food" shed light on her passion for cultivating wellbeing with food as a medium. She spent the summer of 2004 running the first children's garden program at the Knoll. She then ventured out into the wider world of food systems and sustainability. Sophia returned to Middlebury in 2012 as the Food and Garden Educator to manage the Knoll and help develop a Food Studies program and the FoodWorks summer fellowship. She has a master's degree in Food Culture and Communications from the University of Gastronomic Sciences in Italy and a BA in International Studies and Women & Gender Studies from Middlebury. As the Director of Programs for the Franklin Environmental Center at Hillcrest, Sophia works closely with students, faculty and staff, as well as broader local and global communities, to continuously evolve sustainability. scalvi@middlebury.edu
Jay Leshinsky
Garden Adviser and Food and Garden Educator 2003-2011 and 2014-2018
Event Hosting 
Thank you for being mindful of the Knoll as a working garden and learning environment and yielding space to staff, volunteers, and reserved group events as needed.
Small, casual gatherings are welcome and encouraged and do not require reservation. However, campfire pit and pizza oven use are by permission only. 
Please note that we are focusing our efforts on organizing our 20th Anniversary Campaign Events during Fall Family Weekend, September 29-October 1. As such, we are at capacity for Fall 2023 and are no longer considering requests for campfires or pizza oven use until spring 2024. 
For reference, you may visit our "Event Hosting Steps" page. 
A winter note: Please remember that the Knoll operates as a three-season space and no amenities are available at the Knoll during winter (e.g., driving access, snow removal, restroom access, water, hand hygiene, trash receptacles). Our typical season runs from April 1 - November 1 and we are not able to support organized events outside of this period.