Climate Action Fellowship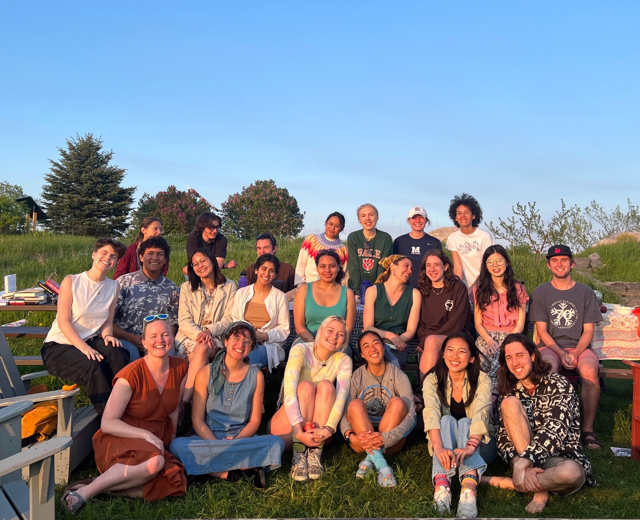 With its launch in the Fall of 2020, the Climate Action Fellowship program offers students from various backgrounds and disciplines the opportunity to deeply engage in collaborative thinking and skill development on how to confront the climate crisis in meaningful ways.

The Fellowship 2023-2024 Application is now closed. Please reach out with questions!
About the Fellowship and Application
Fellows work together (and with partners and mentors) to identify their own roles and theories of change while supporting the engaged learning pillar of Energy2028. They coordinate with groups on campus and in the community through a mix of defined projects and projects of their own design to envision pathways for all students to leave Middlebury with the knowledge, motivation, and capacity to act on climate change in just and equitable ways.
Each cohort spends the summer working with a relevant organization or tackling an independent project, coming together to compare notes and build community together. They begin their work thinking about the following: 
How do you think change happens? 
What does a better world look like to you? 
How can Middlebury ensure that all students leave equipped to tackle climate change? 
How might your work as a Fellow support that? What perspectives and backgrounds might you bring to the table?
What kind of work do you hope to do after graduation? 
What other questions would you want to explore as a group/individual?
In returning to campus in the fall, their projects focus on a variety of themes including but not limited to: 
Working with departments, centers, and student groups on climate change integration 
Planning and implementing communications efforts  
Coordinating speakers, trainings, and other events 
Working with data to better understand needs, opportunities, and impacts 
Connecting with alumni on career pathways and toolkits 
Connecting beyond Middlebury (other schools, external organizations, etc) 
Application Process
During the application window, interested students should apply with an unpaid OR paid internship or project either fully secured or in process. That internship does not need to be funded, as we will provide up to $4000 for unpaid internships with an additional $750 for all Fellows for participation in coordinated efforts (weekly meetings, guest speakers, reflections, etc). Fellows continuing into the school year will be compensated for their work at Middlebury on an hourly basis.
Interested in the Fellowship or just want to get involved? Reach out to Minna Brown (mbbrown@middlebury) or Andrés Oyaga (aoyaga@middlebury.edu) with any questions.
Past Fellow Projects
Molly Babbin ('23) put together a zine titled "together, at the end" to explore how we find our place in movements for change in the midst of an apocalyptic reality. With support from the Climate Action Program, Babbin researched how we build community and address conflict/harm in social movement organizations. Babbin writes, "I realized after years of organizing with other young people, there was so much we had learned about working together that would be important to document before leaving Middlebury. However, I most of all felt like I was surrounded by brilliant people who have a lot of wisdom about these themes, so I interviewed some staff/faculty/students/friends. The zine is a compilation of everything they shared with me, plus info from books (and a lot of adrienne maree brown). It's aimed at other students trying come together for climate/social justice while trying to care for each other and themselves at the same time." 
After a year abroad studying food system transformations across the globe, Marlow Saucier ('24) brings into the world "musings." Saucier writes, "This is a collection of poems written during my time studying Food Systems abroad, or that I wrote as a part of my final nonfiction work in Spring Ulmer's Creative Writing class. They are a response to the beautiful and horrific challenges and changes I have seen and undergone within the last 6 months. These poems are my joy, pain, frustration, and grief, my amazement at seeing people doing the work in various places around the world. This collection is a celebration, and this collection is also a eulogy, for who I was, for a past that we will never be able to return to, and in some ways, for the future I thought I would have." This work of art explores a few central questions: What does it mean to make art in this time of climate crisis? How do we change our relationships to confront the climate crisis? What is the role of the artist in weaving ideas of relationally and climate action?