Resources for Green Liaisons
Hello Green Panthers! Welcome to the resource hub. Your mission as a green liaison is to help your team become more sustainable, and we want to help you as much as possible. Below you will find instructions about your position, as well as contacts to reach out to if you have any questions. As a green liaison, you will be contacted by the SAAC Sustainability Subcommittee with direction and resources on what your role is. 
Bus kits:
Your first and primary responsibility is to help your team compost and recycle at away games. You will be given a bus kit (or multiple, depending on the size of your team) at the beginning of your season. A bus kit is composed of a compost bucket and a plastic recycling bag. Take note of which bus kit you are given (each bus kit is numbered) and remember that you are expected to return this bus kit at the end of your season. 
Bring the bus kit on the bus to each away game. Ensure your teammates are composting and recycling the correct materials. Inform and educate teammates who are unsure of what goes where, and share with others the importance of composting/recycling. Information about what you can compost and recycle is in your introductory presentation.
When you get back from the trip, dispose of the compost and recycling at one of the waste stations in the athletic center.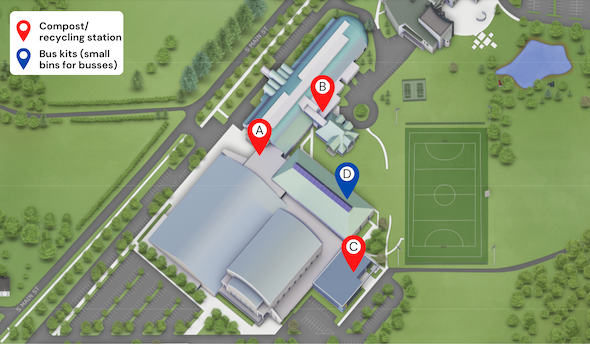 If you would like to do more: 
We encourage you to green-ify your team in more ways! Here are some ideas and resources to do just that. If you have your own idea that you would like to pursue and need any assistance, email the SAAC sustainability leaders - we would love to support you!
Educate your team 
Educating your teammates on environmental issues is a great way to green your team. To make this process easy for you, we have created a presentation that you can share with your team. This presentation includes details on the pressing environmental issues we are facing, what Middlebury has done about it, and what actions student-athletes can take. Green liaisons should emphasize the importance of concrete direct action (like composting and recycling). In the face of a massive environmental crisis, it is easy to disregard small-scale solutions; remind students that each step matters and that small actions can have large impacts!
Walk to practice
This idea is pretty self explanatory - commit as a team to always walk to practice! 
To persuade you that this commitment is worth it, let's look at the carbon emissions of a team with athletes who consistently drive to practice. Let's assume 5 cars drive to practice each day, and that this team practices 6 times a week (so 24 times in a month and 48 times in a season of two months). Let's also assume that the students are driving from the Ridgeline parking lot to the athletic center (and back), which is a little over a mile each way. (To be conservative and make the math easy, we'll assume it's exactly a mile each way.) This team is thus traveling 480 miles over a two month-season of practices. Using the EPA assumptions about the average gas mileage (22 miles per gallon), this team is using a total of 21.8 gallons of gasoline, equivalent to 194 kilograms of carbon dioxide emissions. Sequestering this carbon out of the atmosphere would take 3 tree seedlings growing for 10 years. 
21.8 gallons of gasoline may not sound like all that much, but when over 30 varsity teams drive to practice (with often more than five cars and a distance likely greater than one mile each way), the carbon emissions quickly add up. Some athletes note how driving to practice makes them more prone to drive to other places on campus either before or after practice. Break the trend and start walking!
Perfect Sort Gameday
A Perfect Sort Game is an event that will occur doing specific home sports games where Green Liaison volunteers will be tasked to educate Middlebury fans on what they can or can't compost and recycle. The point of the event is to involve and educate fans with the Green Panther Program; the initiative sports teams take the compost and recycle on away games. Perfect Sort Games now allow fans to do the same thing their teams are doing. Green Liaisons, keep an eye out for an email from your SAAC leadership to participate in these events. 
Donate or recycle old gear
Instead of throwing out old gear, try to donate or recycle it. If the gear is usable, intramural sports might be able to make use of it. Another place to give gear to is the Middlebury Union High School athletic department - click here to get in touch with them. 
If you are not having success with the nearby teams, search online for an organization. The Field Hockey team, for example, donates its old sticks to the nonprofit Beyond Sticks, a group that is working to make field hockey more accessible.
Lastly, for gear that can potentially be recycled, you can get in touch with the Middlebury waste department to ask about disposing of an item sustainably. Their contact information can be found here.
Purchase sustainable apparel
Try to limit the amount of clothing your team purchases; pass down apparel each year and purchase items that can be worn in varying temperatures. When purchasing new clothing, look for sustainably sourced items - fabric like recycled polyester is an environmentally-friendly alternative. Nike makes it easy to find greener options by labeling certain items with the title "Sustainable Materials;" seek out Nike items with this label.
To calculate your team's carbon footprint from clothing, you can use this calculator. Once you have the kilograms of carbon dioxide, the EPA equivalencies calculator can help you conceptualize how much carbon this is. 
Volunteer to "offset" carbon emissions
To calculate the carbon emissions of your team's clothing purchases and travel, use this spreadsheet. (The clothing calculator in the above section uses the same formulas.) Again, use the EPA equivalencies calculator to visualize these carbon emissions. With awareness of your team's carbon footprint, you can motivate your team to decrease their carbon footprint and "offset" the emissions through volunteer work. Go/CCEsubscribe to sign up for the CCE's weekly newsletter and here about various volunteer opportunities.
Spread the word about Green Panther:
If you or your team has a social media account, spread the word about Green Panther! We have created Instagram story and post templates for you to make this outreach easy. Click the links below to view, edit, and download the templates. They range from fully generic posts, which can be used by your team without any editing, to customizable templates, which must be edited to include team-specific details. Feel free to take any or all parts of these templates to craft a post! 
Click here for a generic one-page post.
Click here for a multi-slide post template (which includes areas for team-specific details).
Click here for a generic one-page story.
Click here for a multi-slide story template (which includes areas for team-specific details).
Need help?
Elizabeth Peebles
SAAC Sustainability Student-Leader
epeebles@middlebury.edu
Courtney Gantt
SAAC Sustainability Student-Leader
cgantt@middlebury.edu
Erin Quinn
Director of Athletics
quinn@middlebury.edu
Jack Byrne
Director of Sustainability Integration
jmbyrne@middlebury.edu
FAQs
What if my season already started and I have not received a bus kit?
If you are already in-season and your team lacks a bus kit, reach out to the SAAC sustainability leaders listed above. 
Who can participate in Green Panther?
Any athletic teams (varsity, club, or otherwise) can participate in the Green Panther program! If your team travels frequently, you will be provided with a bus kit. Other teams who do not travel can get involved by electing a green liaison and taking other sustainable actions.